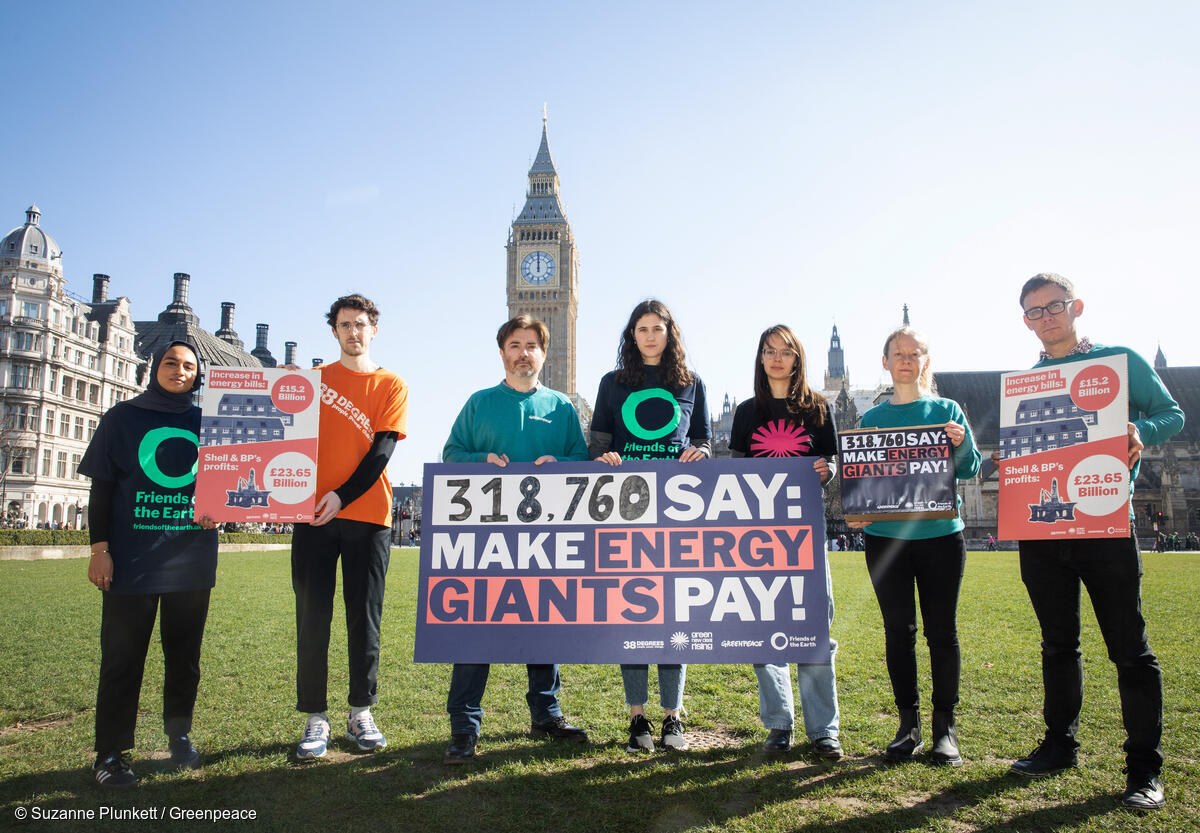 Mar 29th, 2022
318,760 people say: make energy giants pay!
By Angus O'Brien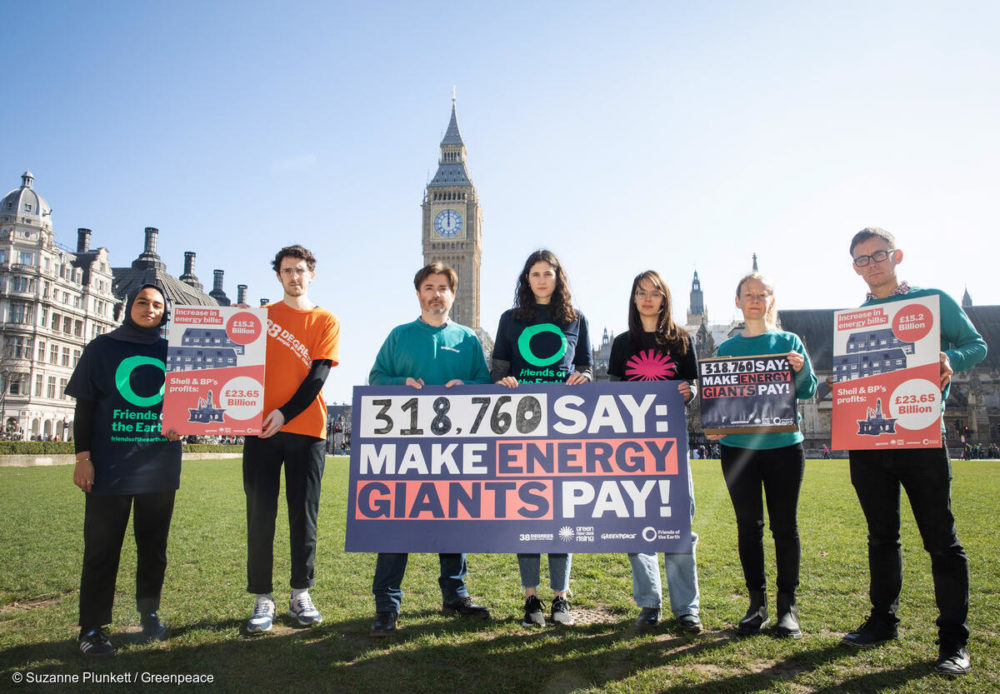 We recently teamed up with Greenpeace, Friends of the Earth and Green New Deal Rising to say: Rishi Sunak – make energy giants pay! 
More than 318,000 people from across the UK called on the Chancellor to bring in a windfall tax on oil and gas companies profiting from the crisis, to help cover escalating energy costs for those least able to pay.
Record profits
While consumers pay unprecedentedly high prices – and face a catastrophic further 54% rise in their energy bills in April – BP and Shell are set to bring in more than £40 billion in profit.
Back in November, BP boss Bernard Looney said his company is a "cash machine". Soaring oil and gas prices, coupled with the fact that the cost of extraction hasn't risen, meant BP posted record profits of £9.5 billion this year, while Shell saw its profits quadruple to £14.7 billion.
Another oil and gas producer in the North Sea, Harbour Energy, also said it'd generate up to £1.3 billion in spare cash this year if prices stay high.
A stark contrast
As these energy giants boast about having more money than they know what to do with, millions of people are struggling to keep up with an escalating cost of living crisis.
New polling we commissioned from Survation revealed that 3 in 4 people are already experiencing more expensive energy bills, with:
70% turning off their heating for longer periods of time

54% saying they don't use their heating

And 53% saying they only heat part of their home
At 38 Degrees, we've spoken to countless people who don't know how they're going to cope and are having to make impossible decisions between heating and eating.
Steve, who lives in Harborough, Leicestershire, told us that he's "already skipping meals and I just can't see how I can cut my budget any further" while Debbie who lives in Reading with her two young children said she works two part-time jobs but the numbers just don't add up anymore: "I can't cut any more costs out my budget".
And Ralph, a dad with a young family in Newcastle-upon-Tyne said "I feel completely helpless, we simply can't afford the next increase. Our bill will have gone up 116% in only six months come April yet our wages and Universal Credit payments won't have gone up at all."
Compare that with Bernard Looney, boss of "cash machine" BP, being awarded a £2.4 million annual bonus.
A missed opportunity
With bills going up in just a few days, Rishi Sunak missed an opportunity in his recent Spring Statement to tax the record profits being made by energy companies and take decisive action to tackle the rising cost of living.
But, with another spike expected to take the energy price cap above £3,000 in October, this issue won't be going away soon. 318,000 people have already told the Chancellor to make energy giants pay. He'd better start listening.