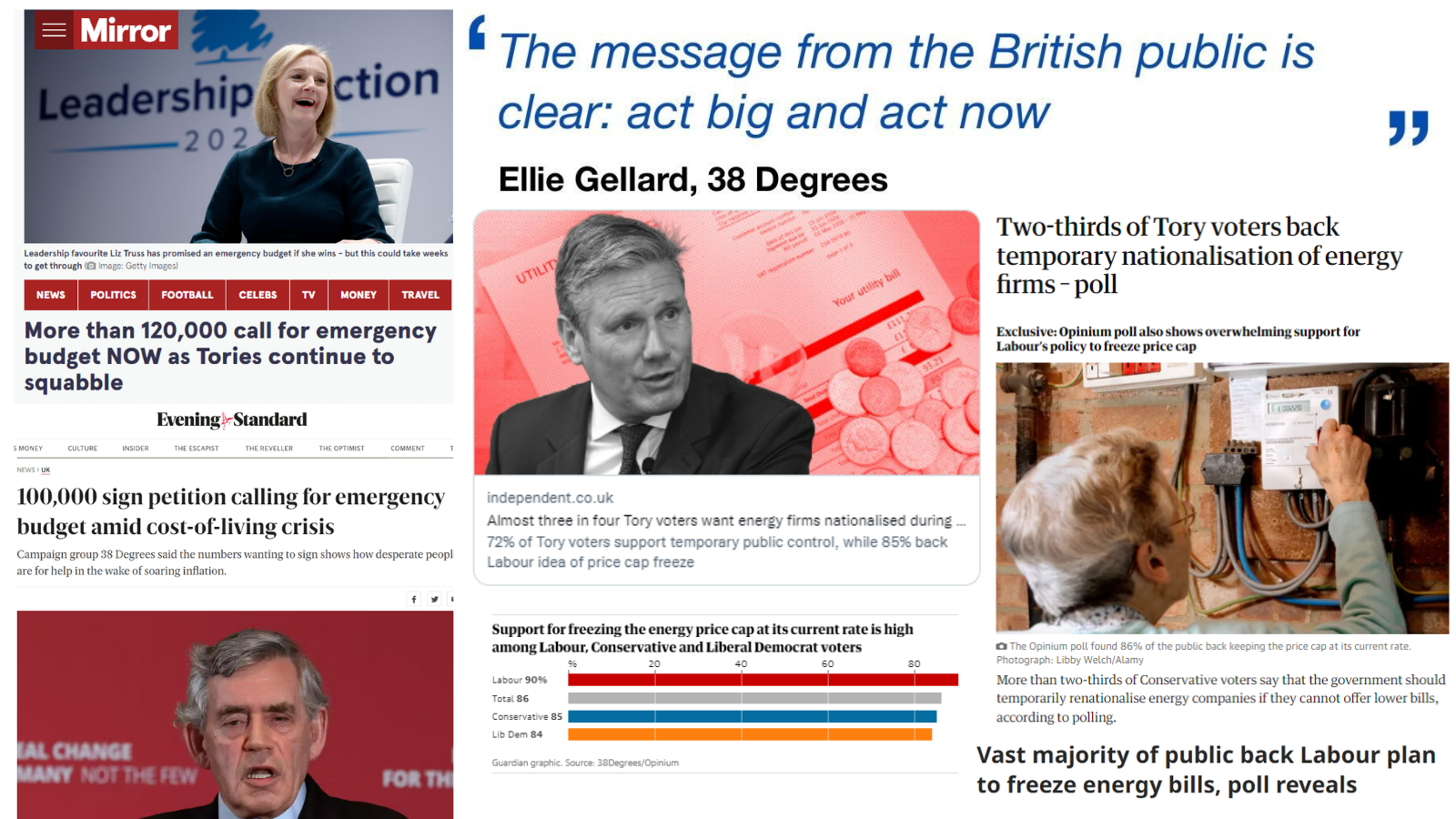 Aug 17th, 2022
The cost of living catastrophe
By Ellie Gellard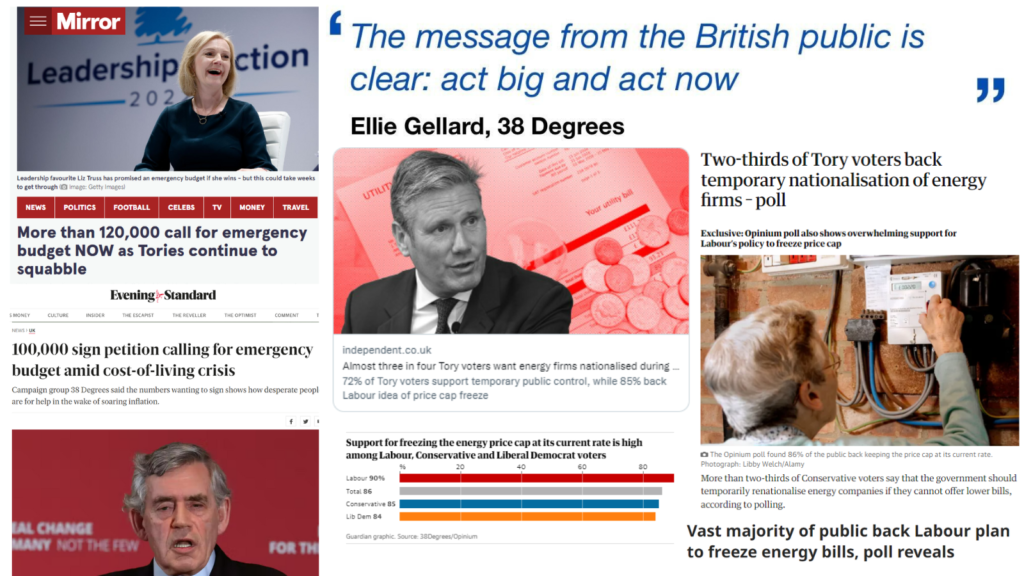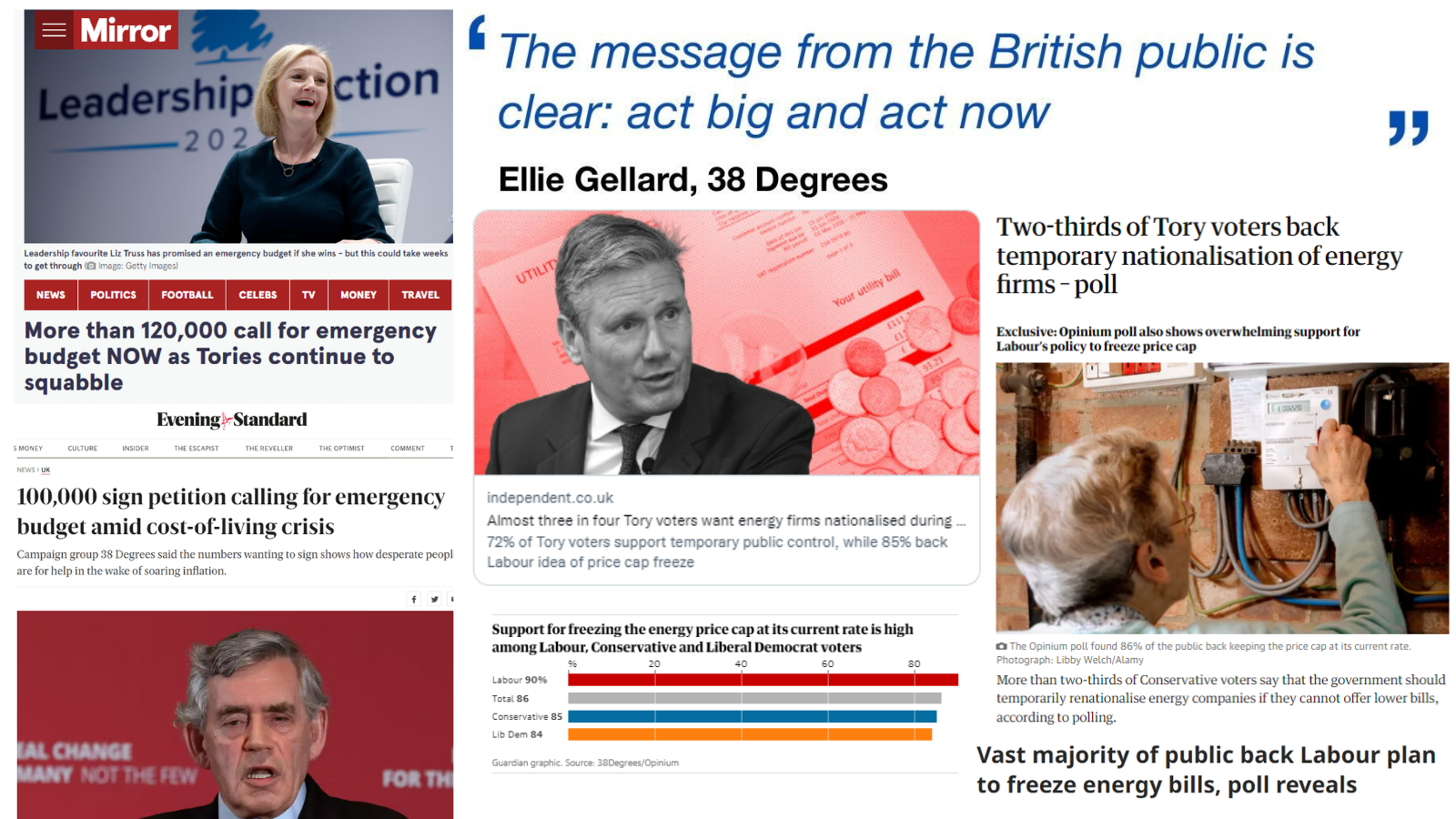 We are in a national emergency. Kids across our country face opening up empty fridges and going to sleep with empty stomachs. People face going cold in their own homes.
The crisis is here, the catastrophe is coming and the time to act, and act big, is now. Because this isn't inevitable, it's avoidable. 
Families who never imagined facing poverty don't have to be shoved into it as temperatures drop and bills soar. People already struggling don't have to face destitution. Elderly people don't have to switch off their heating as the cold comes in to be able to afford dinner. And we don't all have to go without those little things that can make life enjoyable. We can steer away from the car crash ahead, but right now our government, and our likely next Prime Minister, are asleep at the wheel.
So 38 Degrees, and the millions of people across the country who take time out of their busy days to take part in our campaigns, are ramping up our pressure like never before. At every turn we'll be doing all we can to make this AWOL government and "do-nothing" future PM listen to the cries of help and yells of "do something" from the country they seek to lead.
With a plan on the table, laid out by former PM Gordon Brown, and 38 Degrees and Opinium polling showing the huge levels of support each measure enjoys from across the country: uniting Tory voters, Labour voters and Lib Dems, Remainers and Leavers, Northerners, Southerners and everyone in between, on the need for government to intervene – we're amplifying the voice of the British people and calling on government to act big and act now:
A national emergency requires an emergency budget. Hold one immediately.
1. CANCEL the planned energy price rise in October, so families don't face thousands more in bills
Opinium polling for 38 Degrees: 9 in 10 people support. Agree? 
2. Deliver urgent support for families who need money to feed their kids and heat their homes this winter, by boosting the Universal Credit lifeline and delivering direct payments of just under £2,000
2 in 3 people support. Agree? 
3. Keep homes warm and insulate families from forces beyond their control – by kicking off a huge insulation drive, like we did with the vaccine national effort
2 in 3 people support. Agree?
4. End our reliance on Russian oil and gas by launching a renewable, green energy revolution so we can make our own
2 in 3 people support. Agree?
5. Fund support by a tougher windfall tax on energy companies and levy on bankers' bonuses
2 in 3 people support. Agree?
The crisis is here, now.
No action will mean starving kids and freezing homes this winter. Stepping up will help people survive.
Martin Lewis has made it clear, a former PM has made a plan and the British public have weighed in.
For our government and the next Prime Minister, it's time to choose.
Full press release on Opinium's Cost of Living polling for 38 Degrees