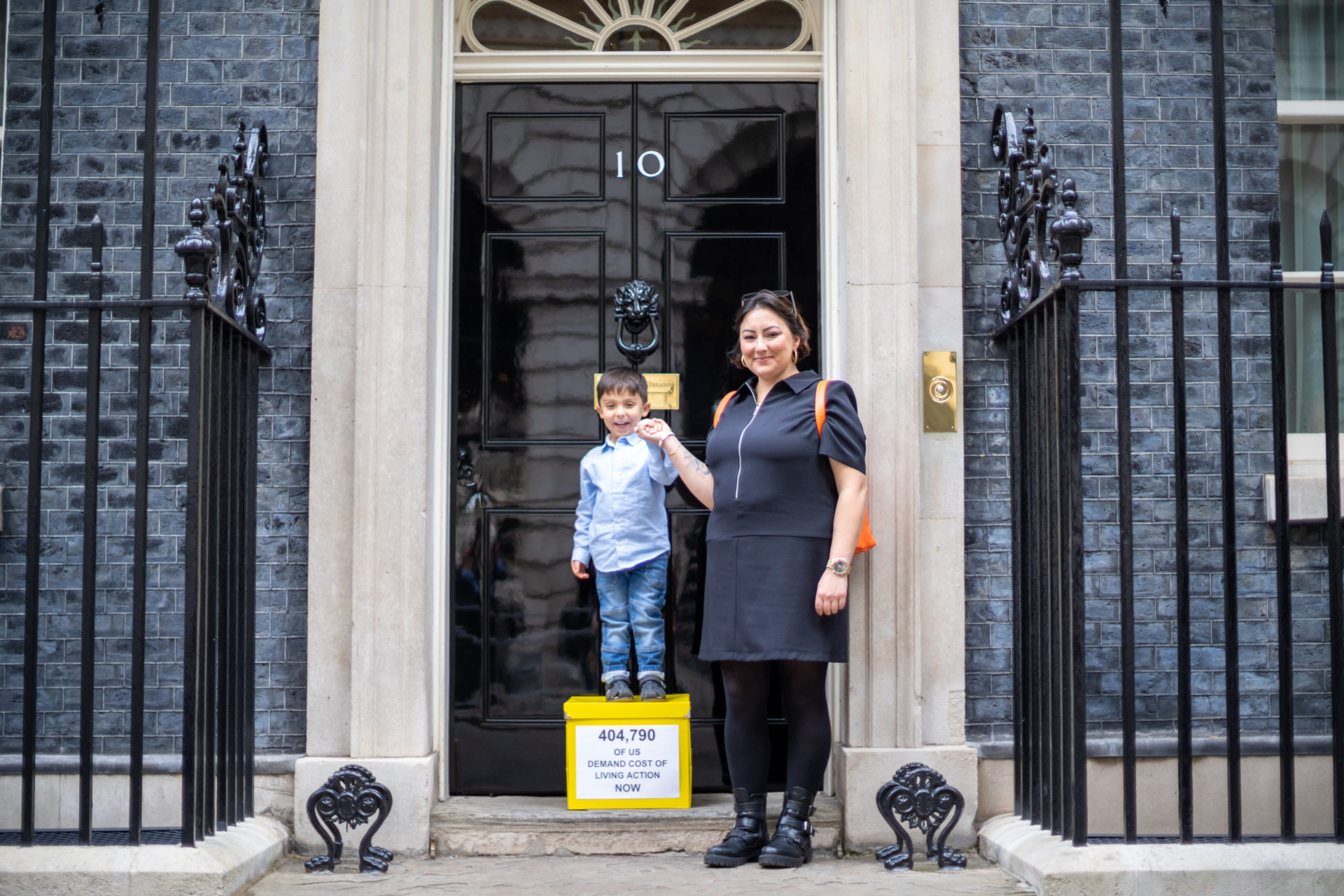 Sep 22nd, 2022
A message the Prime Minister must not ignore
By Hannah Graham
On Thursday, 38 Degrees supporter Merve and her three-year-old son Kingsley arrived at Downing Street with an urgent message – one our new Prime Minister must not ignore. 
Like millions of people across the country, Merve, who juggles work with caring for her son, claims Universal Credit, and as bills, food prices and other costs soar, she's struggling to make ends meet. 
With Liz Truss expected to launch a 'mini budget' on Friday, Merve and Kingsley headed straight to her front door with a clear message from over 400,000 members of the British public: the announcement must contain more help to ensure the most vulnerable survive this winter and beyond. 
The pair were joined by a host of families for whom the cost of living crisis is more than just a headline: it's an inescapable reality, a daily threat that becomes more and more urgent as winter approaches. Alongside these families were representatives from a coalition of anti-poverty, children's and disability charities, who have joined 38 Degrees and our supporters in demanding emergency measures.
All deeply concerned about the impact of rising prices on the millions of people they support, these charities came together to tell the Government to:
Announce a full emergency budget that thoroughly addresses the cost of living crisis.

Announce an immediate boost to Universal Credit and other benefits. 

Freeze bills, get the energy cap under control and fix our broken energy system; alone, the petition calling for catastrophic energy bill hikes to be stopped and reversed has hit

over 200,000 signatures

.
Our hand-in was also backed by former Prime Minister Gordon Brown, whose call for a universal credit-boosting emergency budget won the support of over 156,000 38 Degrees petition signers. Joining us at Downing Street were representatives of The Big Issue, and the faith group Joint Public Issues Team, both of whom have been working with Mr Brown in an anti-poverty coalition dedicated to fighting for emergency action against the cost of living crisis. 
Mr Brown said: "Until those who face poverty are given proper protection thousands upon thousands of British people will continue to demand urgent action to end the cost of living crisis and I want to thank the 155,000 plus who have signed a petition calling for Parliament to act immediately."
For Merve, the hand-in was an opportunity to urge the Prime Minister to listen to ordinary, hard-working people like her, who are already stretched to their limit and dreading the moment when energy bills rise again, up to an average of £2,500 per household.
"This winter is just going to be impossible for people on Universal Credit. Bills are already too high, and even with the new limit, they're still going to go up," she said.
"It's not even just energy bills, food has gone through the roof – I've always shopped at the cheapest supermarkets but now I'm struggling to afford basics.
"It's a really disempowering feeling, feeling like you're never going to get afloat, that there's nothing you can do. The system needs to change so that people like me aren't trapped in this position."
Standing outside the gates of Downing St, Revd. David Hardman, Methodist Team Leader for the faith group Joint Public Issues Team, explained the message he hopes the Government will take from the hand-in. 
He said: "If we upgraded Universal Credit we could enable people to live, and by living I mean being able to feed their families, being able to heat their homes. 
"My hope for the future is that in the UK we do not live with poverty. We have allowed foodbanks to become part of the culture of this country, we cannot allow 'warm hubs' to do the same, we've got to tackle poverty and we've got to make sure the Government does their job to ensure all people are able to live, and to live a life… in which poverty is eradicated in one of the richest countries in the world."
Veronica Hawking, Head of Campaigns at 38 Degrees, added: "The cost of living crisis is already here, and with winter months away it's already hitting families hard. The PM's new energy guarantee does not solve this crisis for the millions already struggling – people who face starving or freezing this winter.
"We're facing a national emergency. That means we need an emergency budget – the Government's promised 'fiscal event' cannot be a watered-down half-measure. It must ensure energy is affordable for all this winter and beyond, by cutting bills, funding insulation to keep homes warm and rolling out cheap, clean, green energy.
"Liz Truss must listen to the cries for help coming from every corner of the UK. She must listen to the heartbreaking stories of struggle we're seeing in the news every day; to the charities pleading with her to do something for the people they support, and to the hundreds of thousands of people who've signed our petitions. She must act big, and act now."
The petitions handed in on Thursday were:
38 Degrees:

'We can't take any more energy bill hikes' – signed by

201,528

https://act.38degrees.org.uk/act/no-more-energy-price-hikes

 

38 Degrees:

'We need an emergency budget that increases Universal Credit now': – signed by

156,221

 

https://act.38degrees.org.uk/act/Universal-credit-emergency-budget

 

RNIB

– Call for urgent action on the cost of living crisis – signed by

2, 723

https://change.rnib.org.uk/page/108643/petition/1?ea.tracking.id=web

 

Centrepoint:

''Vulnerable young people are going hungry to pay the bills. End food poverty now!' – signed by 3,189

https://actionstorm.org/petitions/end-food-poverty

 

Save The Children:

'Do more to ease the cost of living crisis – signed by

7,642

Mencap

: 'Do more to ease the cost of living crisis and stop people with a learning disability being priced out and forgotten': – signed by

2,254

https://secure.mencap.org.uk/en-gb/call-government-do-more-ease-cost-living-crisis

 

Independent Age:

'Tell Liz Truss to take action on cost of living' – signed by

3,862

https://e-activist.com/page/111934/petition/1?ea.tracking.id=FTC

 

We Care Campaign

: 'Emergency Cost of Living grant for people with a disability or serious medical condition' – Signed by 16,303

https://petition.parliament.uk/petitions/610300

 

Action for Children

: 'We need urgent and decisive action on the cost of living crisis' – Signed by

8,066

https://take.actionforchildren.org.uk/page/98558/petition/1?ea.tracking.id=col

 

Leonard Cheshire

: '

Call on the government to ease the cost of living crisis' –

signed by 3,002

https://act.leonardcheshire.org/page/111252/data/1?ea.tracking.id=CoL_petition_FixThisCrisis