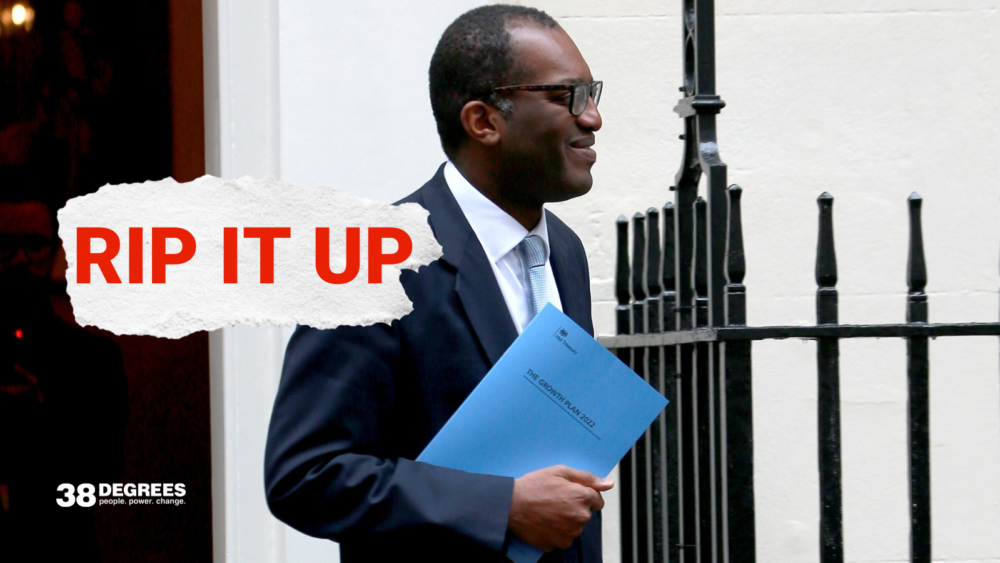 Sep 30th, 2022
Rip It Up
By 38 Degrees team
Things were bad when Truss and Kwarteng took over but their mini-budget has caused maximum chaos. They need to rip it up now.
Markets panicking, the pound crashing, our pension pots on the brink of bankruptcy and soaring interest rates predicted. It's taken Liz Truss and Kwasi Kwarteng just six days to crash the economy. 'Mini-budget', maximum chaos.
And while our economy is in freefall, it is the devastating impact on families up and down this country that shows why the public is in open revolt.
We were already waiting for a long overdue rescue plan to save us from the cost of living crisis, while Conservative candidates talked to themselves over a long hot summer. Now, with winter coming, as if families didn't have enough to worry about, add in rising interest rates which send mortgages skyrocketing – for those who can get mortgages at all. A weaker pound making essentials even more expensive. And our hard earned pensions put at risk.
38 Degrees is here to give a voice to the public who are demanding the Prime Minister and Chancellor rip up this economy-crashing budget for the 1% and immediately replace it with a rescue plan for the rest of us: for families, our economy and our public services on the brink of collapse.
This crisis was made in Downing Street. As they scramble to respond, ministers have the nerve to ask that a Millionaire's Budget – and the economic crash it caused – is paid for by cutting the public services the rest of us rely on. With 6.7 million of us on NHS waiting lists, operations cancelled, hospitals on red alert – there's nothing left – our public services have been cut to the bone.
The message to the Prime Minister and Chancellor is simple: Rip it up.
To Liz Truss and Kwasi Kwarteng,
RIP UP your "mini-budget" and replace it with an urgent rescue plan to save our economy, save families during this cost of living crisis and save our public services already on the brink.
Signed, Thousands of members of the public
Agree?
Add your name to the open letter and contact your MP to let them know where you stand.
To continue piling on the pressure in the coming days and weeks, 38 Degrees will be:
Giving the British public a chance to say to the Government: Rip It Up and replace it with the rescue plan we need.

Plastering our "Rip it Up" message across the country.

Helping the public contact ministers and their Conservative MPs – who have the power to end this crisis.

Commissioning polling, at constituency level, to show the impact of this maximum destruction mini budget on homes across the country.