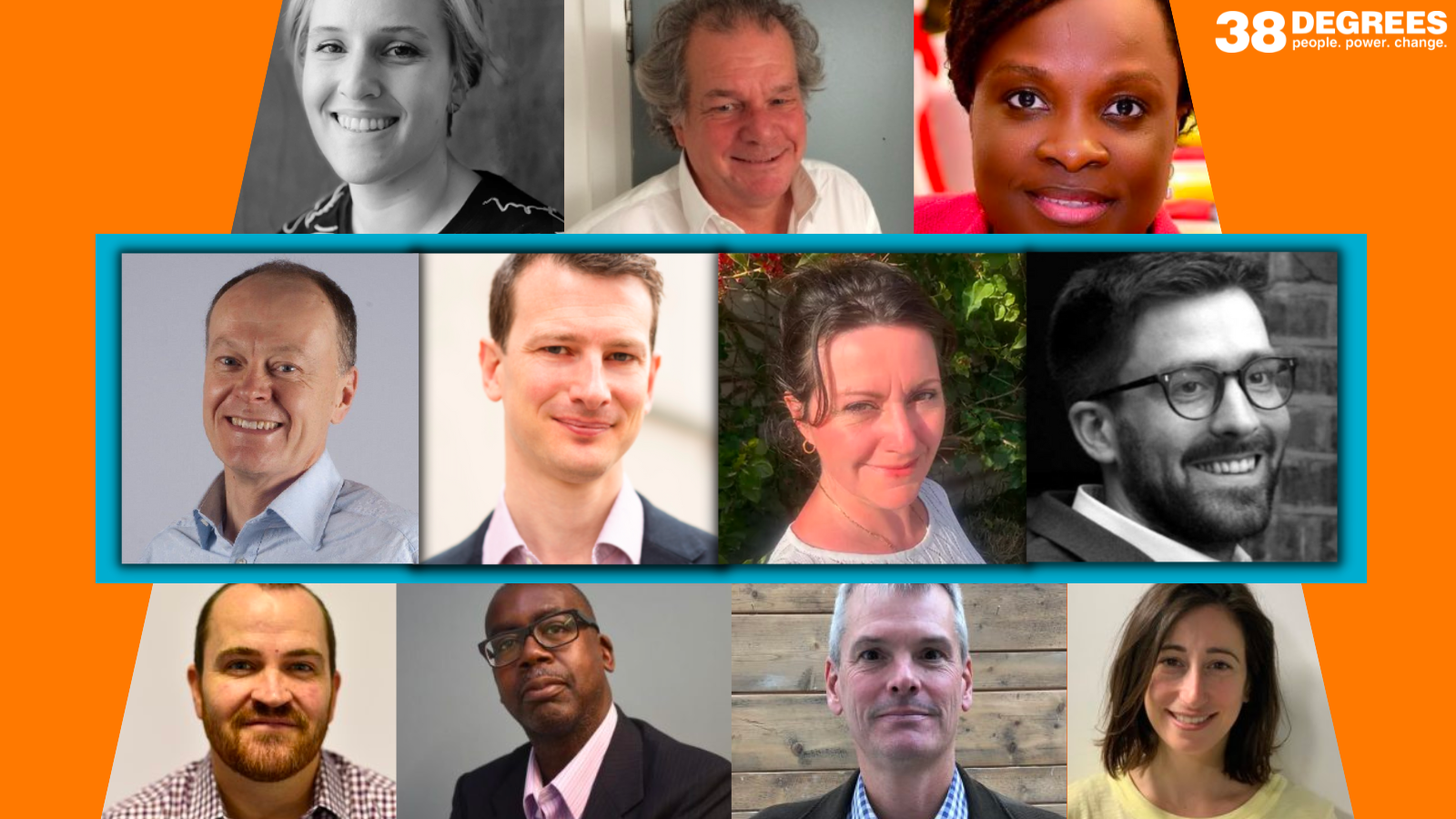 Oct 20th, 2022
Welcoming Even More Expertise On Board
By 38 Degrees team
Building a fairer, more respectful, more sustainable society requires all hands on deck – and 38 Degrees' Board holds a vital role in moving us closer towards this vision we share.
So, we're very excited to be joined by four brilliant new Board Members who'll contribute further to the wide array of knowledge and skills already within our Board.
The 38 Degrees staff team wants to give a warm welcome to Andy Croxford, Tom Hamilton, Clare Kandola, and David Norton.
David Norton is a strategist, technologist, and campaigner, cultivating 'digital first' movements in the US, UK, and EU. They currently lead research, development, and innovation at SumOfUs, an organisation that mobilises millions of workers, shareholders, and consumers to hold corporations to account.
David said: "I decided to join the 38 Degrees Board as someone who has been invested in the success of the movement for many years, both as an early supporter and former member of the staff team. Having worked to research, develop, and operationalise new ways to grow movements, amplify people power, and win campaigns around the globe, I look forward to continually learning and applying best practices that can scale the membership, power, and impact of 38 Degrees in the months and years to come."
Clare Kandola is CEO of Vidya Collective, who are content specialists supporting creators and distributors. Her background is in strategic development and commercial management of TV, and she has worked with leading content companies including Bloomberg.
Tom Hamilton is a Director at WPI Strategy, where he campaigns on saving high streets and opposing the privatisation of Channel 4. He is a former political adviser to the Deputy Leader of the Labour Party, and wrote a book about Prime Minister's Questions.
Tom said: "Having worked on a wide range of campaigns for many years, some of them more successful than others, I was excited by the opportunity to help 38 Degrees think about how to use its huge campaigning strengths in the most effective and influential way."
Andy Croxford spent 30 years working at a senior level on environmental policy, research, and delivery in Government, including at the Environment Agency.
38 Degrees' Board is chaired by Richard Lackmann, who brings three decades of experience in financial and organisational leadership.
Richard said: "I am thrilled to welcome the new Board members to 38 Degrees. Their varied backgrounds and views will improve our strategic conversations creating more impact for the voices of our supporters in these challenging times."
The Board meets several times a year and exists to ensure the organisation is financially stable and accountable to our community of supporters.
If you have any questions about the work of 38 Degrees' Board, please get in touch at emailtheteam@38degrees.org.uk and a member of our team will get back to you.