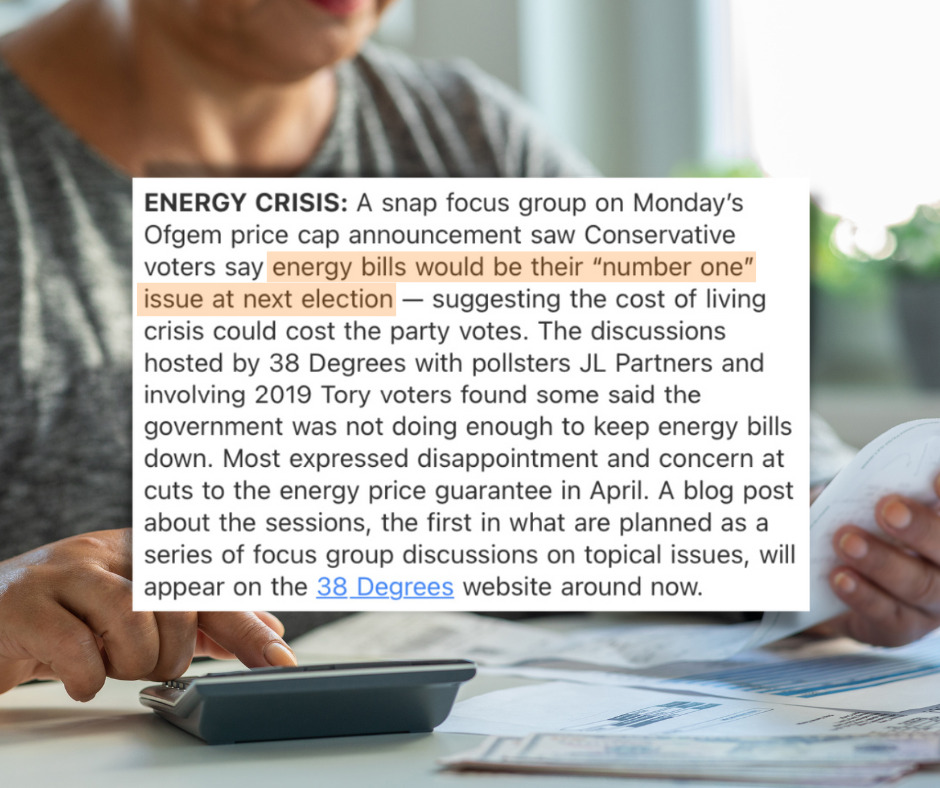 Feb 28th, 2023
'Normal people getting ripped off left, right and centre'
By Matthew McGregor
New research commissioned by 38 Degrees suggests that Conservative voters believe energy bills will be the 'number one' issue at next election – and that the government risks losing votes on this issue alone if prices rise.
In the wake of yesterday's Ofgem price cap announcement, we wanted to understand how voters who backed the Conservatives in 2019 would react. Would his own voters think Rishi Sunak's Government is doing enough to keep energy bills down? And how important could the issue be in the election? Important enough to change their vote?
We decided to use a pioneering update to the traditional focus group, which uses online technology to share same-day reactions to breaking news, with the research run by respected pollsters JL Partners.
Less than 24 hours after Ofgem's announcement, we're able to publish the startling results, along with our analysis of what the results show:
Most 2019 Tory voters expressed disappointment and concern at cuts to the energy price guarantee in April
There was anger that energy companies are seen to be profiting whilst individuals struggle to heat their homes – and respondents were clear that the Government should prevent this
Whilst a few respondents praised the Government's help so far, most expressed fears about how they'd pay their bills once the price guarantee changes.
Reacting to news that the average annual energy bill is set to rise by as much as £900 in April, as the Energy Price Guarantee is reduced, a 45-54 year old male HGV driver from Bristol called it: "Disgusting. Normal people getting ripped off left, right and centre. Help needs to continue."
"The government have to do more to sort this out"
A 34-44 year old female carer from Upminster added: "It is disgusting that we are in a fuel poverty and recession and the government's help is not enough for the most vulnerable and also working people."
Although energy bills are predicted to fall to around £2,150 in July, many voters said even this price – more than double the average bill in October 2022 – would be more than they could pay. One 65-74 year old female retiree from South Shields said that the rate would be: "Terrible, everyone is in dire straits, unable to cope, the government have to do more to sort this out."
The research suggests significant damage has already been done to the Government's reputation among voters – and that more would need to be done to tackle energy prices and the cost of living more broadly to have any hope of winning back support at the next election.
An 18-24 year-old female sports coach summed up the view of many, saying: "If the Government find a way to support, then I will vote for them, if they don't then I will not."
A 35-44 year old male information officer from Salford said: "It will be the number one priority in terms of my voting as it is the number one challenge in our household currently. So that will determine my decision."
An 18-24 year-old female analyst, from Nottingham, said: "I think the party that promises to drop energy prices along with other rises in the cost of living will [be] more likely [to] get my vote."
"Difficult to vote for [the] existing government if they don't support people," added a 45-54 year old male accountant from Birmingham.
Results show government is losing backing of their own voters
These results suggest the Government's failure to protect people from rising energy bills could cost them dearly at the next election – unless they act fast. Most of the 2019 Conservative voters in the focus group we commissioned said they were angry at the reduction in Government support come April, and there was clear fury at the idea that energy companies are profiting while individuals struggle to heat their homes. Whilst a few of the voters questioned praised the help the Government has provided so far, they were clear that slashing that support in April will make bills completely unaffordable.
Voters expect the Government to deal with this – and if they don't, they'll quickly lose support. If they want to regain the trust of the public, Jeremy Hunt and Rishi Sunak must commit to cancelling the increase to the energy price guarantee and take action so that everyone can afford their energy bills."
___________________
The focus group was conducted using rapid online technology to ask a representative sample of more than 100 2019 Conservatives voters to share their instantaneous reaction to breaking news. In an update on the traditional focus group, JL Partners ask people to explain their views and dig underneath the surface of support or opposition. The sample is collected using web-intercept polling in accordance with MRS and BPC guidelines and data tables are available shortly after publication.
___________________

More than 116,000 people have so far signed a 38 Degrees petition calling on Chancellor Jeremy Hunt to stop the April energy price increase – you can add your name here.