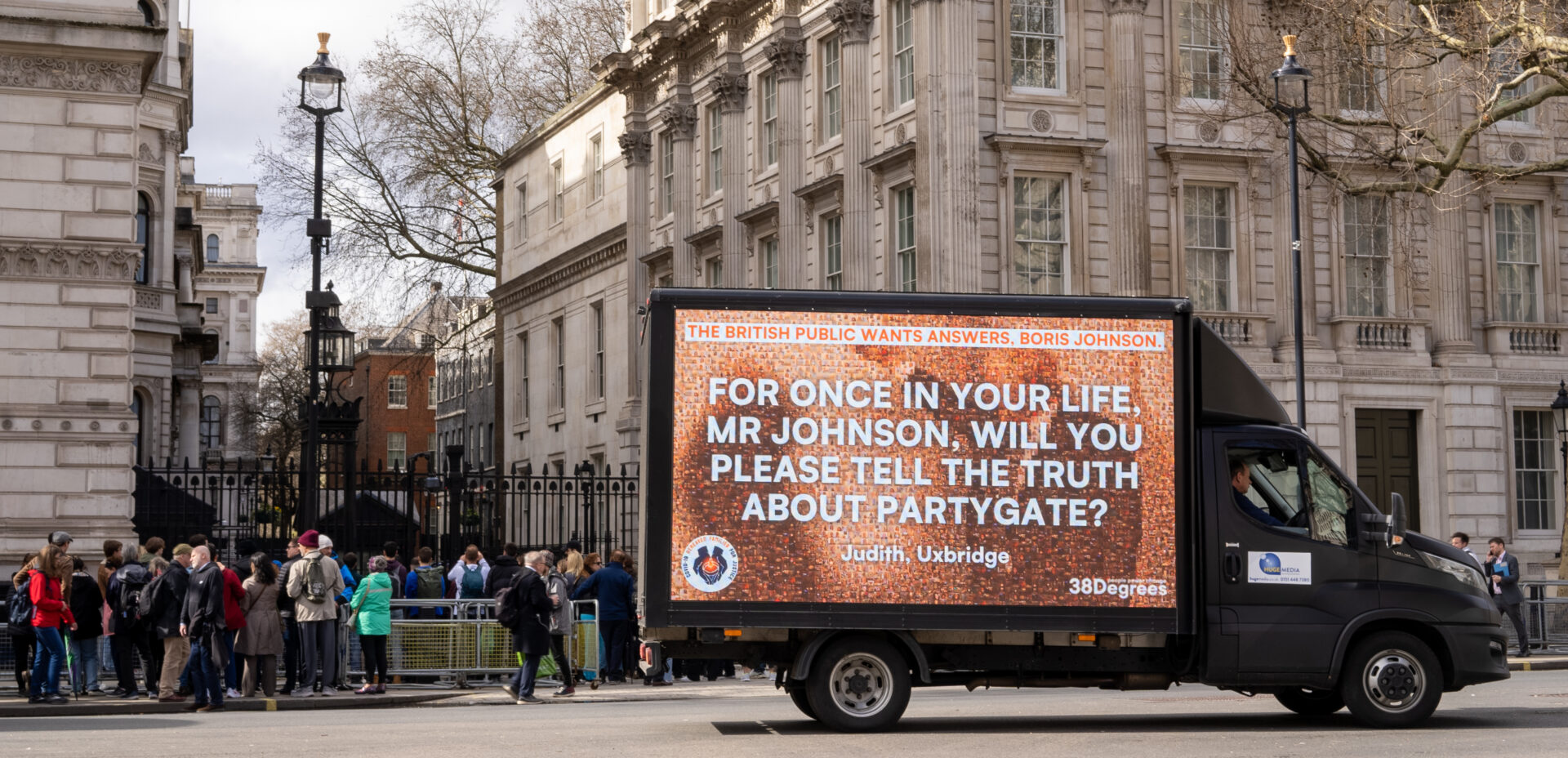 Mar 27th, 2023
'It was a party': the public's verdict on Boris Johnson's defence
By Ellie Gellard
When Boris Johnson appeared before the Privileges Committee last Wednesday, it wasn't just MPs demanding answers from the rule-breaking ex-PM.
Together, hundreds of thousands of 38 Degrees supporters have been taking action to hold Boris Johnson to account since 'Partygate' allegations began to emerge back in 2021. In our striking front-page image plastered across regional newspapers around the country, we showed exactly how the image of the ex-Prime Minister's boozy lockdown bashes contrasted with the sacrifices most of us made to keep one another safe. Thousands of us sent our own handwritten letters of no confidence in the former PM – while we were waiting to see if Conservative MPs would submit theirs – explaining why those in power breaking the rules they made, mattered.

And as Johnson was finally being forced to face the music in the committee hearing, we wanted to make sure the public – including those who lost loved ones, worked on the frontline, or simply stuck to the rules – had their chance to ask the former PM for answers.

So we drove their questions to the heart of the action in Westminster on the morning of the committee meeting…
Questions included:
"Why do you believe rules don't apply to you?" – Ray, Uxbridge
"If somebody is in charge of making the rules, how could he use the defence of not knowing the rules?" – Morag, Bristol West
"Do you feel proud of how you handled Partygate, knowing how much ordinary people sacrificed?" – Jean, Liverpool, Riverside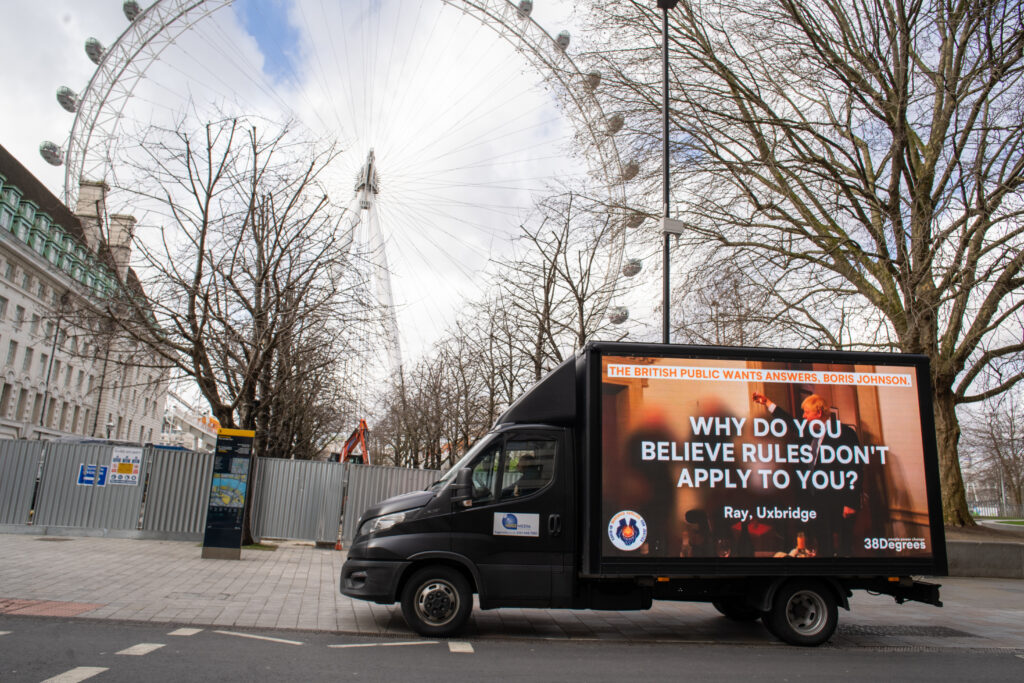 And we teamed up with campaigners Covid Bereaved Families for Justice to help keep the voices of those who lost loved ones during the pandemic front and centre.
Our efforts made a splash: images of the public's questions led news coverage of the committee meeting up and down the country, from major national newspapers to local and regional titles.
And as Boris Johnson's closest allies tried to claim their former leader had "won in the court of public opinion", we commissioned snap polling to show that the very opposite was true.
The research, conducted in the immediate aftermath of the hearing by respected pollsters Survation showed that while Boris Johnson tried to pretend he was the only person in the country who doesn't know what a party looks like, the rest of us weren't buying it.
Just 6% of people, shown the now-infamous image of Boris Johnson raising a glass at a Downing Street 'leaving do', said they'd describe the scene as an "essential work event".
More than two-thirds (68%) didn't think the ex-PM 'honestly believed' he followed lockdown rules, as he had claimed.
But there's more to do, and we won't take our foot off the accelerator.
When the Privileges Committee meet to announce their decision, we know it's vital that they listen to what people up and down the country are saying, and hand Mr Johnson a punishment that shows those who are meant to lead us cannot break their own rules, lie about it, and get away with it.
When it comes to deciding what sanction they should impose, our poll shows the most popular move with voters would be suspending Mr Johnson from Parliament for 10 days (chosen by 39% of people). That could trigger a by-election in his constituency and give the people of Uxbridge and South Ruislip a say. Nationally, 57% of the public believe Johnson isn't fit to be an MP. Only 26% believe he is.
And our research also shows why this matters.
50% of people said they would have even "less trust in our political system", if Boris Johnson was not handed any Parliamentary sanctions after the Privileges Committee meeting. It's easy to see why. In times of national crisis, we need to be able to trust that those leading us through are telling us the truth, and that if they don't, they'll be held to account.
At 38 Degrees, we campaign for a country where there isn't one rule for the most powerful, and another for the rest of us. Boris Johnson is no longer Prime Minister, but his rule-breaking and lying still matters – just ask the British public.
---
Polling was conducted by Survation on a population on 1,019 UK adults.
Data were weighted to the profile of all adults in the UK aged 18+. Data were weighted by age, sex, region, highest level of qualification, annual equivalised household income, 2019 General Election Vote, and 2016 EU Referendum Vote.The survey was conducted via online panel. Differential response rates from different demographic groups were taken into account.
Fieldwork dates: March 23, 2019