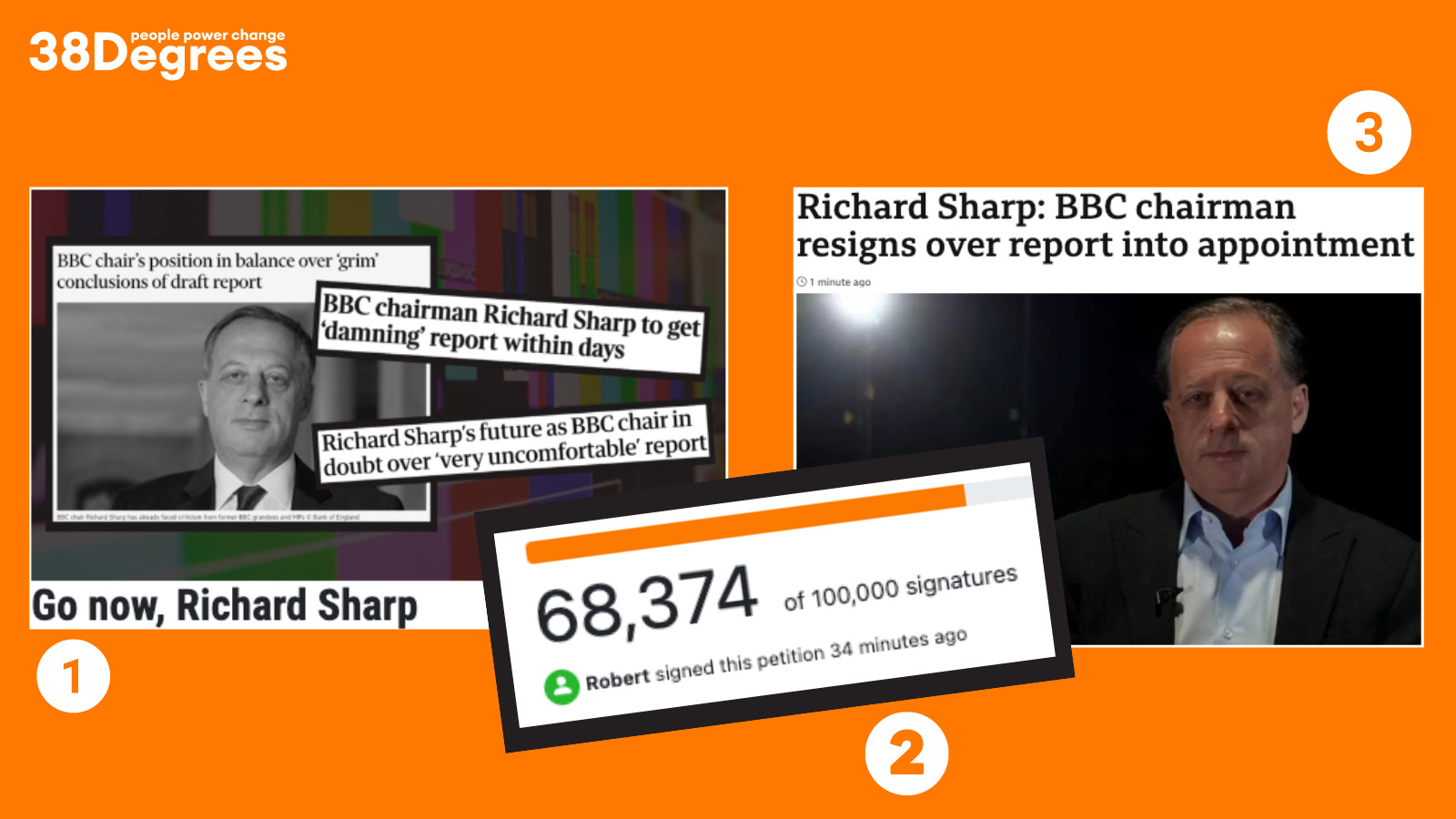 Apr 28th, 2023
Sharp has gone. The fight to defend our independent BBC has just begun
By Ellie Gellard
Former Conservative donor Richard Sharp has just resigned as BBC Chairman following a damning report which found he helped then-PM Boris Johnson secure a personal loan, and gave the PM a heads up before applying for the BBC top job.
The final decision maker for the role of BBC Chairman is… the Prime Minister.
It stinks and the 68,374 38 Degrees supporters who came together to demand Sharp step down, when news of the report's findings started to leak just one week ago, could smell it a mile off. 
Along with organisations fighting for the future of our BBC, like broadcasting union BECTU, and the power of investigative journalism in The Times which exposed the links between the former PM and Chair he appointed in the first place, 38 Degrees supporters raised a public outcry and demanded the resignation of a chair who was never fit for the job.
Sharp has gone but the fight to preserve the integrity and impartiality of Britain's beloved public service broadcaster has only just begun.
With a vacant seat at the top of our nation's broadcaster, those of us who care deeply about the future of our BBC have a chance to help save it.
The next BBC boss must be fit to lead our nation's independent broadcaster, holding those in power to account – not helping them boost their personal bank balances.
At 38 Degrees, we're determined to keep the public's voice front and centre, with a people-powered campaign to protect the independence of our BBC.
If you want to get involved, start by having your say on what that plan should look like. Here's the first question to get you started:
Should the process to appoint the next chair of the BBC be independent from Government?