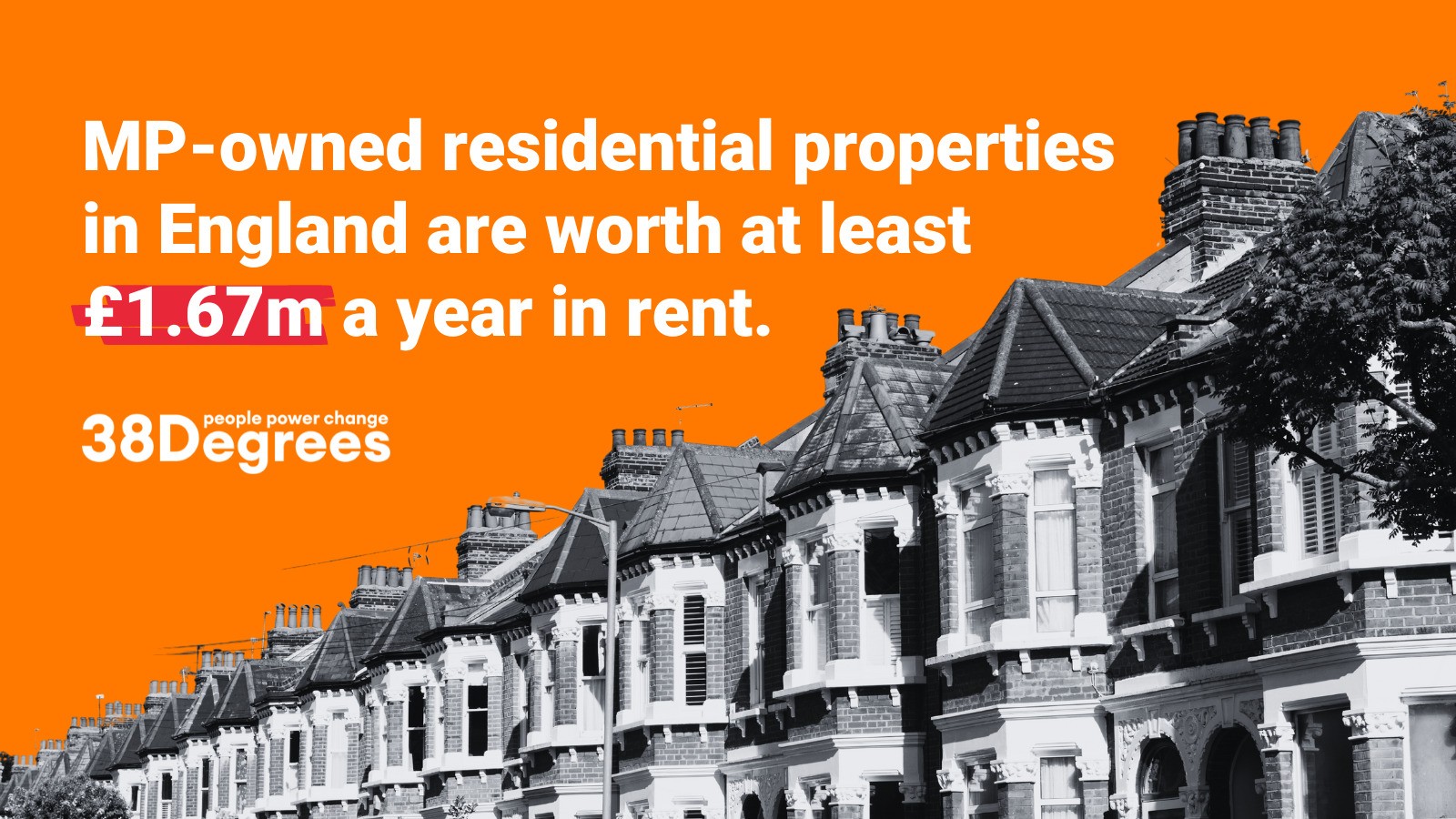 May 4th, 2023
New research: Renting Reform and Parliament's landlords
By Matthew McGregor
After four years of waiting, millions of renters in England were finally offered a glimmer of hope on Thursday, as Michael Gove hinted that the long-overdue Renters' Reform Bill could be brought before Parliament next week.
In the aftermath of this statement, 38 Degrees is today publishing research revealing that almost 20% of Conservative MPs are themselves landlords, while rented homes in England owned by MPs across the Commons made at least £1,670,000 in rental income in a year.
This marks the first step to fulfilling a promise made in the Conservative Party's 2019 election. After leaving renters waiting – and all too often suffering – for the last four years, Michael Gove's signal of movement on Renters' Reform is welcome news. However, the clock is ticking and now is the time for action: the Government must ensure it is brought forward without further delay.
38 Degrees is a community of more than a million people. We come from all walks of life, and we live in every corner of the country, in homes of different shapes and sizes. Some of us own our homes, some of us rent. What unites us is the small actions we all take, which together make something much bigger: people powered change, as together we seek to make our country a fairer, more respectful and more sustainable place to live.
For renters across England, the housing system is neither fair nor respectful. In fact, the country's private rental market is broken. For the nearly one in five households made up of private renters, an unsafe and unfair system means a roll of the dice with every new tenancy. Meanwhile good landlords must watch as irresponsible ones bring their reputation into disrepute.
That's why we launched our renters' reform campaign – to push for this legislation to be brought forward without delay, and to ensure it lives up to the promises made to renters. At the time of writing, 38,952 people have signed 38 Degrees' petition demanding the Government act on unfulfilled promises of a Renters' Reform Bill. And today, we are publishing our new research, which shines a light on the number of Members of Parliament who are continuing to make money from our broken rental system.
The key findings:
MP-owned residential properties in England are worth at least £1.67m a year in rent.
A total of 87 MPs declared income from 167 English homes earning over £10,000 in rent this year.
With 66 of the properties located in London, where average annual rent is £17,700, the true amount earned could be as much as £2.17m, if every London property were worth the average rent for the capital.
Nearly one in five (19%) Conservative MPs are landlords of English residential properties.
Five cabinet members claim rent from homes in England, including Chancellor Jeremy Hunt, who has seven Southampton apartments.
Politicians who make money from renting property are not breaking any laws, and there's no accusation that they're breaking any rules either. But MPs who make the laws face an extra duty, to their tenants as well as their constituents, to bring forward reform without delay.
With MPs almost four times more likely to be landlords than the rest of the population, and with five cabinet members and nearly one in five Conservative MPs earning rental income, we highlight the need for tenants' voices to be heard at the top of Government.

Renters across the country will be watching and waiting ahead of an election at which the 13 million of them have potential to be kingmakers. MPs – and especially those whose tenants are counting on them to reform our broken system – must hold Gove to his word and ensure the Government delivers on this long overdue manifesto promise.
View or download the full report here: