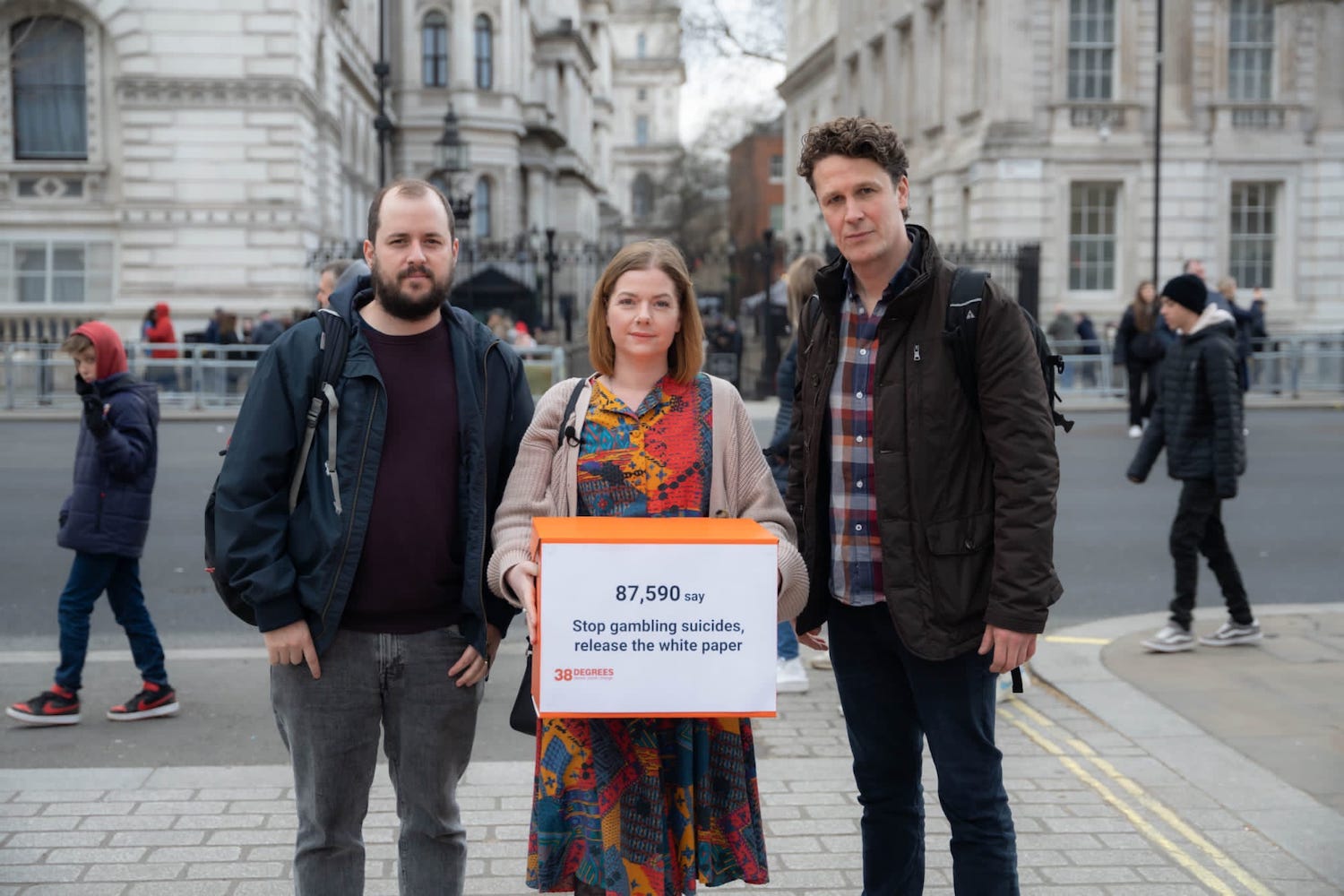 May 9th, 2023
"This is just the start": Annie's fight to rein in gambling companies
By David Innes
Tragically in April 2021, Annie Ashton lost her husband Luke to suicide. He'd developed a gambling problem in 2019 and had previously closed all his gambling accounts, and they'd worked together to clear his debts. But gambling companies had drawn him back in with offers of free bets, leading up to him taking his life.
Annie didn't want anyone else to experience what she'd gone through, so in 2021 she set up a petition on the Government petition website, calling for Luke's Law – a law to rein in gambling companies. Unfortunately due to the way that the Government website is set up, all petitions are closed after just six months. TheGovernment responded to her petition saying that they would publish a new white paper by the end of the year. 2021 came and went, and nothing happened. The new law was not published.
This would have been the end of Annie's campaign. She had no way of contacting the 31,147 people and the petition was shut down by the Parliament website.
Despite this setback, Annie decided not to give up and launched a second petition on 38 Degrees, allowing her to run the campaign with no deadline and with the ability to communicate with the people who signed.
Annie's new campaign with 38 Degrees proved to be really popular, eventually gaining over 90,000 signatures. It was calling for the Government to stop their delays and publish the paper that had been shelved.
38 Degrees worked with Annie and Gambling with Lives to turbo-charge the campaign.
Annie launched her petition in February 2022.
Over 90,000 people signed her petition.
Annie's story was covered in many newspapers.
Annie met with Gambling Minister Paul Scully and Secretary of State Michelle Donelan before Christmas 2022.
Annie handed in the petition at Downing Street in February 2023.
Annie was interviewed by BBC, ITV, The Guardian and many more national news channels.
Then in late April 2023, after continued pressure from Annie's campaign, the Government finally released the white paper we'd been calling for.
Here's a message from Annie:
There were some positives in it, including proposed affordability checks, reductions in stake sizes for the highly addictive slot machines, and a statutory levy on industry profits to pay for independent education, treatment, and research. They also promised a review of incentives such as free bets and bonuses – something I've personally campaigned on – which I hope could be the beginning of the end for them.
But there was much missing, including allowing the relentless gambling advertising to continue, something that almost everyone is fed up of.
And almost all proposals will need further consultation which will mean more delay.
Every day of delay means more lives lost, more families devastated like mine was, so we can't sit back and let the gambling industry keep delaying reform.
The fight will very much continue – this is just the start.
It's time to take stock now but I'll be back in touch soon about any new campaign and petition.
There is still more work to be done and the campaign does not end here. Annie is likely to launch a new petition in the coming weeks to help improve the law, and continue to put the government under pressure. And just like before, there will be thousands of 38 Degrees supporters ready to join her.