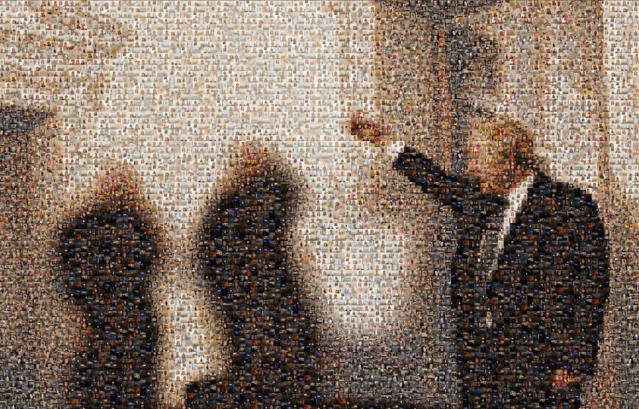 May 23rd, 2023
The public's warning for MPs as the Privileges Committee prepares to rule on Boris Johnson
By 38 Degrees team
38 Degrees is reminding MPs that the public's anger about 'Partygate' has not waned, as the Privileges Committee prepares to publish its verdict on Boris Johnson.
With the MPs on the committee believed to be meeting to finalise their report this week, on Tuesday, we released exclusive polling to all Westminster MPs to show that voters expect serious sanctions for the rule-breaking ex-PM, and remind them of the ongoing strength of public feeling at a time of sacrifice for so many. 
The poll, conducted by respected pollsters Survation, shows the majority of Brits believe Boris Johnson intentionally lied to Parliament about 'Partygate', and should face a by-election in his Uxbridge and South Ruislip constituency.
The polling, which was featured in Politico's London Playbook newsletter, and landed in the inboxes of all MPs in Westminster on Tuesday, shows:
60% of people believe Boris Johnson is "not fit" to be an MP.
Mr Johnson has failed to convince the public of his honesty: nearly two-thirds (63%) believe he "intentionally misled Parliament about events held at Downing St during lockdown".
Even more – 65% – agree that "an MP who intentionally misled Parliament should have to face a by-election".
Most voters (58%) say they would want their MP to vote in favour of a suspension of 10+ days, potentially triggering a by-election, if the Privileges Committee recommends such a sanction.
More lenient sanctions are unpopular with the public: just 9% would support a suspension of less than 10 days – meaning Mr Johnson would not be at risk of facing a byelection – while only 6% believe he should face no sanction.
Matthew McGregor, CEO at 38 Degrees, said: "All MPs will remember the flood of heartbreak, guilt and anger that filled their inboxes when Partygate allegations emerged in 2022. For people who made huge personal sacrifices to 'do the right thing' and follow the rules, the thought that it was one rule for them and another for the most powerful in Westminster was enough to seriously damage their trust in Government.
"Now, as the Privileges Committee prepares to publish its findings, and the issue comes back to Parliament, 38 Degrees is once again shining a spotlight on public opinion over Partygate. Our new polling shows that the public hasn't forgotten about this scandal, and today we are sharing it with MPs to remind them what we expect of our elected representatives.
"The results are clear: the public expect Boris Johnson to face the music. Should he not face appropriate sanctions, trust in politicians and politics will be eroded even further – to the detriment of our democracy.
"Not only the Privileges Committee but all MPs must sit up and take note of what their voters expect from them – or prepare to suffer the consequences at the next election."
Polling was conducted by Survation for 38 Degrees on a population of 1,010 UK adults. Fieldwork dates: 12th-15th May 2023
Data were weighted to the profile of all adults in the UK aged 18+. Data were weighted by age, sex, region, highest level of qualification, annual equivalised household income, 2019 General Election Vote, and 2016 EU Referendum Vote.
For more information, to see the full dataset, or to arrange an interview, please contact Hannah Graham, hannah.g@38degrees.org.uk, 07704 547398