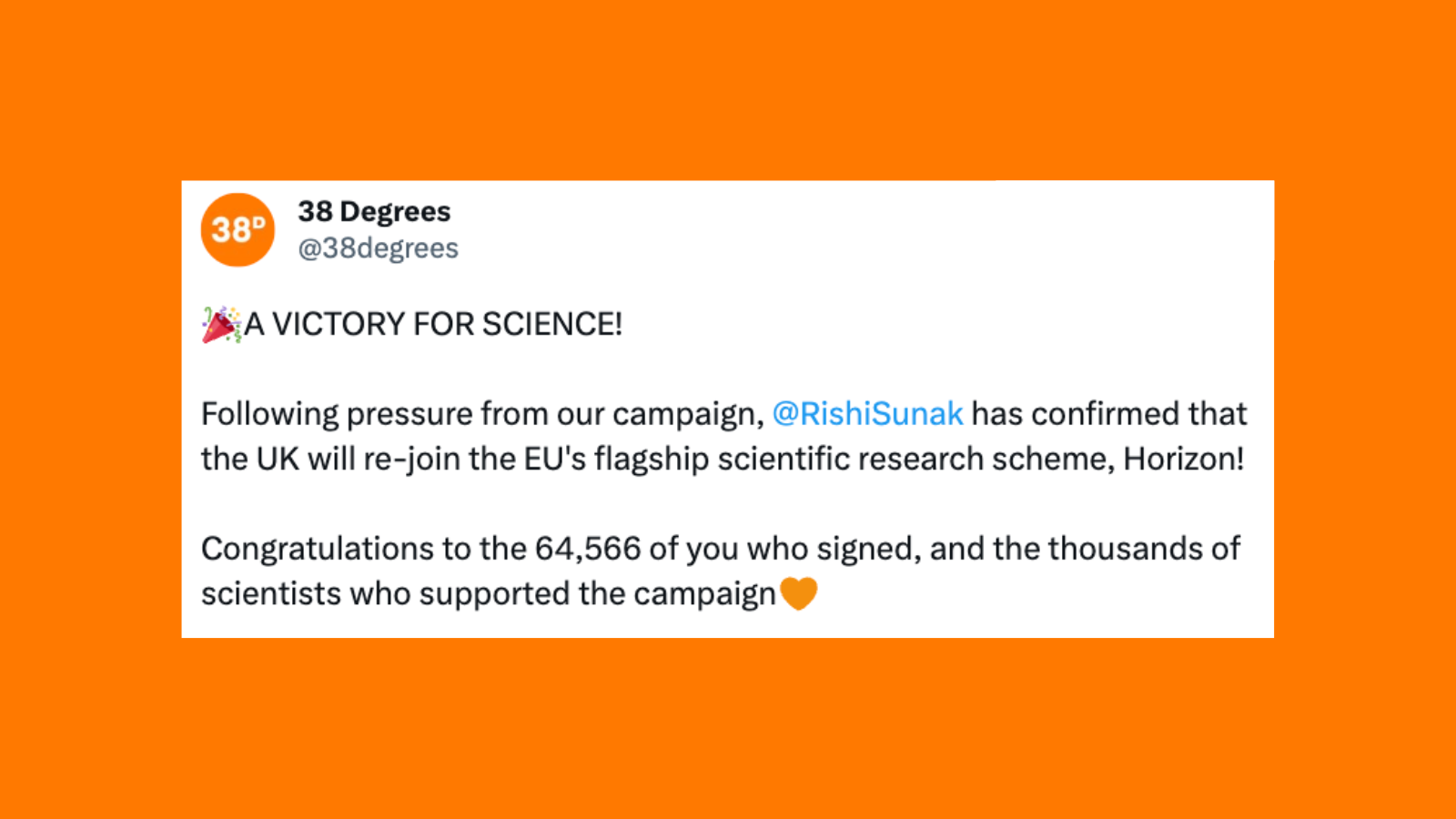 Sep 14th, 2023
A victory for science: how the 38 Degrees community supported scientific discoveries
By David Innes
At last, Rishi Sunak put pen to paper and signed the deal to rejoin the Horizon Science Programme. This means UK scientists and researchers can carry on working on hugely important research projects like protecting our bees and tackling cancer.
The Prime Minister delayed the decision for months. After coming under huge pressure from members of the public and thousands of 38 Degrees supporters, he finally did the right thing and ensured scientific discoveries aren't a casualty of Brexit.
Together, we made sure Rishi Sunak knew the British public was behind this.
Over 64,000 people signed our petition, thousands fed into an impactful survey, and we even worked alongside Prospect – the union that represents scientists.
Here are some of the powerful facts that came out of our survey:
645 scientists and researchers told us their work had been impacted negatively by the UK leaving Horizon.
599 told us it would make them less likely to work in the UK.
1,615 told us they have colleagues who have left or are considering leaving science work in the UK, wholly or partly as a result of leaving the Horizon EU project.
We also heard directly from the people impacted by this situation.
"I have served on European Research Council grant panels and recognise not only the negative impact on UK science but also the loss to the ERC of having British science represented. The UK is a net beneficiary of Horizon funding because of the excellence of UK science so there are no rational arguments for not re-joining."

"It is vital that scientists are able to pool research and collaborate, confining research to the UK makes no sense. SG BSc"

"I am now retired but despair for present-day researchers unless attitudes change."

"I work in HE and this will hugely impact academic colleagues and the excellent research our institutions are able to do. This is a terrible idea. Amongst all the other terrible ideas this government is pursuing."

"My husband is a leading environmental scientist. His work has been affected and many colleagues have already left for overseas. He will leave also. I despise the Tory party and Keir Starmer's party and feel that this country is in permanent decline and an embarrassment as are its media and the low-information fools who turn a blind eye to all this mess."
Sue Ferns, Senior Deputy General Secretary of Prospect, said: "This decision is in no small part down to the concerted campaign by scientists and others across the UK working together to persuade the government to change tack."
Now that we have convinced the Prime Minister to rejoin the Horizon Science Programme, we need to throw everything we've got at the Government to do more to protect our country's trade, nature, and business.
Want to be part of future successes like this? Learn more about our current campaigns.