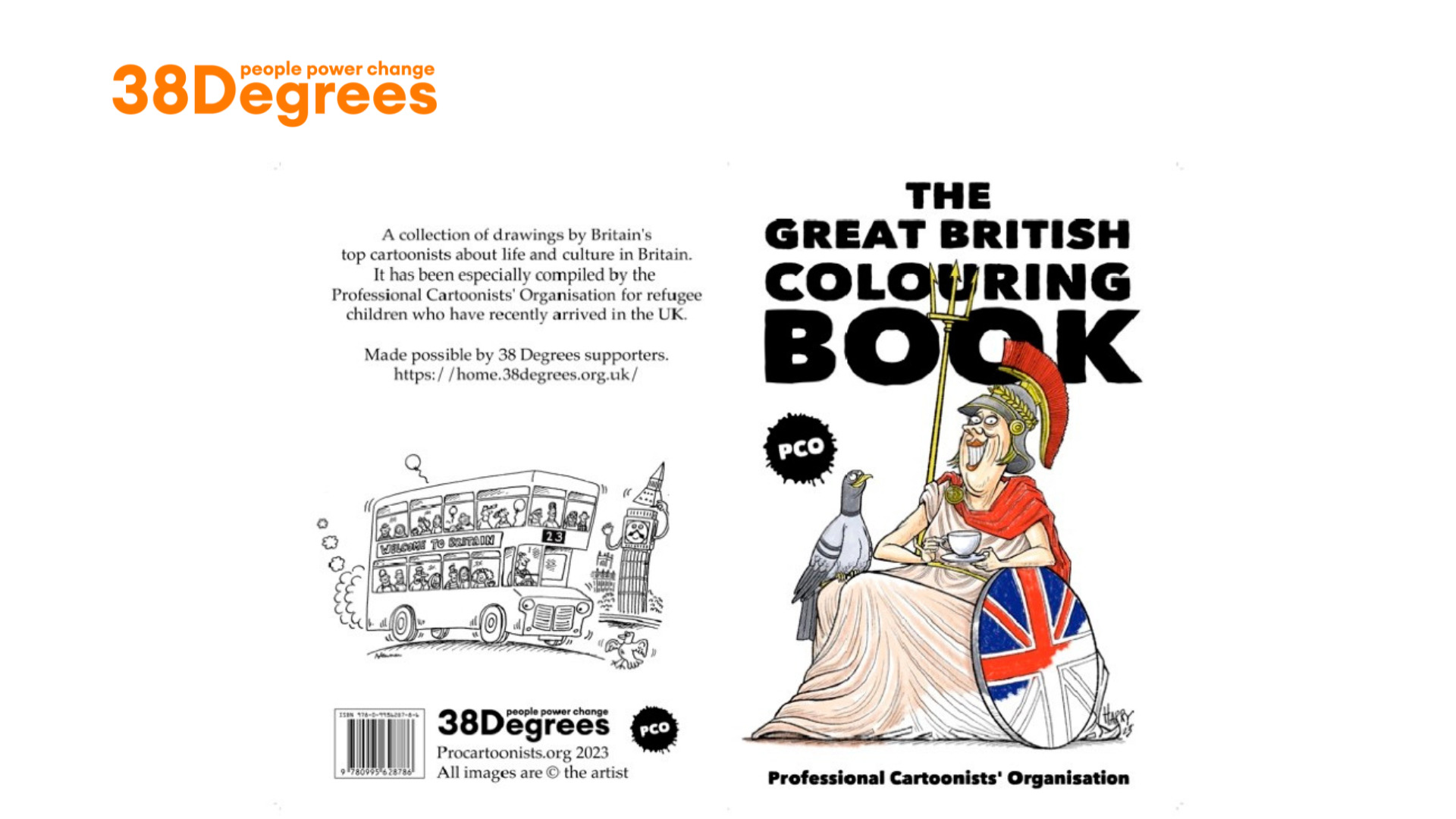 Sep 22nd, 2023
Cartoonists, colouring books and people power in action 
By Veronica Hawking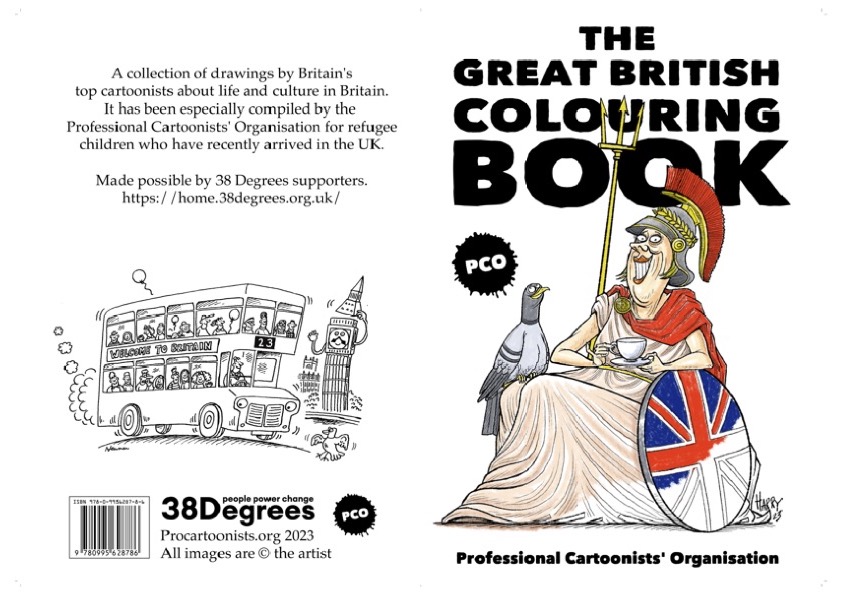 In the 38 Degrees community, we talk a lot about people power, and the small actions we can all take that amount to something much bigger – a country that is more fair, more sustainable and more decent.
But in recent months, it's hard to recall many moments that have represented a complete lack of basic decency by the Government more than the order by Immigration Minister Robert Jenrick that murals of Mickey Mouse and Baloo the bear at Manston reception centre should be painted over, because they were "too welcoming".
Across the country, so many of us felt outraged, heartbroken and helpless at the news of the Government's cruel actions. The 38 Degrees community wanted to do something meaningful to counter this move and something that would send a message to those arriving AND to the Government: We, the British public, back a warm welcome for refugee children arriving in the UK.
As we considered what we could do, word reached us that the Professional Cartoonists Organisation were having similar thoughts. To put their incredible collective talents to good use at this moment, they had landed on producing a colouring book. With PCO their cartoonists working up wonderful drawings of different quintessential aspects of British culture – from the full English breakfast, to the Loch Ness Monster, 38 Degrees stepped in to make the production and distribution of the book a reality.

Thousands of us gave small donations, with £3 enough to cover a colouring book and pencils for a child. Overnight our incredible community raised enough money for us to send our initial run of 1000 books to print, and donate excess funds to the Refugee Council, one of the organisations who will help get these books into the hands of recently arrived refugees.

Fast forward a few weeks later and the Great British Colouring Book was ready for the printers. 50 cartoonists, including Terry Gilliam, Tony Husband, Quentin Blake and Adam Hargreaves have submitted artwork, aimed at children of all ages, and with a clear message throughout – from rainy days to afternoon tea, this is Britain, and you're welcome here.
In the next few weeks we'll start distributing the books (along with accompanying colouring pencils), with books already lined up for projects across England, Wales and Northern Ireland. If ever there was a reminder that we're never helpless, and that we can be such an incredible force for good when we work together, it's this project. From the talent of the cartoonists, to the generosity of our supporters, to the dedication of the projects and volunteers working on the ground with refugee children, together we've sent a message about where the British public actually stand, in stark contrast to the Government's damaging and divisive rhetoric, which we can all be proud of.

If you would like to donate to this project, support the work of the organisations who are helping us distribute these books, allow us to send out even more books, you can chip in here

If you work for an organisation or project that supports recently arrived children and would like a donation of books, please get in touch with the 38 Degrees staff team.