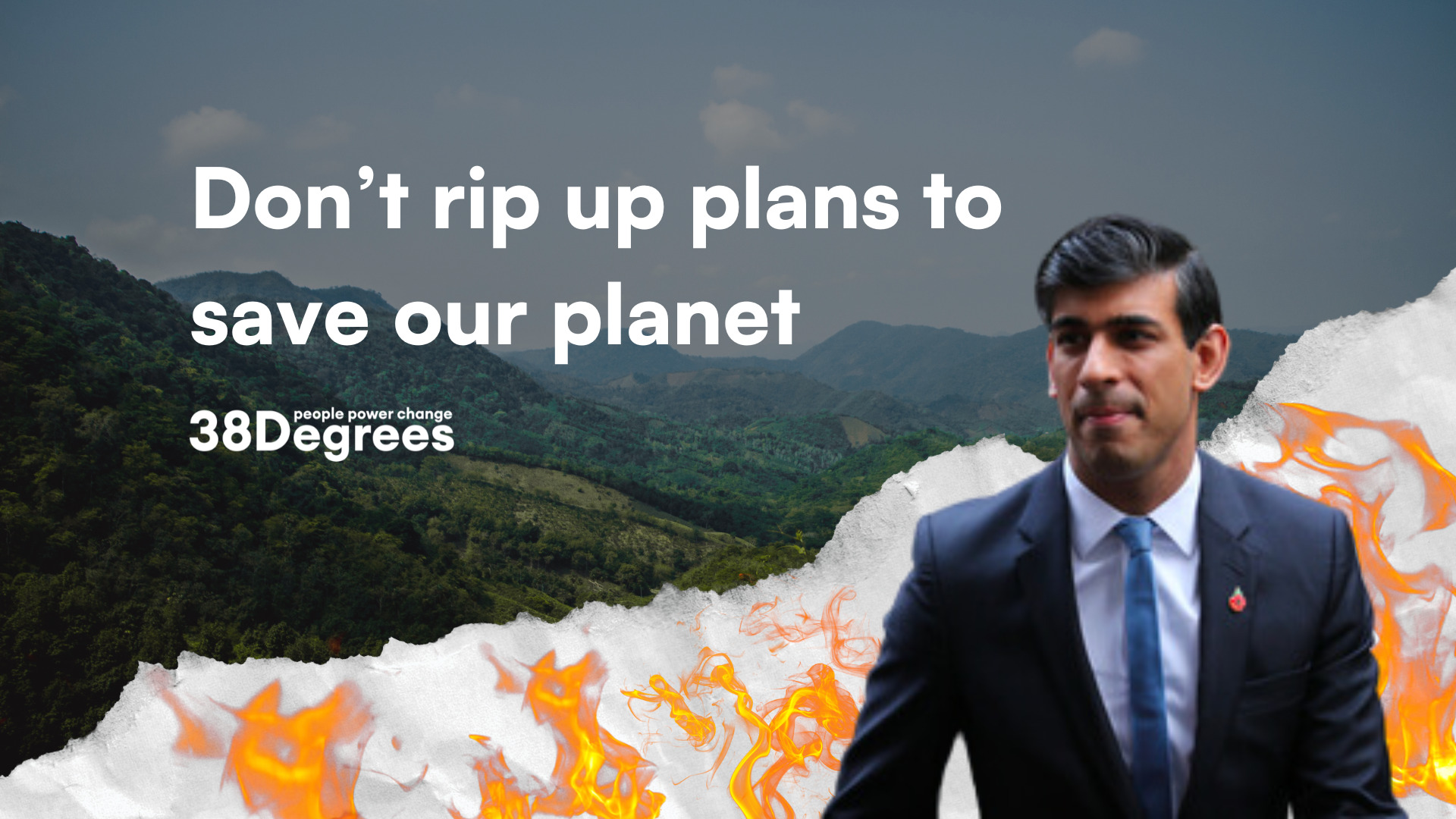 Sep 28th, 2023
A message from voters to Rishi Sunak
By 38 Degrees team
We've taken to the streets of Manchester to show Rishi Sunak and the Conservative party that ripping up plans to save our planet IS NOT a vote winner, and over 61,000 people agree.
Plans to scrap net zero commitment won't help people struggling with the cost of living crisis, but will help us hurtle towards a climate catastrophe. These plans are bad for the planet, bad for our jobs and bad for many households and family finances.
Politicians, business leaders and campaigners across different sectors are already opposing this move: now we're bringing the voice of the public straight to Rishi Sunak. Since the announcement was made last week, more than 1,000 38 Degrees supporters have emailed their MPs to express their outrage and opposition to this decision.
Here are a few of those messages from 38 Degrees supporters which have been sent to members of the Cabinet:
William to their MP, Suella Braverman

"The PM has recently rowed back on promises to achieve net zero and you have enthusiastically supported this U turn. Please explain why you support Sunak in putting back the policy to ban the sale of new diesel and petrol cars until 2035, when the 2019 Tory Manifesto promised to do this by 2030. I sold my diesel car in 2017 and now do without one. I think you need to think again and stop being so ideologically driven. We need sensible policies that help everyone, not ideological words that deny pragmatism and good sense."
Elizabeth to their MP, Jeremy Hunt:

"We cannot afford to weaken any pledges which have been made in order to protect life on our planet. Language which infers that we cannot afford to 'protect the planet' at the moment is disingenuous as the planet can look after itself – it is our lives and the life of many living species which are on the brink of extinction if we do not act immediately.
If increased measures are not taken now to reduce our polluting activities, a tipping point will be reached sooner than expected which will result in intolerable living conditions for future generations. The UK must continue to lead the world by our example by not abandoning our principles."
Francis to their MP, Gillian Keegan:

"What are you as a government doing? How dare you play with my children's future to keep yourselves in power. Net-zero dates must stay as promised."
Rosemaire to their MP, James Cleverly:

"With so many other countries on this planet trying to get a bit greener, why is it the UK is now, according to our current Prime Minister, going to take a nose dive into a backtrack. Why don't you try asking the British public for their help in achieving small goals to attain a larger goal? If money is spent more effectively and politicians stop listening to the back room boys and start listening to the people who actually live here and vote, maybe, just maybe, things would improve."
Michael to their MP, Claire Coutinho:

"I was disappointed to hear how the Prime Minister has reversed his decision on protecting Net Zero yesterday. Please can you lobby to revert back to the original position on Net Zero."
Sonia to their MP, Greg Hands:

"It seems to so many people who have thought about these pledges as they will help our planet to survive and provide a positive influence to other countries. Now your government is destroying this positive movement. And for no good reasons. Please do what you can to get us back on the right track."
Roland to their MP, Miriam Cates:

"I was disappointed that your name did not appear on the Conservative Party Environment Network list but am writing in the hope that you will oppose PM Sunak's plans to water down planet saving policies. I want to know if you still support the 2019 Conservative manifesto promise of investing in clean energy solutions and green infrastructure to reduce carbon emissions and pollution? Do you still support banning the sale of new petrol and diesel vehicles by 2030? Will there be many more onshore wind turbines? Will the dumping of untreated sewage continue? All these issues cannot wait so please oppose PM Sunak as he tries to avoid them."
William to their MP, Johnny Mercer:

"I am imploring you to attempt to change your Leader's mind on his decision to backtrack on his climate change policies. Fossil fuels are responsible for 76% of the damage caused to our climate so we cannot afford to extend that damage. You only have to see what is currently happening around the world with the weather to realise climate change is already here to stay. We quite simply cannot afford to add any more damage. We have to do what we have promised to do without any further delay whatsoever. If we don't my children and most certainly my grandchildren will face a very grim future indeed."
Nina to their MP, Tobias Ellwood:

"Thank you for supporting the net zero policy. Yet again proving to your constituents that as an individual you are to be trusted. I can not even begin to understand the continued neglect by the government of the importance of environmental issues. This summer's climactic events across the globe surely indicate that we don't have time to delay. We could become world leaders instead we yet again hang our heads in shame. For the sake of our grandchildren please continue to support the net zero targets. The people I discuss this with all believe we could make huge impacts on the environment if the government were fully supportive and are prepared to take some pain as part of that process."
So far, over 61,000 members of the public have signed the 38 Degrees petition telling Rishi Sunak not to rip up plans to save the planet. Rishi and the Conservative Party must listen NOW to save our jobs and protect the planet for future generations.
Sign the petition and make your voice heard: