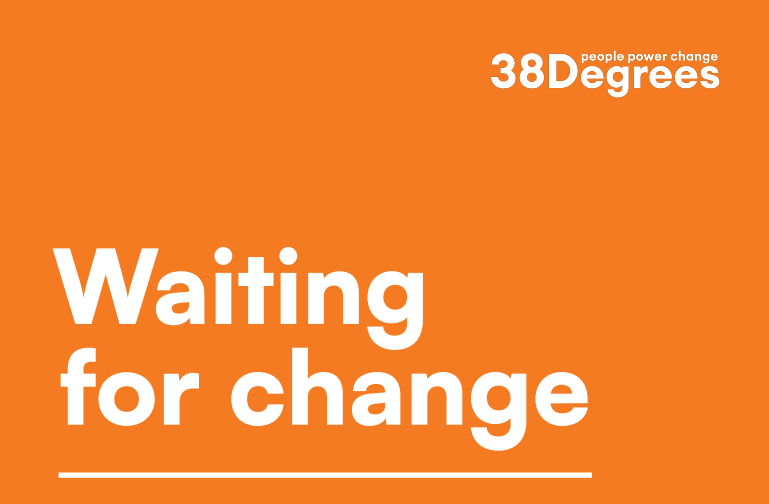 Oct 13th, 2023
New poll shows a country desperate for change
By Matthew McGregor
Our new MRP research shows NHS and Cost of Living crises are costing Conservative Party Britain's support
Government failures which have left millions of Brits unable to feed their families or access vital NHS care are costing the Conservative Party the country's support. That's according to new country-wide polling commissioned by 38 Degrees.
The research, carried out by respected pollsters Survation, saw more than 10,000 people questioned, and paints a picture of millions of voters who are anxious, angry and demanding change. They're struggling to cover their energy bills or pay for their weekly shop. Even those able to cover the essentials are having to cut back on the little things that make life enjoyable – a monthly cinema trip or a meal out – which means millions of voters feeling increasingly miserable.
It's hardly surprising, then, that the poll shows the current Government shedding support in crucial areas. If an election were held tomorrow, it shows the Conservative Party would lose a total 216 seats, including all its 2019 'Red Wall' gains, and many seats in its usually safe 'Blue Wall' heartland.
When we commission polling, it's not out of curiosity: it's one of the best ways to deliver MPs a message they'll hear about exactly what their constituents want. Nor is it a prediction of how the next General Election will go – it's a snapshot of how people across Britain are feeling right now, the issues they care about, and how well they believe those in power are performing on those issues.
For the current government, Britain's verdict was damning. In every single constituency in Britain, 'The NHS' and 'The Cost of Living' were the top two issues for voters – issues that Prime Minister Rishi Sunak failed to properly address during the recent Conservative Party Conference.
Digging deeper into these two issues, we revealed the scale of suffering caused by these twin crises, in the Cost of Living and in our NHS, and how any party who hopes to convince votes must offer real solutions.
We asked people to rate their financial situation: from "well off" to "desperate". The figures were shocking. People who are desperate said they can't afford essentials like food or rent, and are 'taking extreme measures like skipping meals'. We found that 8% of the UK are in this awful position – that's more than 5.3 million people who can't pay their rent, heat their homes, or put food on their table.
And it's not just those in the most desperate circumstances who are struggling. Nearly two-thirds of the UK (62%), are making cutbacks of some kind, including the 21% 'worried about their financial future' and the 33% 'getting by' but having to reduce small luxuries and the things that make life enjoyable.
And when we broke things down to a constituency level, we found things were even worse in some areas: in parts of the UK, as many as one in every four people is feeling "financially desperate".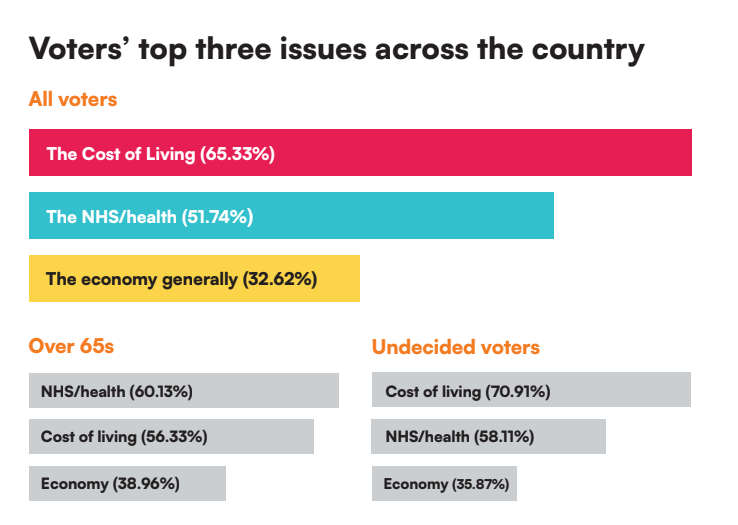 Meanwhile, when it comes to Britain's most cherished institution, our NHS, people are struggling to access care for themselves and their loved ones at every level: from the 31% saying a loved one has been on a waiting list for six months or longer, to the 42% who've struggled to get a GP appointment in the last six months, and the quarter of people who've experienced a delay of six hours or more at A&E.
As a General Election draws closer, the 38 Degrees community will be bringing our fight for a fairer country – one where everyone has access to a well-resourced NHS and where there is real support for all of us whose daily lives have been made worse by the cost of living crisis – to the attention of candidates in every part of the country.
The message of this poll could not be clearer. To the current government, it shows how broken promises and failures to improve life for people across Britain have cost them support – and the issues they must focus on if they hope to regain it. To parties hoping to form the next government, it shows what must be done if they hope to maintain the gains they're making in public support.
Any party that is unconvincing on these crucial issues, that fails to offer concrete solutions that work for the entire county, or becomes distracted by divisive culture wars, will rightly suffer at the polls.
Some of the individual seat results which stood out to us were:

In Hartlepool – whose predecessor seat was won by the Conservatives for the first time in 2021 – Labour have a 38 point lead on the Conservatives, as 1 in 4 constituents (25%) say they're financially "desperate" and a further 19% are "worried".
Both new constituencies making up Blyth Valley – the first 'Red Wall' seat to turn blue in 2019 – predict large Labour majorities (49.2 Lab to 21.8 Con in Blyth and Ashington and 51.8 Lab to 18.9 Con in Cramlington and Killingworth). In Blyth and Ashington, 1 in 4 people (25%) are "worried about their financial future" while 9% are "desperate".

North Dorset – whose predecessor seat last elected a non-Conservative MP in 1945 – is predicted to fall to the Liberal Democrats. In this seat, 47% of people say they're merely "getting by" while 14% are "worried" and 6% are "desperate". The NHS was a top issue for the highest proportion of this constituency (64%).

In Farnham and Bordon, which will replace the majority of Chancellor Jeremy Hunt's South West Surrey seat the Liberal Democrats are neck and neck with the Conservative Party.

Bassetlaw, whose predecessor seat saw the country's largest Lab-Con swing in 2019, is predicted to return to Labour, with the party set to gain a 23 point lead. In this constituency, 12% of residents are "financially desperate".
You can see results on voting intention, top priorities, the NHS and the Cost of Living for every constituency in England, Scotland and Wales here, and you can get a view of the national picture here.
And a final note: this polling was paid for by hundreds of 38 Degrees supporters who chipped in an average of £7.82 each so this work could be done. Thank you to everyone who is part of this amazing community.
————————————————————————————–
Survation undertook this research on behalf of 38 Degrees, with fieldwork carried out between 11th and 25th September on a sample of 10, 334 residents aged 18+ living in the UK. The sample was boosted to 11,793 for the voting intention MRP model to assist in the measurement of seats with smaller sample sizes. Using Multilevel regression and poststratification (MRP) Survation are able to use this large dataset to produce estimates of opinion and attitudes for small defined geographic areas – in this case, the Westminster constituencies which will exist following the boundary changes which will come into force at the next General Election. More information about MRPs is available at survation.com/what-is-mrp.
Data were weighted to the profile of all adults in the UK aged 18+. Data were weighted by age, sex, region, highest level of qualification, annual equivalised household income, 2019 General Election Vote, and 2016 EU Referendum Vote.
For any more information, or to arrange an interview, please contact Media and Communications Manager Hannah Graham, hannah.g@38degrees.org.uk