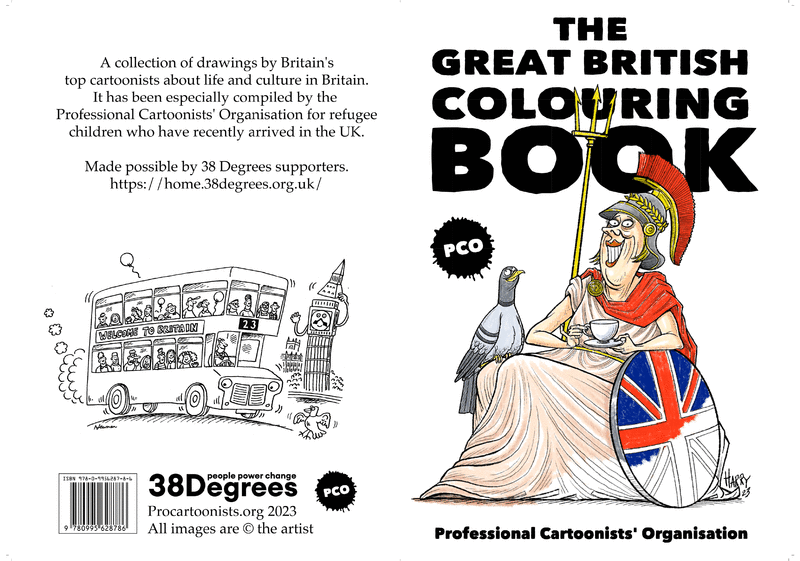 Nov 15th, 2023
'The Great British Colouring Book' FAQs
By Kate Murray
What's this campaign about?
Following the public outrage at the Home Office decision to remove child-friendly murals of Mickey Mouse and Baloo the bear at its Manston refugee centre near Ramsgate, 38 Degrees and the Professional Cartoonists' Organisation (PCO) joined forces to counter the cruel move, with the launch of a brand new colouring book for newly arriving children in the UK.
The PCO brought together over 50 cartoonists, including Terry Gilliam and Quentin Blake, to put together 'The Great British Colouring Book' for children arriving in this country. The colouring book, aimed at children of all ages, includes drawings of different quintessential aspects of British culture – from the full English breakfast, to the Loch Ness Monster.
As a result of the generosity of 38 Degrees supporters, more than 4,000 colouring books have made their way into the hands of newly arrived children.
Due to popular demand, we are now making the colouring books available to members of the public for a limited time and for a one-off donation. This updated version will feature more than 100 original cartoons from the UK's best cartoonists – the perfect gift for a friend or family member this Christmas!
Is 'The Great British Colouring Book' free?
We recommend chipping in £10 to cover the costs of printing and posting your colouring book.
Any excess profits will go to the Refugee Council to support the work they do with newly arrived children and towards 38 Degrees campaigns to make our country a fairer place for everyone.
Please note that to ensure as many people as possible get a copy of the colouring book, we're limiting orders to one per donation, on a first-come first-served basis.
You can make a donation and order your copy here.
When will I receive my copy of 'The Great British Colouring Book'?
We're aiming to have the colouring books shipped out by the second week of December. Please remember that 38 Degrees is a campaigning organisation with a small office team and so we don't have the facilities of an online giant like Amazon. So we ask that you please be patient with us.
Do you ship outside the UK?
No, we do not offer shipping outside of the UK.
Can I share a photo of my copy of 'The Great British Colouring Book' with you?
Of course! You can email a photo to colouringbooks@38degrees.org.uk (please note that we may share your photo on social media – unless you ask us not to!). You can also share a photo of your colouring book on social media. Don't forget to tag us @38Degrees on Twitter or @38degrees_uk on Instagram and TikTok and use the hashtag #CartoonsNotCruelty.
I don't want to order a colouring book, how else can I support this campaign?
If you don't want to order a book, you can chip in to help make this campaign even bigger and better you can make a secure donation here.