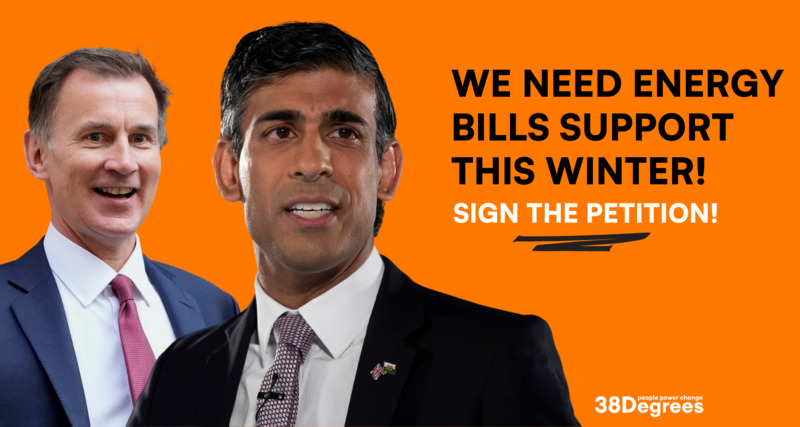 Nov 20th, 2023
New poll: Britain fears Autumn Statement won't help most families as 'shambolic' Government fails to focus on cost of living
By Veronica Hawking
On Wednesday, the Chancellor will announce his Autumn Statement – a chance to take vital steps to boost the economy and make life better for people across the country suffering at the sharp end of the cost of living crisis.
But – as reports in the Sunday papers swirl that Jeremy Hunt will prioritise tax cuts for the richest whilst hitting families in receipt of benefits hard – our new research reveals the Government is failing to convince voters it can do what is needed. Nearly three quarters of us don't believe this Budget will help us or our families.
The poll, conducted in the last few days by Focaldata for 38 Degrees, shows:
73% of voters say they are "not confident" that the Autumn Statement will "contain policies that will improve your household finances".
Rishi Sunak's own voters have almost as little faith in the upcoming budget as the general public – 72% of those who voted Conservative in 2019 are "not confident" the statement will help their finances.
66% also believe the government is "not doing enough" to help those struggling the most with the cost of living crisis.
Meanwhile, the figures also illustrate the impact of a week of disruption, chaos and infighting in Westminster, which has left voters feeling leaders are not paying enough attention to the issues that matter most.
Fewer than 3 in 10 (28%) think the government is "sufficiently focused on improving the cost of living crisis".
Seven out of 10 members of the public – and 63% of 2019 Conservative voters – describe the Government as "not well run".
Following the ex-Home Secretary's controversial comments about rough sleeping as a 'lifestyle choice' seven in 10 people (70%) also say the government is "not doing enough" to prevent homelessness.
The message from this poll is all too clear. After a week of chaos at the top of Government, we can see that a failure to focus on the issues that really matter is costing Rishi Sunak Britain's trust. Most people don't believe his government is doing enough to alleviate the cost of living crisis, either for their personal finances or for those struggling the most – and they're not remotely confident that things will improve. 
A budget should be an opportunity to show leadership: to boost confidence in the economy and help the millions of us who are suffering as a result of the cost of living crisis. Yet voters see a government that has its priorities all wrong, and who are too busy focusing on in-fighting and stoking division to concentrate on easing the cost of living crisis for people across the country.
There's still time for Rishi Sunak and Jeremy Hunt to start listening and take real action to help struggling households ahead of Wednesday. One simple way to do this would be to commit to more action on energy bills, which remain one of the biggest drains on families' budgets, and most people are facing a cold winter without energy bill support. 
That's why nearly 80,000 people have added their names to 38 Degrees' call for bills help for struggling families, paid for by taxing energy company profits. In the lead up to and the aftermath of this budget, our community will continue to fight for the support that all of us need to get through this cost of living crisis, from the millions of families making painful cuts and missing out on the little luxuries that make life enjoyable, to those struggling the very most.
——————————————————————————–
Polling was conducted by Focaldata for 38 Degrees on a representative sample of 1,025 UK voters. Data has been weighted to be representative by: age, gender, region, education, ethnicity, and 2019 GE vote Fieldwork completed on 15/11/23. You can view all the figures here.
For more information or to arrange an interview, please contact Hannah Graham, hannah.g@38degrees.org.uk, 07704 547398