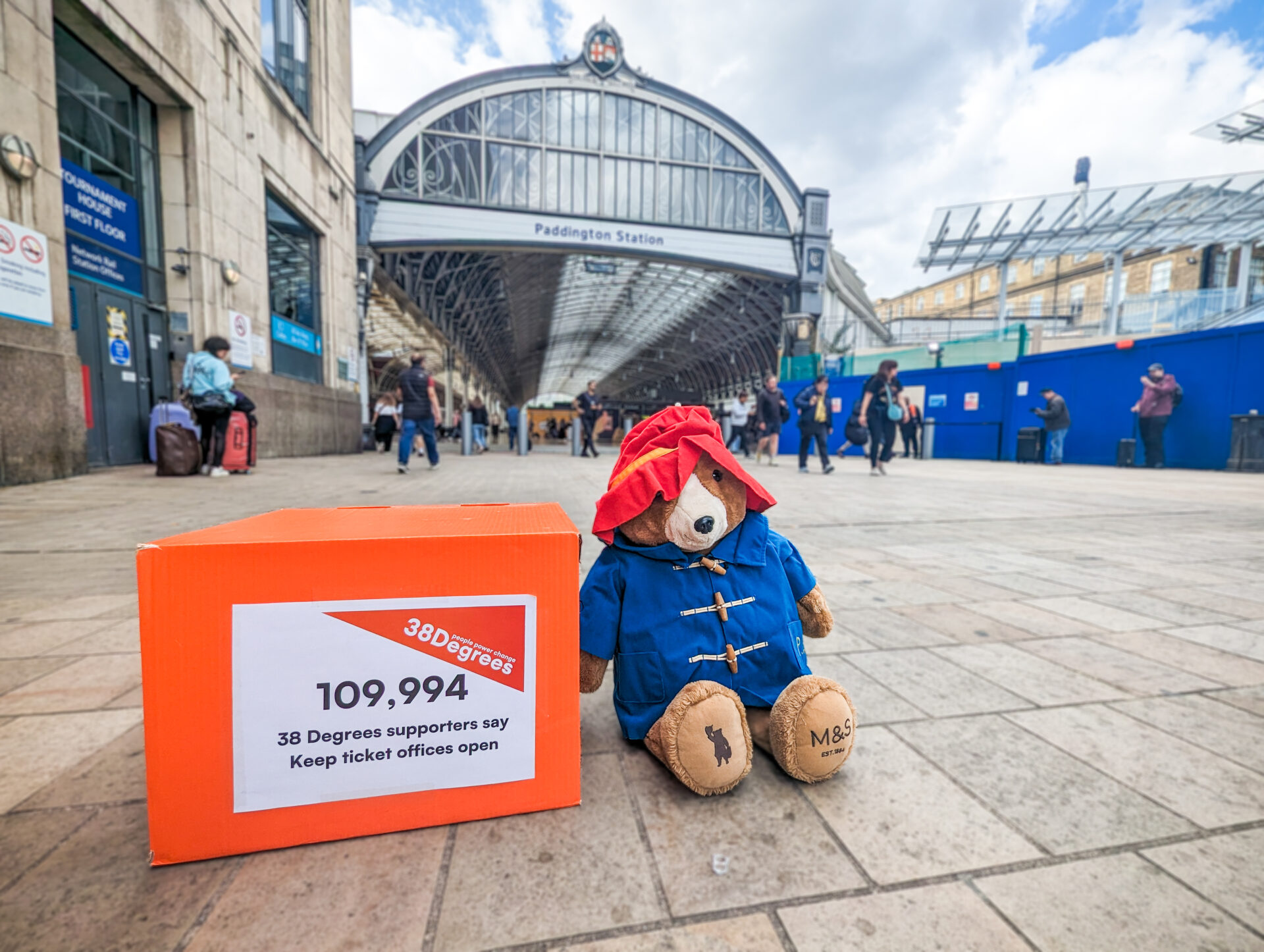 Nov 21st, 2023
All aboard! Pulling together to keep train ticket offices open
By 38 Degrees team
In early July, British train passengers were left reeling after the revelation of plans for a mass closure of our train ticket offices.
A 21-day public consultation was launched to gather passengers' views. We had no time to lose – we needed to channel all our outrage into action. The hard work began there and then.
Our months-long campaign was one of many across the UK, and together we proved we couldn't be ignored. On 1 November, the news broke: the plans had been scrapped.
So, how did we go about our campaign?
First things first, we set out to overwhelm the public consultation. Through our website, 38 Degrees supporters made 26,205 submissions to share their views and experiences.
We also threw ourselves into setting up a Keep Ticket Offices Open petition, where supporters could voice their opposition quickly and easily.
Addressed to the Rail Delivery Group and the Secretary of State for Transport, Mark Harper, the petition demanded that they put passengers' needs over profit. At the time of writing, the petition has 114,040 signatures.
The petition was making a gigantic splash online, particularly on social media, where 38 Degrees supporters were sharing their views far and wide.
"Our PM has no idea how difficult the closure of ticket offices will be for many of the public because he uses helicopters instead… is he demonstrating the way forward I wonder." – Lyn Wood

"[We'll have] none in the not too distant future unless the public rally to scupper these closure plans." – Torbay Forward

"I travel a lot by train and have never yet seen a ticket office without a queue." – Kristina Stinson
The decision-makers couldn't ignore the fact that opposition was proving to be fierce. In late July, we learned that the consultation period was being extended until 1 September.
With this wider window, we immediately set about planning how we could amplify the campaign as much as possible. We decided to combine online and offline activities.
First, we gave supporters the opportunity to reach out directly to the Rail Delivery Group's CEO with ease. Her inbox was flooded with 3,852 powerful messages sent by the 38 Degrees community. Here are just a few.
"I am just one of many profoundly deaf people who find rail travel difficult and value my deaf aware staff in my local ticket office, Seaford, who help out when I want to be sure I'm getting the right train and the right ticket for my journey. Not only this, many older people find machines hard to manage and this adds to anxiety about journeys that are already stressful enough." – Sarah Playforth

"I know you are now aware of the huge opposition to the closure plan. Please think about the many vulnerable people it will impact. They need more help and encouragement, not less." – Grant Bright

"These are a lifeline for disabled people like me. Please reconsider this awful decision. Many thanks." – Amy Booth
Meanwhile another 38 Degrees supporter, Raymond Bradley, 35, shared his views about the plans in this news outlet. Raymond is registered blind and described how the plans made him feel like the Government was trying to take away his independence.
"It will leave people with sight loss and other disabilities out. I've signed the 38 Degrees petition and I've written to Dame Meg Hillier who is the MP for Hackney South and Shoreditch through the Royal National Institute of Blind People (RNIB) asking her to stand up in Parliament to stop the ticket office closures."
Finally, as the consultation period neared its end, three members of our team headed to the Rail Delivery Group's headquarters in Blackfriars with a special guest. Take a look at our video to find out who it was – and to see a reminder of why ticket offices are so important for passengers!
We've won this campaign together – now why not get involved in our other campaigns? From rejecting the royal payrise to demanding a humane approach to those seeking refuge, there are many petitions that you can sign to take simple, effective action against unfairness.