We want to be transparent and accountable about how we are funded and how we spend your donations – please get in touch if you've got a question or any feedback on how we present this information.
Where does 38 Degrees get its money from?
38 Degrees is independent and people-powered – we don't take any money from government, political parties or big business. We are funded by small donations from hundreds of thousands of members of the public from all over the UK.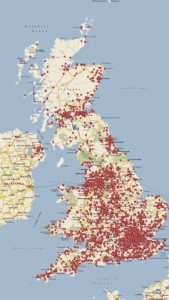 Fivers and tenners make our campaigns happen. You can see a map of our donors on the right. Our members donate to support our work or to fund a specific campaign or action (e.g. to pay for the costs of organising a demonstration or putting adverts in newspapers). Members give what they can afford – the average donation is around £12.00 but it varies a lot and every donation helps, big or small.
We only ask for donations on campaigns that we've actively invested staff time into working on, and only when we feel it's appropriate to do so. We also do not limit the amount of staff capacity we put into winning a campaign depending on the donations raised, our staff's job is to assess and support each campaign based on the likelihood of our involvement helping to win the campaign and make the UK a better place.
Back in 2009 as the organisation was being set up, 38 Degrees accepted some money from charitable trusts and foundations. The Isvara Foundation, The Funding Network, the Andrew Wainwright Reform Trust, the Esmée Fairbairn Foundation, the Joseph Rowntree Charitable Trust, the Barrow Cadbury Fund and UnLtd will always have our thanks for helping us get started.
38 Degrees is a lean organisation. The staff team is small, with one sole purpose: to build and run winning campaigns on issues 38 Degrees members care about. 38 Degrees is funded by small donations from members. The audited accounts below lay out in detail how 38 Degrees raised and spent money during the last financial year.
You can see a copy of the full audited 2019-2020 accounts here. You can see a copy of the full audited 2018-2019 accounts here. 2017-2018 accounts here, 2016-2017 accounts are here, 2015-2016 accounts here, 2014-2015 accounts here, 2013-2014 accounts here, and 2012-2013 accounts here.
The staff team welcomes questions and enquiries. Please get in touch at emailtheteam@38degrees.org.uk
We have a policy of publishing details of any large donation which totals over £7500, from any source, in our annual accounts. You can see this information in donation note 2, pg. 13, in the audited reports.
How do we spend your money?

If you make a one-off donation to a specific campaign we'll spend the money on that campaign. In cases where we can't (e.g because we've won the campaign already!) we'll spend the money on the same issue. If we can't do that we'll put the money into general funds to support all our work.
If we've asked for donations for a very specific purpose (eg. to pay for an advert), and then aren't able to do the thing we've specified or something very similar, we'll get in touch to explain why.
Sometimes 38 Degrees raises money for legal costs. For example, in 2013, 38 Degrees members helped fund a legal challenge which prevented the closure of A&E and maternity services at Lewisham Hospital. Please note that if you donate to help fund a legal challenge, your financial contribution does not result in you becoming a party to the case. Neither does it entitle you to have any rights or interest in the case; you do not for example have ownership or the right to advise on the conduct or direction of the litigation.
If we've fundraised on behalf of another organisation (for example, when there was flooding in 2014) then we pass on all donations made through our website in full. There are no admin costs, so each penny is donated to the cause.
If you set up a direct debit with us, the funds raised will go towards the costs of running our campaigns, including staff time, any materials needed for potential days of action, and the tech needed for new campaigning tactics. In cases where this isn't possible, we'll put the money into general funds to support all our work.
Who checks 38 Degrees' accounts?
We have our accounts audited on an annual basis by Sayer Vincent, a recognised specialist in auditing charities and not-for-profit organisations. We post the full audited accounts online.
What happened to my donation?

If you donated to fund a particular tactic we'll let you know how the money has been spent on the blog or via email. If we haven't, please get in touch at emailtheteam@38degrees.org.uk.
Security of donations

We use 128 bit SSL technology to secure your donation, just like a bank does. This means that all the details are encrypted. We use Stripe, a market leader of online bank transactions, to securely process your one-off donations. We use SmartDebit to process and manage direct debits.
Refunds

We have a refund policy in case you make a donation in error. If you contact us within 7 days of making the donation we will return it to you within 40 days without charge.
Any questions?

We aim to be transparent and accountable about how we spend your money. If you have any questions, or suggestions on how we can improve please contact us.