My name's Stewart and I'm writing this from the small 38 Degrees office in Edinburgh. For the past year, it's just been me here, helping 38 Degrees members in Scotland – over 300,000 of us – run campaigns on issues from sea-life to land reform to the NHS.
Beside the window is a cork-board with newspaper cuttings about the campaigns we've run in the past 12 months. Just last week four members sat down with Scottish Government minister Maureen Watt – and handed over the views of 10,000 of us on what the government should be doing on mental health. [1]
We've won a lot of campaigns together. But we've got a lot of battles ahead, on the NHS, fracking, animal welfare and helping communities across the country. And it all starts with each one of us.
Can you chip in the cost of a cup of coffee a month to help fund our campaigns? Click here to donate.
The chair I'm sitting on, the keyboard I'm tapping away at, the whiteboard where I plan out campaigns – it's all paid for by hundreds of small donations from people like you. Without each of us chipping in, 38 Degrees wouldn't exist.
38 Degrees is completely independent. There's no corporation backing us, no ad sales. No political party, union or wealthy donor is pulling our strings. We can't be bought. Members decide what we campaign on together. We exist to help members campaign because we believe that democracy works best the more us there are involved.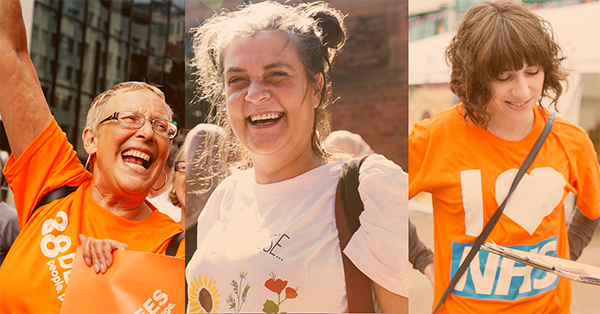 Thanks to thousands of us chipping in like this, the Scottish 38 Degrees office will have another full time campaigner soon. It'll mean we can achieve even more together.
Together, we got the Scottish Government to (temporarily) ban a form of fracking. [2] We pushed for tougher land reform to thwart tax dodgers – and won. [3] When Donald Trump visited, we hired a plane trailing a banner above him which proclaimed that "love trumps hate". [4] And last week we saved the Mountain Weather Information Service, which provides vital information for hill-walkers. [5]
So, will you chip in now to make sure we can keep taking on bigger and better campaigns? Click here to donate.
38 Degrees members come from all over Scotland, from all kinds backgrounds, with all kinds of outlooks – and when we come together to campaign on the issues we believe in, we make real change happen.
Thanks for all that you do – and a' the best,
Stewart
NOTES:
[1] 38 Degrees: Mental health campaign
https://home.38degrees.org.uk/2016/09/12/mental-health-coffee-campaigns/
[2] 38 Degrees: We've beaten fracking's more evil twin
https://home.38degrees.org.uk/2015/10/08/weve-beaten-frackings-more-evil-twin/
[3] 38 Degrees: Members make Scotland a bit fairer
https://home.38degrees.org.uk/2016/03/17/38-degrees-members-make-scotland-bit-fairer/
[4] 38 Degrees: Trump got the message
https://home.38degrees.org.uk/2016/06/24/trump-got-message/
[5] 38 Degrees: We saved the Mountain Weather Information Service
https://home.38degrees.org.uk/2016/09/15/save-mountain-weather-information-service/
[6] 38 Degrees; Start a campaign