I want more information on the switch and why 38 Degrees is doing this:
The energy company 38 Degrees members will be switching to is Octopus Energy (who have a clean deal and a standard cheap deal).
You can read more about Octopus Energy and why they were chosen here.
The Big Deal is a for-profit business that specialises in collective energy switching. It runs regular campaigns highlighting the wrongs of the energy industry and fighting for consumer rights. Big Deal campaigns have demanded fair prices from suppliers, transparency from comparison sites and negotiated money-saving deals.
They revealed how the multi million pound profit making price comparison companies like uSwitch and Compare the Market hid the cheapest deals from consumers because they didn't get a kickback from energy companies. The Big Deal's research led to an investigation by the Energy and Climate Change Select Committee of MPs and to the energy regulator Ofgem cracking down on these websites.
38 Degrees evaluated a few different potential partners for the energy switch before selecting The Big Deal. Our top priority was to identify an ethical and effective business who could help 38 Degrees members make collective consumer decisions. We decided to work with The Big Deal because it combines industry expertise with a commitment to people-power and consumer rights.
Henry de Zoete and Will Hodson are the co founders of The Big Deal. Henry was invited to join the 38 Degrees board, in part because of his consumer campaigning expertise. The decision to partner with The Big Deal was taken prior to Henry joining the board. Henry volunteered to absent himself from all discussions or decisions relating to 38 Degrees' partnership with The Big Deal, in accordance with our Conflict of Interest policy.
Henry de Zoete previously worked in government as an advisor to the former Education Secretary Michael Gove. You can read more about Henry's past career here. The Big Deal has been endorsed by figures across the political spectrum including Lib Dem leader Tim Farron MP and Angus MacNeil, Scottish National Party MP and chair of the Energy Select Committee. 38 Degrees is satisfied that Henry, and The Big Deal, are independent of all political parties.
The Big Deal's co-founder, Will Hodson, used to work for Ethical Consumer, whom 38 Degrees partnered with previously for our campaign against the "Olympic Tax Dodge".
There's more on this here: https://home.38degrees.org.uk/2016/11/14/everything-you-need-to-know-switch/
For everyone who switches, 38 Degrees will get £18.75. We will use this money to fund campaigns chosen by 38 Degrees members.
The Big Deal makes around £18.75 after their costs.
During the process of taking the deal, you'll be able to compare it to everything else in the market. This is what is known as a 'whole of market' comparison. That way you can tell if for your usage levels and your region of the country it is the best deal for you. If it isn't it will be clearly be shown and you can take another deal if you'd rather.
At medium usage, compared to the average Big 6 direct debit standard variable tariff you could save £199.
How much you will save depends on how much energy you use. You'll find out exactly how much you will save before deciding whether to switch. And the whole of market comparison will also show you if there is another deal that is better given the amount of energy you use.
It's entirely up to you! That's why we always ensure 38 Degrees members get to see every deal on the market.
However, we believe the exclusive Octopus Energy deal we have negotiated is a brilliant proposition, for reasons beyond the headline price of this one year deal.
First, our deal has no exit fees, so if the market goes down, you have the flexibility to hop onto a better deal for free. Second, for people who do not want to switch every year, Octopus have an exceptionally competitive standard tariff. Whilst we wouldn't recommend lapsing onto it, many switchers do, and these customers will not pay nearly as much with Octopus as they would elsewhere. Third, Octopus have a great track record of backing progressive causes that matter to 38 Degrees members, such as solar energy.
I have questions about how to take part in the switch:
It's really easy to switch – you can follow the link in the email you received, and there'll be instructions every step of the way.
It'll ask for some basic details, like your postcode and some info about your energy usage. You'll then be given a personalised quote for the tariff, plus your projected saving – there'll be no obligation to switch.
You then decide whether to switch to our exclusive deal or to stay with your current company. If you go for it then all you need to do is add your direct debit details into the site and you're all set.
Octopus Energy will then contact your existing supplier and request to transfer your account. Assuming there are no problems, this should take about two to four weeks.
Please note that you can't take this deal by going to Octopus Energy directly and it isn't available on any price comparison websites at all.
Alternatively, you can give the Big Deal's support team (38 Degrees' expert switching partners) a call on 020 3870 2039 and they should be able to assist you. They're open from 9am to 4pm on weekdays or 9am to 3pm on Saturdays.
You'll need to switch by 28th February to get this deal – it was negotiated using the collective power of thousands of people all switching at the same time.
38 Degrees may do another in future, but we can't know what the deal would be like.
To switch you just need to know some very basic information about your energy. At a minimum, you only need to know your current supplier to switch.
It's also good to know your current tariff and a rough idea of your usage – this will help get an accurate quote. This information can be found on your bill.
However, you don't need to have a bill to hand, and we can help you estimate your usage.
You will not need to read your meter when switching. Once you complete your switch, your new supplier will get in touch with you and will ask for an opening reading.
.
Switching energy suppliers (once you've filled out all your details to switch) usually takes between four to six weeks. Your new energy supplier will contact you to confirm your actual switching date once you apply to switch.
Yes, you will need to pay by direct debit. This is because energy suppliers often offer discounts for paying by direct debit, so it makes the deal as cheap as it can be for everyone.
N.B. If you're on a prepayment meter you can only switch to other prepayment meter tariffs. If you want to pay by direct debit you will have to contact your current supplier and arrange to have your prepayment meter replaced.
No, you do not have to let your current energy company know you are moving. Your new supplier will inform your previous supplier and organise the transfer of your account.
Deals are available in all of Scotland, Wales and England.
The cost of the deal does depend on the region of the country you live in. So the Big Deal will provide a "whole of market comparison" (which shows you a comparison of other deals out there) before you decide whether to switch, which tells you exactly how much you will personally save.
The deal will not be available in Northern Ireland as Northern Ireland has a different meter system than the rest of the UK.
Don't worry at all – there is a 14 day cooling off period from the day you apply. So you can cancel during that period if you wish to. And because there no exit fees on Octopus Energy deals you can leave at any time at no cost.
Of course! Here is a table with unit rates in every region. These prices include VAT at 5%. If you don't know your region don't worry, when you enter your postcode into our website it is automatically detected.
This is for the Green deal: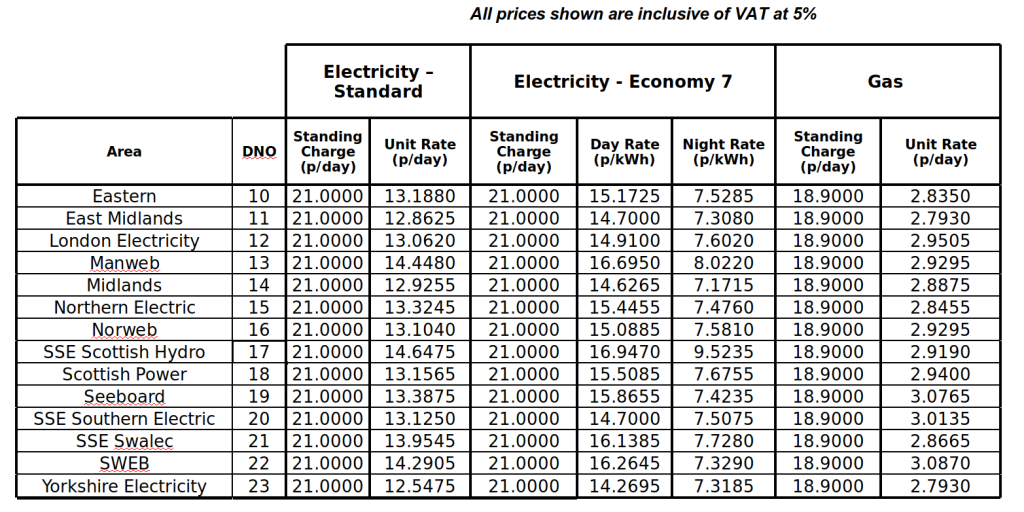 This is for the standard deal: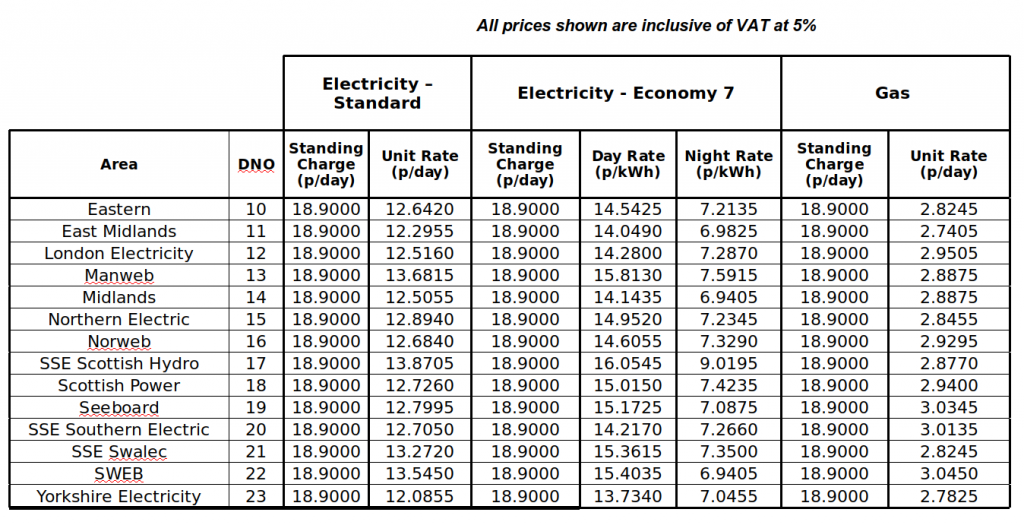 Yes, it'll be the same rate for the whole year.
Who is this deal available for?
Yes! We don't have a special deal for people on prepayment meters this time, but if you to the Big Deal's website you can see every prepayment tariff on the market and can take anyone you like.
Yes you can. Your feed-in tariff is separate to the energy supplied to your home. This means that when you switch your feed-in tariff will stay with the company you are currently with.
You won't be able to switch your FiT, however, as Octopus Energy don't support feed-in tariffs at the moment.
This deal is for both dual fuel and electricity only customers.

You can either switch your gas and electricity together, or you can just switch your electricity. Unfortunately, you cannot switch only your gas supply.
The deal will be available for Economy 7 – you'll just need to highlight you're Economy 7 when applying (there'll be a space to do this on the form).
The deal isn't available for Economy 10, unfortunately.
No, you do not need to have a smart meter to switch.
Yes, you can switch if you have a smart meter, however you may lose some "smart" functionality if you switch.
You need to indicate you have a smart meter during the switching process (there'll be an easy option to do this)
Unfortunately this switch is only for domestic customers. So if you have a business meter you will not be able to take this deal.  
Yes, if you pay the bill directly then you can always switch your energy supplier.
Yes – if you switched less than 14 days ago, then you are within the "cooling-off" period and you can switch without incurring exit fees. You will have to cancel your previous switch first, though!
If it has been longer than that, then you may well incur exit fees if you're on a fixed-term tariff (usually about £30 per fuel) which you should check with your supplier. The Big Deal's tariff is so low that it may well be cheaper to switch even with exit fees.
Yes. Once your current plan ends, you will most likely be moved onto a standard tariff which you can immediately terminate as it will have no exit fees. In fact, you can terminate it at no cost to yourself – no exit fees – anytime 49 days before it ends.
I have questions about the logistics of switching my energy supplier:
Yes!
To switch over the phone call 020 3870 2039 from 09:00 to 18:00, Monday to Friday or 09:00 to 16:00 Saturdays. This will connect you to the Big Deal, 38 Degrees' expert partners in switching energy.
Do not call the chosen energy supplier to get the deal, as they will not be able to help. The deal is exclusively available through 38 Degrees and the Big Deal.
No, no one will have to visit your house or change any equipment at all.
No, there will be no interruption to your electricity or gas supply.
If the Big Deal and 38 Degrees deal is a fixed term contract we will come back to you at the end of your deal to advise you what to do next.
You will never be double charged. There's a 'go-live' date; your old supplier bills for energy used before; your new supplier bills for energy used after.
There's almost no connection between service levels and price. In fact, some of the cheapest suppliers have the best official service ratings.
Most standard variable tariffs are your suppliers most expensive deal, so there's almost no chance they will ever be cheaper than the cheapest fixed price deals.
I have a question about the Octopus Clean and Standard Energy Deal that wasn't answered above
Yes. You can take whatever is left in terms of time on your big deal agreement however, if you move to a property outside of your existing distribution zone or to a property with a different meter type, your actual tariff rates will change to the appropriate Big Deal pricing applicable to that meter and that region. I.e. if you move from standard meter to economy meter then your unit rates will change to the Economy 7 prices.
Octopus Energy don't currently offer the Warm Home Discount. However, most new Octopus Energy customers save more than £140 a year on their energy bills. 
Also, Octopus Energy customers who are eligible will be entitled to the Government mandated programs which are:
Cold weather payment https://www.gov.uk/cold-weather-payment
Winter fuel payment https://www.gov.uk/winter-fuel-payment
Affordable Warmth Obligations https://www.gov.uk/energy-company-obligation/eco
Octopus energy will take your first Direct Debit on your supply start date, and monthly on your requested day thereafter. Since your annual usage is estimated at the beginning, having some opening credit can smooth any wobbles in your consumption.
I have a question that wasn't answered here:
Of course! You can contact 38 Degrees' expert partners in switching energy, the Big Deal, by:
Visiting their support centre at support.thebigdeal.com and opening a contact request.

Calling 020 3870 2039 from 09:00 to 18:00, Monday to Friday or 09:00 to 16:00 Saturdays