Start a campaign and grow your 38 Degrees group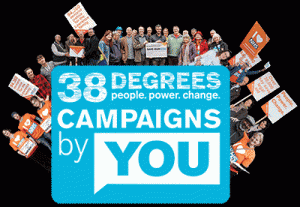 Right now hundreds of 38 Degrees members are running, and winning, campaigns all over the country on the issues close to their hearts.  From saving vital local services from cuts, through to changing government policy on the big issues of the day.
If there's an issue that you want to campaign on why not kick start a campaign locally? We've built simple, but powerful tools that you can use and we'll be with you every step of the way.
Just click "Start a petition" on your local group's home page, to get started.

It takes just a few minutes to get your campaign off the ground and we'll walk you through each step. Each time someone signs your petition, they'll be invited to join your group too!
On the Campaigns by You website, where your petition will be hosted, you'll find everything you need:
A simple form to create and launch your petition

A page to email your supporters (with handy template emails)

A simple form to organise events with and ask supporters to RSVP

Help from the 38 Degrees campaigns team to kickstart your campaign
When Andrew from Exeter heard that his local NHS walk in centre was going to be closed, he called up his friends and decided to do something about it.  After launching a petition on the 38 Degrees website and organising events outside of the centre.  He managed to get the local newspaper to support his campaign and eventually saved the centre from the axe!
https://you.38degrees.org.uk/petitions/save-sidwell-street-exeter-nhs-walk-in-centre
Chris from Birmingham saw that his local HSBC bank had "anti-homeless" spikes fitted to stop people from sheltering outside.  He launched a petition and put pressure on the bank, supporters then posted on the bank's social media accounts and wrote to the manager.  A few months later HSBC brought out an angle-grinder and removed the nasty spikes!
https://you.38degrees.org.uk/petitions/remove-anti-homeless-spikes-from-hsbc-birmingham