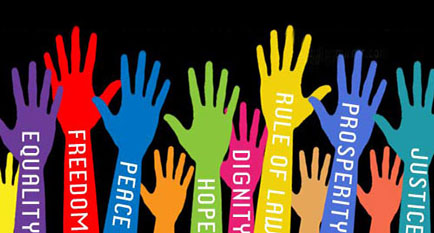 May 26th, 2015
Save our Human Rights: what next?
By Amy Lockwood
The Human Rights Act protects our right to education, a fair trial, and freedom from torture. But these rights are under threat from the government. They want to scrap the Human Rights Act by this summer, and write their own version instead.
38 Degrees members are already speaking out against this sinister plan. In less than a week, 250,000 of us have signed the petition to protect our human rights.
Now we need to decide what to do next. To force their plans into law, the government will need MPs on side – and they'll need to convince the public that human rights don't really matter. To fight back, we could chip in together for huge newspaper ads, organise local meetings to convince our MPs, or use real human stories to convince the public.
Can you take three minutes to fill out a survey to help decide what we should do together next? Please click here to take the survey.

The Human Rights Act means that our basic rights will always be protected, no matter which government is in power. It was the Human Rights Act that brought justice to the victims of the Hillsborough disaster, and helped expose the hospital scandal at Mid Staffordshire. If these rights are lost now, they'll be much harder to win back.
In Britain, we have rights that people are still fighting for around the world. Believing in these fundamental human rights is part of what make us a decent, civilised society. Now, the government is trying to dismantle them.