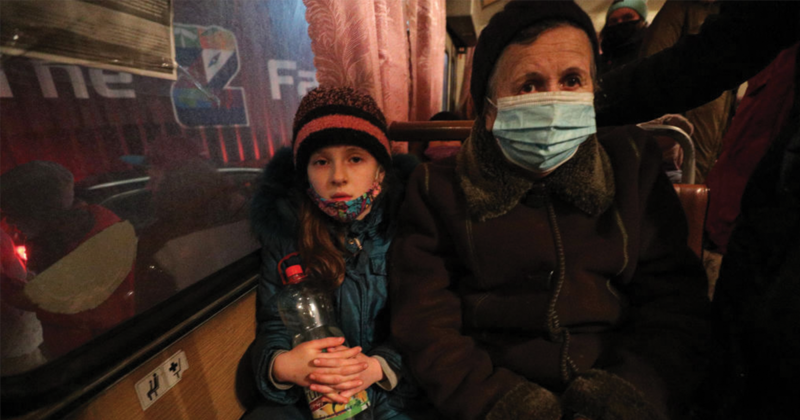 Mar 9th, 2022
Ukraine update
By Matthew McGregor
The situation in Ukraine is heart-breaking and enraging. 
The scenes and reports of destruction and death make us all despair – especially the disaster emerging in Mariupol where civilians cannot even access clear water. 
The fact that this is happening in the first place fills us with anger, as does the needless sight of refugees struggling to get out and being met with incompetence and bad policy.
We're in awe of the work being done by so many, especially on the borders with Ukraine, including by our sibling organisations including Akcja Democracja (Poland), DeClic (Romania) and aHang (Hungary).
The 38 Degrees community is doing what it can too – together we're advocating for better government policies and action to support local councils be ready for refugees who will soon arrive, and thousands of us are raising funds for our partner, the Refugee Council. 
Here's what people across the UK are doing right now through 38 Degrees:
More than 125,000 of us have signed an

open letter to Priti Patel

demanding the government waive visa requirements for people who live in Ukraine so they can get to safety in the UK if that's where they choose to come

We're committed to raising at least £50,000 for

the Refugee Council's emergency appeal

to help refugees arriving in Britain rebuild their life here, including through access to trauma therapy. In the 18 hours since we asked 38 Degrees to step up, more than 1,651 of us have raised over £26,553. If you want to chip in too, you can do that

here

.

More than 40,000 of us have signed an

open letter to Rishi Sunak

demanding he release funds to local councils so they can urgently prepare for refugees to arrive. Our team has been signing up a cross party group of local government leaders to add their names to the letter. Leaders of local councils from Birmingham to Brighton, and elected mayors including the Mayor of Liverpool and Metro Mayor for North of Tyne are amongst those who have already pledged their support. 

38 Degrees supporters have enabled us to offer £5,000 to support Black people fleeing Ukraine

given they are facing the additional barriers of racism in addition to the horrors of the war 

To build public pressure on the government, we have paid for opinion polling to gauge support for the demand that visa requirements be waived for people fleeing Ukraine and that the Treasury stump up funds for a proper refugee welcome fund

In response to the scenes of visa chaos we have been witnessing in the media in the last few days – dubbed 'ruthless' 'a shambles' and 'chaotic', we're encouraging supporters to write to their MPs and demand we cut the red tape, so Ukrainian refugees can arrive in Britain quickly and safely. 
We know that the 38 Degrees community alone cannot do all the things we wish we could. We all feel a sense of helplessness in the face of Russia's war crimes. But we know that if we do the most good we can, and if others do the same, we can make some difference in the coming days.
Matthew McGregor – 38 Degrees CEO