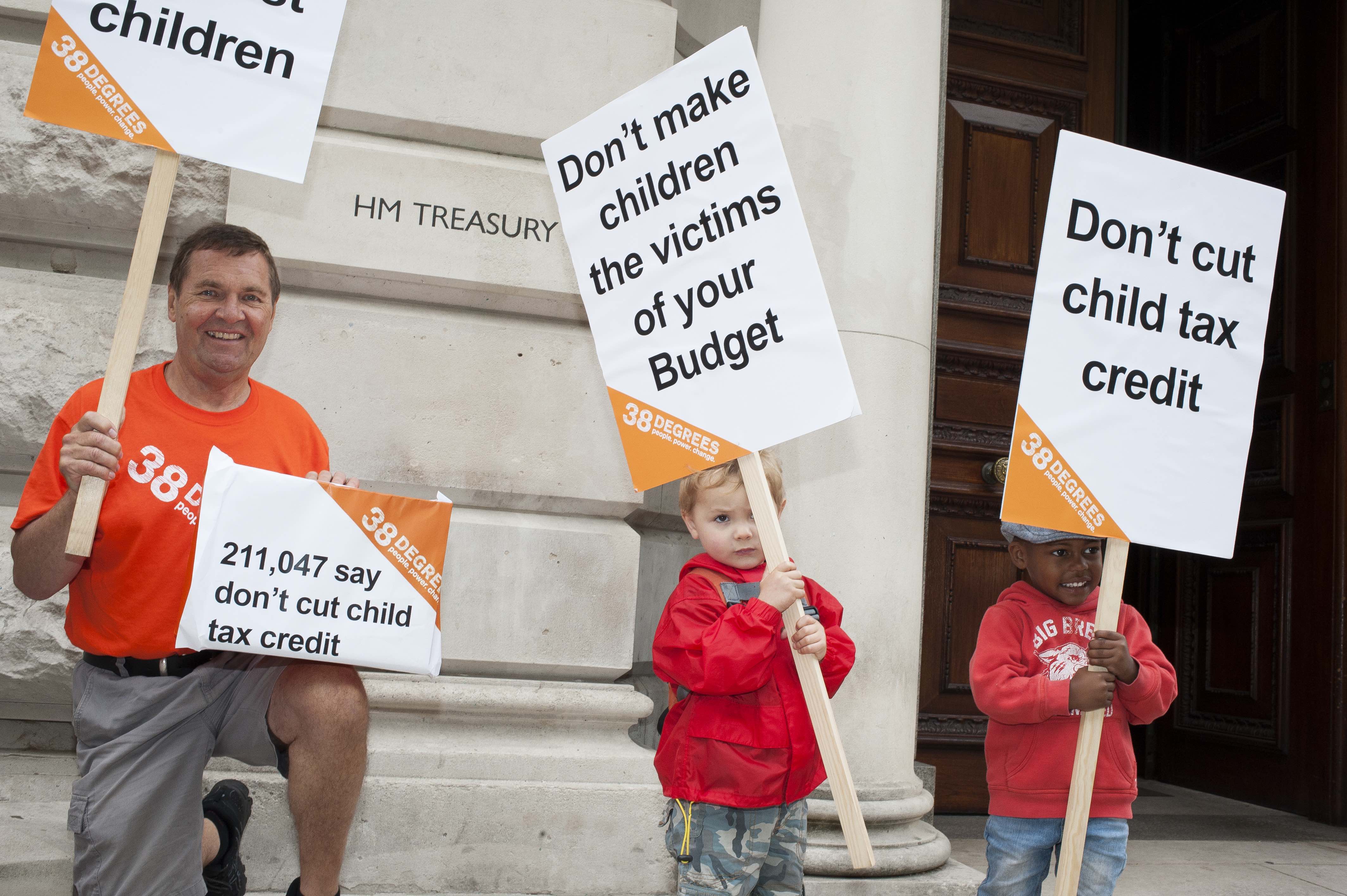 Jul 9th, 2015
The budget: what do you think?
By Rebecca Falcon
Yesterday, George Osborne set out plans for another round of cuts that'll hit people across the country hard.
The government's announced that some people on the minimum wage will get a pay rise. But it goes hand-in-hand with huge cuts that'll affect families, students and young people – and new tax breaks for the wealthy.
Life isn't getting any easier for those of us struggling to get by on low pay. Yesterday's news will probably mean more people struggling to pay the rent or put food on the table. The fight's still on for a more equal country. But 38 Degrees brings together millions of us who believe in a fairer society – and when we work together, we can win.
We're strongest when we decide what to do together – so what should we campaign on now? Should we push for more businesses to pay a proper living wage? Fight against cuts to support for the vulnerable? Or something else entirely? Please click here to have your say.
It could have been worse. Two weeks ago, when the government revealed they were planning to slash child tax credits, 38 Degrees members sprang into action. More than 290,000 of us piled pressure on Osborne not to cut this essential support – and yesterday, cuts to child tax credit are not as deep as the government wanted.
38 Degrees members have already been discussing yesterday's announcements on Facebook. Here are some of their comments:
"Surely if everybody was paid a living wage, then he could do away with child tax credits altogether. All the majority of people want is a fair crack of the whip." Jean, 38 Degrees member
"Clamp down on tax fraud companies – there is much more money there." Peter, 38 Degrees member
"These cuts are social engineering. People do not have children just to access child tax credit. Nonsense." Carolyn, 38 Degrees member
"The real story is that if tax was collected from corporations and non-doms who can afford accountants to eke out loopholes for them, it wouldn't even be an issue." RB, 38 Degrees member
When the government planned to cut child tax credits 38 Degrees members acted fast. Together we sent 56,000 emails to MPs about the issue. And thousands of us chipped in to fund a hard-hitting video and newspaper adverts, seen by nearly a million people, exposing the real impact of these cuts.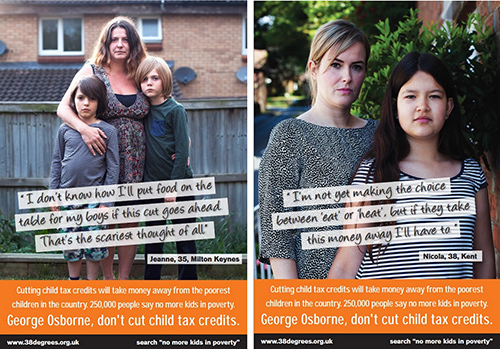 Although he'll never say it, it looks like Osborne has felt the impact of hundreds of thousands of 38 Degrees members standing against cuts to kids in poverty.
But lots of us will still be angry. Many of yesterday's announcements will make life harder for those of us on low pay. The richest families are lifted out of paying inheritance tax, while the benefits cap will bite hard for vulnerable families.
The fight for fairness is still on, but our best shot at winning is to work together. Are you in?
More information:
The Chancellor has announced something that he is referring to as the 'living wage' that will apply to workers over the age of 25. But some campaigners for a Living Wage say this isn't a substitute for what they've been campaigning for. Here are three different opinions on yesterday's budget: