Dec 4th, 2015
Syria: 38 Degrees' respone
By Megan Bentall
The situation in Syria is complicated. This week, over 100,000 38 Degrees members took part in a survey on the situation in Syria. While many of us were against the UK joining airstrikes, there wasn't consensus on how we should campaign together against the bombing.
Some 38 Degrees members took part in a follow up survey on what they thought about the 38 Degrees response to the vote on UK airstrikes. Here are the results of that survey:
When asked "Overall, how do you feel about the way this decision was reached?" 38 Degrees members gave the following response: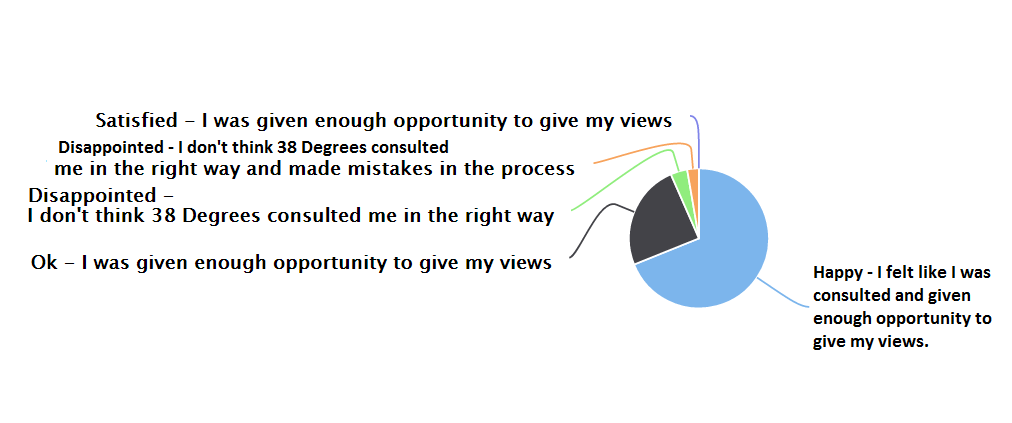 When asked "Overall, how do you feel about the decision to contact our MPs, regardless of where you stood on Syria?" 38 Degrees members said:

When asked "If you answered 'disagree' above, could you provide details of why you disagreed?" 38 Degrees members said:

Members who responded "Other" to the above question were asked to provide more details of why they disagreed. Here are a selection of responses to this question:
"I think you probably reached the right decision, given the responses; however I think the response was fairly predictable, and that what might have been more productive was to campaign for the need to find out in an unbiased view just what the public in general feel on the issue, and for the need for MPs to be aware of what the public feels. I don't think I know what the public does think; I get the impression that most MPs think they do and probably don't." – Bas
"I think that if a considerable majority are against bombing, we should campaign so. Not to do so is to alienate a majority of members." – Jack
"I didn't give an opinion on this issue. I honestly don't know what the right thing is. What I do know is we have to help the refugees. Thank you for being honest about the different opinions in 38 degrees. Differences like this are natural, especially on a topic this difficult." – Susan
If you'd like to have your say on how 38 Degrees responded to the situation in Syria, you can take the survey here.