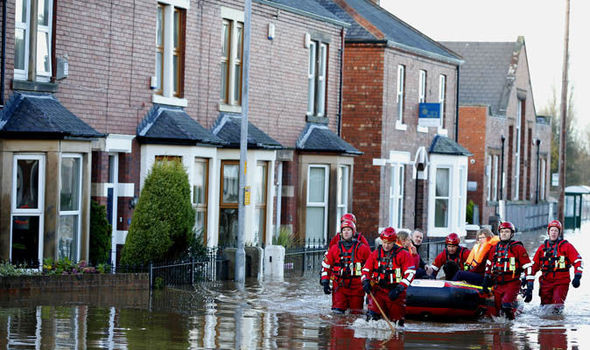 Jan 7th, 2016
Update: Flood Fundraising
By Rachel Diamond
Just before Christmas Storm Desmond hit and caused devastating flooding, leaving more than 60,000 people without power, and over 5000 homes flooded. Thousands of 38 Degrees members responded to an appeal by the 38 Degrees Trust by donating to support the victims of the floods.
Thank you so much.
Local charities in areas hit by floods – charities like the Cumbria Community Foundation – got to work immediately to help the flooded communities. On behalf of the 38 Degrees Trust, £22,000 of the money donated by 38 Degrees members has already been given to the Cumbria Community Foundation's Flood Appeal. So people in badly-hit areas will be able to apply for grants to help them deal with the damage. This includes providing help with:
cleaning up to get communities back on their feet after the floods
emergency repairs for areas damaged
clothing, food and drink and heating
child care equipment
basic furniture so that families can start to put their homes back together
Andy Beeforth, Chief Executive of Cumbria Community Foundation said:
"This is amazing news, our heartfelt thanks to everyone who has given so generously. The devastation caused has impacted heavily on so many people  and communities in our Cumbria. We are truly humbled by the generous support from so many as this money will go towards helping people rebuild their lives and communities."
The Appeal fund is supporting those who need it and is acting as a lifeline for the community in Cumbria. 
Money donated by 38 Degrees members has also gone towards the Hawick Flood Group who have been giving invaluable support to people affected by the floods in Scotland – and all on a shoestring.
Marion Chrystie from the Flood Group said:
"The Funding Award from the 38 Degrees Trust has been such a lift for the Hawick Volunteer Flood Group and they have asked me to convey a huge thank you for the generosity and swift response.
We are now planning swiftly to replace our dilapidated old cabin and this funding will allow us to replace it with a unit fit for purpose. This will support the Hawick Volunteer Flood Group with its valuable work to help and support those most vulnerable in our Community when there is the threat of flooding or a flooding event."