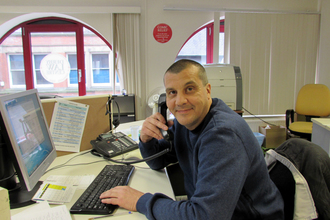 Feb 26th, 2016
Saving Derby's Citizens Advice
By Luke Ilott
Derby could become the only city in the UK without a Citizens Advice Bureau.The council's proposing slashing funding, leaving local people without advice on everything from debt to housing rights. 38 Degrees member Tony from Derby thinks Citizens Advice is crucial – so he's campaigning to save it.
The proposed cuts have split councillors' opinions – so they're taking a second look at them on Tuesday. That gives us just days to build a huge people-powered petition and show the council that the people of Derby are united against their plans. Councillors are already on the fence – together, we could convince them to save our Citizens Advice Bureau.
If you think people in Derby have as much right as the rest of the UK to free advice, then click here to add your name to Tony's petition. It'll only take thirty seconds.
Here's what Tony has to say:
"The organization helps thousands of vulnerable people every year, including people with mental health issues and disadvantaged Derby and Derbyshire residents.
"It gives debt advice, free legal assistance and advocacy. It is vital these groups get help and support."
The Citizens Advice and Law Centre in Derby helps over 10,000 local people with their consumer rights, money problems and legal questions every year. In September, it was voted 'Campaigning Bureau of the Year' for its hard work on behalf of local people.
The future of Derby Citizens Advice Bureau will be decided this Tuesday. Let's make sure it can continue its vital work.
Citizens Advice provide free, confidential information and advice to assist people with money, legal, consumer and other problems. If you need support on any of these issues, you can find out more here:
https://www.citizensadvice.org.uk/