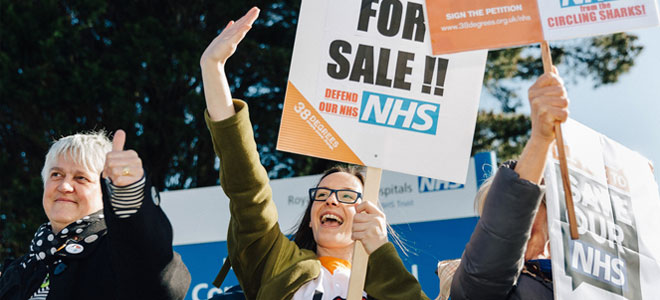 Mar 8th, 2016
Vote on the NHS
By Kahra Wayland-Larty
On Friday 11th March, our MPs are debating a new law that could achieve everything 38 Degrees members want for our NHS: enshrining it as free for everyone, protecting it from profit-driven companies and stopping cynical government cuts.
This new law is about the values we hold close to us: an NHS that's got people at its heart, not the profits of private companies. But there's a catch. The law is being put forward by Green Party MP Caroline Lucas, which means this bold, NHS-saving proposal doesn't have the government's backing. What it does have is us.
Unless 100 MPs turn up to the debate, the law won't even be voted on. Our NHS deserves better – it deserves a fair hearing. MPs are sorting their diaries out right now, so if enough of us email our MPs now, we can make sure the law gets the debate it deserves.
Can you email your MP asking them to turn up to the debate on Friday? Just use the link below to send an email now:
https://secure.38degrees.org.uk/NHS-debate-email-MP
If we can get this to a real vote on the law – called the NHS Bill – then MPs from all parties will be forced to either support it, or explain on the record why they won't.
As 38 Degrees members, we believe in an NHS that's there for anyone who needs it. Chances for our MPs to debate and vote on our NHS don't come along very often. So together, we've got to seize every chance we get to remind our MPs: we love the NHS and it's your job to protect it.
So please can you email your MP now asking him to go to the debate on Friday, and to vote to protect the NHS? If we can get enough MPs to put Friday's debate into their diary, this important issue will get voted on: https://secure.38degrees.org.uk/NHS-debate-email-MP
Even if you think your MP doesn't have the same views about the NHS as you do, it's still important to ask them to attend the debate. It's democratic to give this new law a fighting chance – and they can play their part by showing up and giving it a fair hearing. Please email your MP now: https://secure.38degrees.org.uk/NHS-debate-email-MP