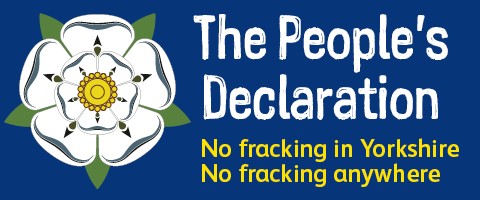 May 24th, 2016
Fracking: The People's Declaration
By Kathryn Stribley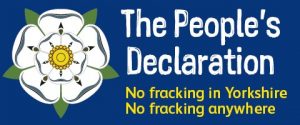 North Yorkshire council have given fracking companies the green light to drill for shale gas – a dirty fossil fuel. It's the first time in five years a council has voted to allow fracking – it sets a dangerous precedent for more fracking across the country.
But moments like this aren't for hanging our heads. They're for coming together and growing stronger.
Frackers are feeling confident today, but it's the only good news they've had for a while. Communities of ordinary people coming together locally and nationally have beaten them time and time again. We've won in Lancashire, we've won in Falkirk, so let's show fracking companies we're not giving up, and we're standing with Yorkshire.
Grassroots campaigners in Ryedale have set up a "people's declaration" against fracking. They're asking people across the UK to stand with them and say fracking is "not in my name".
Fracking would be a disaster for our environment and our climate. It risks our water supply, it would tear up the landscape, and in 2012 it was even banned after causing earthquakes near Blackpool. At a time when the world is trying to unite to fight climate change, ramping up risky plans to drill for toxic gas in the UK makes no sense.
The fight against fracking in Yorkshire isn't over – there'll be a chance to appeal, and campaigners on the ground in Yorkshire and 38 Degrees members across the UK are standing firm. The fracking companies might have deep pockets to lobby the government, but that's nothing next to people power.
If you want to join people across the UK and stand in solidarity with people in Yorkshire, sign the people's declaration by clicking on the link below:
https://secure.38degrees.org.uk/fracking-yorkshire-solidarity
Together we're saying: "Fracking will not go ahead in our name". Together we're saying people power isn't going away.