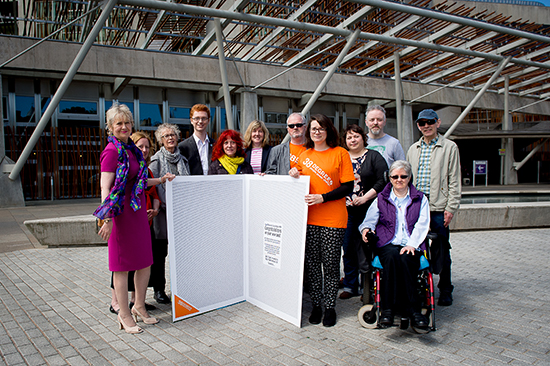 Jun 4th, 2016
'Welcome card' to Roseanna Cunningham
By Kathryn Stribley
38 Degrees members gave a giant "welcome to your new job" card – signed by 11,000 of us – to the new environment secretary, Roseanna Cunningham. In it, a clear message: protect Scotland's wildlife and environment.
The card went down a treat. The environment minister, Roseanna Cunningham, came out to meet 38 Degrees members, the BBC caught it on camera and it's already made some headlines. Campaigning isn't always about petitions, protest and righting wrongs, sometimes it's about encouragement and warm words.
And in Wednesday's blazing sunshine, our card looked pretty impressive too. Here's a pic: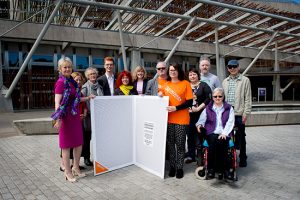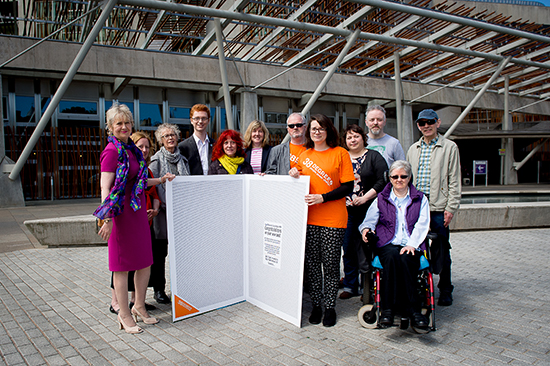 38 Degrees members asked Roseanna Cunningham to do everything in her power to protect Scottish wildlife. From championing bee-friendly policies, to keeping Scotland frack-free and making land laws fairer. Already, Scottish parliament voted in favour of a ban on fracking in a symbolic vote on Wednesday- how exciting!
We've got Roseanna Cunningham's attention now and she knows that we'll be there watching her over the next 5 years. This is a great chance to really make some headway on issues that we care about. Do you have any fresh ideas for campaigns that we could run to make sure that Scotland's iconic landscape and diverse wildlife is protected?
If you do, please fill out this short survey to tell the Scottish office team what you think 38 Degrees members should be campaigning on – it'll only take a couple of minutes: