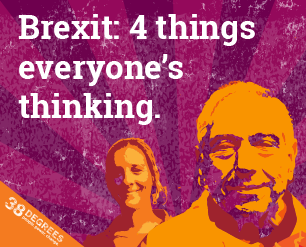 Jul 25th, 2016
Brexit: 4 things everyone's thinking.
By 38 Degrees team
It's been a month since the UK voted to leave the European Union and the government has yet to produce a plan. Rather than hold our breath in expectation, thousands of 38 Degrees members have decided to crowdsource one and make sure that whatever happens we create the kind of UK we want to live in.
Recently 38 Degrees members voted to prioritise a campaign that would ensure the UK's exit from the EU was as people-powered as possible. So, we teamed up with the independent researchers at BritainThinks to find out what that may look like.
What did we do?
Not only did we run a poll that asked 2071 British adults what their hopes and fears around Brexit are, we also held a series of focus groups across the country to provided both Leave and Remain voters an opportunity to share their opinions on a range of issues.
Here's the top four things we found out:
The single biggest Brexit priority for most voters is spending the money saved from EU membership on the NHS – a higher public priority than controlling immigration.

Almost three quarters of the population (73%) think that EU nationals currently living in the UK should be able to stay here after we leave the EU.

Most people don't know what to make of our new Prime Minister Theresa May yet, but many believe she will be a 'strong' and 'shrewd' negotiator on Britain's behalf.

Only 1 in 4 people are confident that the government will lead the UK successfully through Brexit.
That's right, a total of 75% of voters ­say they have little or no confidence in the government to lead the UK through Brexit successfully. That's why a people-powered plan is so important.
What does this all mean?
The research was carried out by independent insight and strategy consultancy, BritainThinks, using polls and focus groups of Leave and Remain voters.
This means that for the first time since the referendum the British people, on both sides of the debate, have been asked for their opinions. And it's not good news for the government's current direction.
But, 38 Degrees members can step up and take the lead. We can organise around our common commitment to a better world and provide a comprehensive plan that'll help them deliver a version of Brexit that truly speaks to the priorities of the British public.
Where do we go from here?
38 Degrees has a strong track record of running powerful campaigns that fight to place people at the heart of the political agenda, and as important as this research is  we know it is only the start.
Now the real work begins as 38 Degrees members will soon have the chance to pitch in and shape a real people-powered plan for Brexit. A plan that will put British voters' priorities at the heart of the process.
Now that we have those priorities, it's time to start drafting the demands that'll make them a reality.  So this week 38 Degrees members up and down the country will have the opportunity to set out the demands for our top priorities; The NHS, Economy, Trade, Immigration, Human Rights and Environment.
Watch this space for updates on how you can get involved with that process.
Get your friends involved