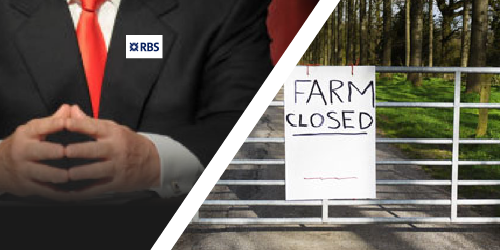 Oct 11th, 2016
Royal Bank of Scotland exposed!
By Trish Murray
Exposed: The Royal Bank of Scotland deliberately destroyed small businesses to make a profit. Leaked documents prove RBS repeatedly crushed businesses, bought up their land cheaply and then sold it off for a profit.
Today, a group of MPs are considering launching an official inquiry into RBS. If bosses at the bank are hauled in front of MPs, the public scandal could mean the big banks will never be allowed to get away with this again.

This scam has made headlines today, but if we want MPs to act, we need to show them that the public expect RBS to face justice. A huge petition, delivered this week, could tip the MPs into launching a full investigation.
Kenny Riddoch built up his farming business from scratch. But when he went to RBS for a loan, he was hit with crippling fees. It killed his business and he lost everything. RBS said it was there to help businesses. But the leaked documents reveal the bank had a secret plan to force the businesses into bankruptcy then sell their land for a profit.
Back in 2014, MPs investigated RBS over the same scandal, but it turns out the bank's bosses didn't tell the truth when they spoke to MPs. A new inquiry with all the evidence would mean RBS is held to account – and that could mean justice for the small business owners like Kenny who keep Britain going.
If you think RBS should be investigated for deliberately crushing small businesses, then please sign the petition now:
https://speakout.38degrees.org.uk/campaigns/investigate-rbs-petition