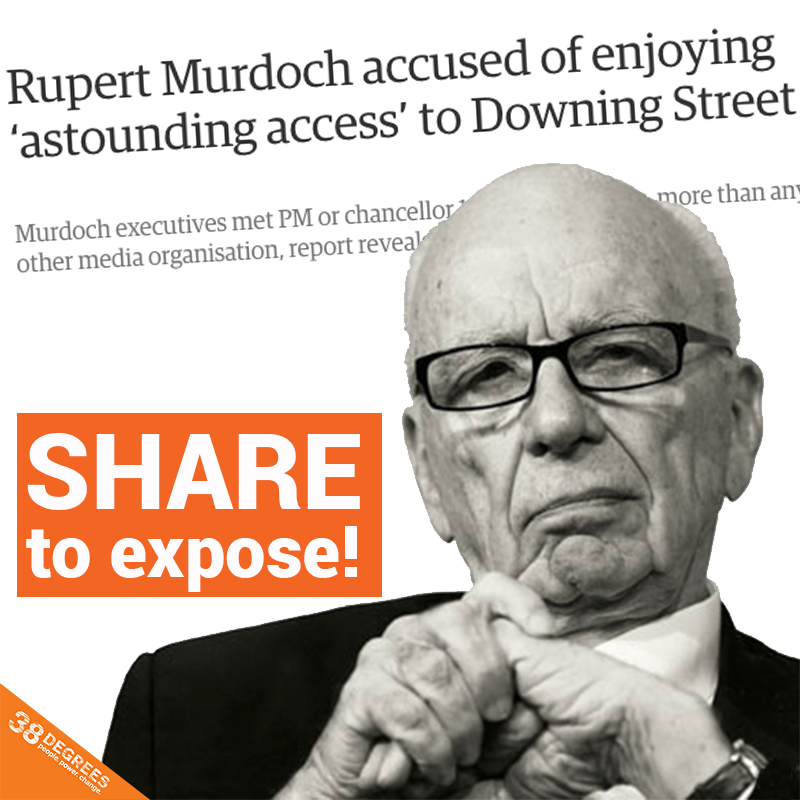 Feb 7th, 2017
Exposed Secret Meetings Between Murdoch and Top Government Ministers
By Nicole G
Yesterday, a 38 Degrees-powered investigation exposed secret meetings between Rupert Murdoch and top government ministers. It showed Murdoch ramping up the pressure on politicians to fast-track his plan to take control of Sky and grow his media empire.
38 Degrees teamed up with the Media Reform Coalition to conduct the investigation – and it's not the kind of news Rupert Murdoch wants you to read about. As the Guardian newspaper reports, Murdoch is getting "astounding access" to senior figures in the government.
Murdoch wants to keep his dealings quiet. He knows that keeping a low profile makes it easy for politicians to wave through his plans for Sky.
But together, you and thousands of other 38 Degrees-ers are making sure he's staying in the spotlight. 211,202 people and counting have already signed the petition calling on the government to investigate his deal.
Now we're shining a spotlight on Murdoch's shadowy behind-the-scenes influence. The more this news spreads, the more we put pressure on politicians to stand up to him.
So can you help expose the news? Click the link below to share it on Facebook. Or, if you're not on social media, there's an email below you can send to your friends and family.
You can read the full Guardian report into the investigation here: https://www.theguardian.com/media/2017/feb/05/rupert-murdoch-access-to-downing-street-theresa-may-david-cameron
Here's the email you can send:
Hi,
Have you seen this?
https://link.38degrees.org.uk/stopthebid
A new investigation shows that Murdoch and his officials are having secret meetings with top government ministers. He's been ramping up the pressure on politicians – while trying to fast-track a deal to take over Sky and grow his media empire.
If Murdoch is successful, he'll control what is beamed into over 22 million homes. He'll have even greater power over what news we see and how we see it.
Right now, Karen Bradley, the government minister responsible for newspapers and TV, is deciding whether to launch an independent investigation that'll have the power to stop the deal. A huge petition, signed by thousands of us, will show we expect her to stand up to Rupert Murdoch.
You can read more and sign the petition here: