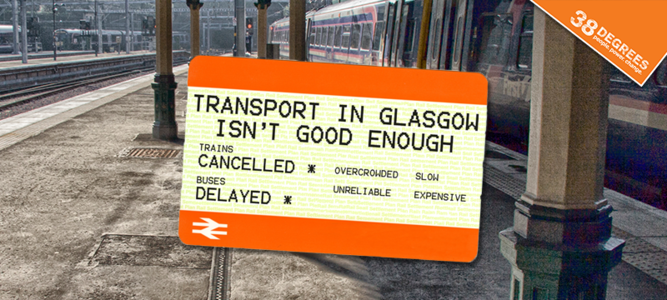 Apr 13th, 2017
Get Glasgow Moving!
By Rachel Whalley
Less than half of households in Glasgow have access to a car. Lots of us rely on public transport – so why is it so bad?
Whole areas of the city are left out. Different companies run different parts of the city's transport, competing against each other for the same congested routes, instead of working together to provide the best service. That means we pay more, for a worse service.
But it doesn't have to be like this. That's why Ellie from campaign group Get Glasgow Moving has started a petition. This May, a new batch of councillors will be elected in Glasgow and everything is to play for. Ellie has organised a debate between the main political parties in a couple of weeks' time. If we can grow a huge petition by then it'll really put them on the spot.
It could be enough to get them to pledge to change things. Please will you add your name now? It only takes thirty seconds.
The solutions aren't a mystery. Ellie, who started the petition, has laid out five things council candidates could promise to do: a publicly-owned bus company for Glasgow an affordable city-wide smart card that works on all forms of transport bike-hire stations across the city
a publicly-owned Transport Authority for Glasgow – to make sure everything is joined up, without big companies scraping off a profit at our expense a serious, long-term plan to improve the city's transport
These ideas are already happening in other places. The buses in Edinburgh are publicly-owned. London has one smart card to pay for everything – the Oyster Card. And cities everywhere have bike hire stations. Glasgow doesn't have to be left behind!
If you believe that a world class city like Glasgow deserves a world class public transport network, add your name to the petition now.