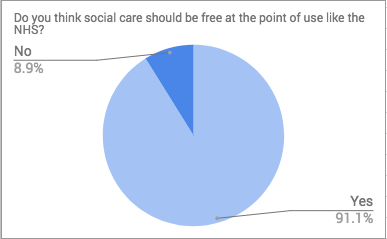 Oct 12th, 2017
Social Care Update
By Becca McCarthy
Last week at the Conservative party conference David Babbs stood in front of a room packed with politicians and experts to speak about social care. He's not an expert on the subject but 95,000 38 Degrees members helped him prepare for the discussion.
The event was fascinating. But one thing is clear; the solution to the social care crisis isn't going to be solved by people chatting in conference rooms. We need a national conversation, one that thousands of us have already started.
He came away thinking about the challenges ahead – and the light on the horizon! There's no quick fix for the crisis in social care, and finding one that works for everyone is going to take effort and compromise.
But – and here's the light – he think it's achievable, and we have a huge role in making it happen. The Chief Executive of Care England described the role 38 Degrees members can have as "powerful", and he couldn't agree more.
Every single one of the 95,000 people who took the survey proved that ordinary people are up for a serious conversation about social care. And together, we can make sure politicians know that we don't think this is a problem too big to solve.
If you want to find out what other 38 Degrees members think about how we can fix the social care crisis, and what David said to the politicians in the room, you can see the full survey results here:
https://link.38degrees.org.uk/socail-care-survey-results
So what's next? The staff team are writing these results up into a report, and hopefully lots of us will send it on to our MPs. We can ask them what they'll do to help us make this conversation even bigger – and then take action to solve the crisis in social care.