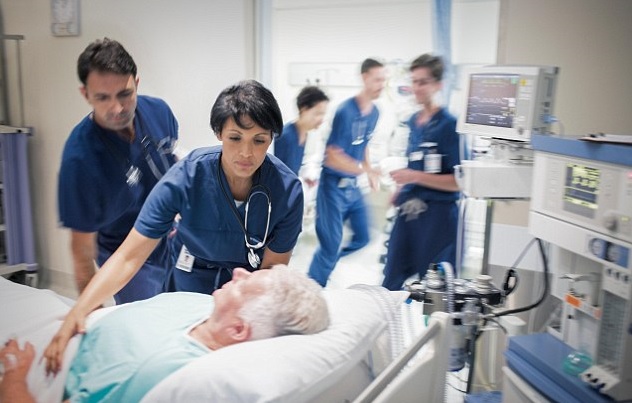 Nov 3rd, 2017
NHS: Winter Crisis
By Becca McCarthy
This is unacceptable. Thousands and thousands of people are getting stuck in ambulances waiting for emergency care. They've called 999 for help, but because hospitals are so full their ambulances have to queue up outside A&E. [1] It's another sign our NHS is struggling to care for us because of a lack of funding. [2]
Right now Chancellor Philip Hammond is deciding what the government should spend money on next year. [3] A huge petition, signed by hundreds of thousands of us, could make sure he puts funding the NHS at the top of his list.
154,000 people have already added their names. Will you sign the petition calling on Philip Hammond to give the NHS more funding?
Our NHS has been starved of cash for years. Our hospitals and ambulance services have been stretched to breaking point. [4] And the news today has revealved over 110,000 people were left stranded, in pain, in the back of ambulances over the past two years. [5]
Last year, during the NHS winter crisis over 370,000 38 Degrees members signed a petition for more funding. Then thousands of us spoke out about our experiences of a cash-strapped NHS in crisis. Because of our pressure, health minister Jeremy Hunt MP was forced to admit that the NHS needed more money. [6]
So whilst it might feel very hard to influence how the government spends money, we know we can make a difference. And we can't just stand by and let the NHS fall apart because of a lack of cash.
NOTES:
[1] The Guardian: Patients waiting at least an hour in ambulances double in two years:
https://www.theguardian.com/society/2017/nov/03/patients-waiting-at-least-an-hour-in-ambulances-double-in-two-years-nhs
[2] Sky News: NHS in 'toughest ever financial situation', says outgoing trust boss:
http://news.sky.com/story/nhs-in-toughest-ever-financial-situation-says-outgoing-trust-boss-11101607
ITV: NHS 'needs major cash boost' to cope with winter:
https://www.itv.com/news/2017-09-03/nhs-needs-350m-emergency-boost-to-cope-with-winter/
The Independent: NHS bosses issue 'cry for help' after years of Government funding cuts:
http://www.independent.co.uk/news/health/social-care-funding-uk-autumn-statement-government-cry-for-help-a8028436.html
[3] Sky News: Chancellor Philip Hammond reveals date of first autumn Budget:
http://news.sky.com/story/chancellor-philip-hammond-sets-date-of-2017-autumn-budget-11032092
BBC: Budget: Hammond faces spending dilemma, says IFS:
http://www.bbc.co.uk/news/business-41798101
City AM: As the Autumn Budget approaches, Philip Hammond must find room to manoeuvre:
http://www.cityam.com/274784/autumn-budget-approaches-philip-hammond-must-find-room
[4] See note 2
[5] See note 1
[6] Huffington Post: Jeremy Hunt Has Admitted The NHS Needs More Money As It Faces 'Very Challenging' Winter Pressures:
http://www.huffingtonpost.co.uk/entry/jeremy-hunt-admits-nhs-needs-more-money-autumn-statement-winter-crisis-philip-hammond-10bn-4bn_uk_581f3c0ae4b0c2e24aafc910