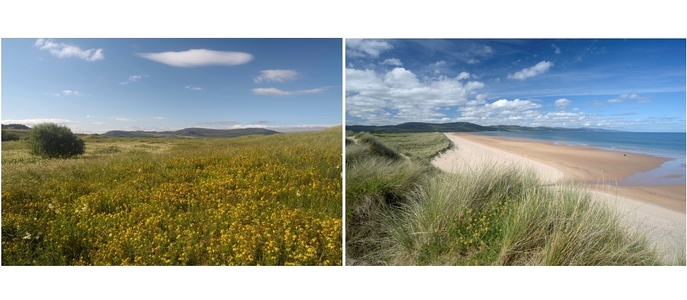 Dec 1st, 2017
Coul Golf Course
By Becca McCarthy
More than 50 acres of unspoilt Scottish coast are under threat from a planned golf course. [1] As we've learned from Donald Trump, golf courses can devastate our natural heritage. [2] Locals and wildlife experts and even the National Trust for Scotland have already spoken out against the plans. [3]
So 38 Degrees member Andrew has set up a petition to stop the golf course at Coul Links in the Scottish Highlands. [4] He believes it'll be "catastrophic" for this protected wildlife area.
Together we can help Andrew save the natural beauty of Coul Links. The Highland Council are asking the public what they think about the plans, but the deadline is in a couple of weeks.That's where we come in.
A huge petition – taken straight to the Highland Council – could be enough to make sure the plans for the course are bunkered for good. Will you add your name now?
Since Andrew started the petition, thousands of people who live nearby have signed, then thousands more from across Scotland joined them. If more of us join them now, the Highland Council will see how much this means to everyone from across the UK. They'll be forced to rethink the course.
38 Degrees members from across the country have come together in the past to safeguard our unique and beautiful landscape. Just this month people-power helped back a permanent ban on bee killing pesticides in the UK. [5] And we helped make sure that beavers in Scotland and England would be protected. [6]
Now we have another chance to stand up for Scotland's beauty together. Will you sign the petition now to let Highland Council know how you feel about these plans before it's too late?
NOTES:
[1] 38 Degrees: Save Coul Links for nature, not golf
https://you.38degrees.org.uk/petitions/conserve-coul-links-for-nature-not-golf-1
[2] The Guardian: Trump accused of breaking promises and ruining Scottish dunes
https://www.theguardian.com/us-news/2017/nov/08/trump-golf-course-has-ruined-dunes-habitat
[3] National Trust for Scotland: Golf course sets the wrong course
https://www.nts.org.uk/What-we-do/Article/Golf-course-sets-the-wrong-course
[4] See note 1
[5] 38 Degrees: Our bees are saved!
https://home.38degrees.org.uk/2017/11/09/our-bees-are-saved/
[6] 38 Degrees: We've saved the beavers!
https://home.38degrees.org.uk/2016/11/25/weve-saved-beavers/
38 Degrees: Save the Free Beavers of England
https://you.38degrees.org.uk/petitions/save-the-free-beavers-of-england