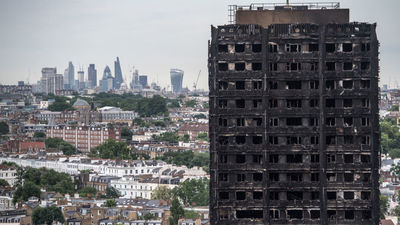 Dec 7th, 2017
Grenfell: Fire Sprinklers
By Becca McCarthy
This is unacceptable. Months after the tragic fire at Grenfell Tower, which killed over 70 people, families are still going to bed every night in dangerous homes. [1] The government promised to make tower blocks safer, but they haven't followed through yet. [2]
We have a chance to help make sure what happened at Grenfell never happens again. An influential group of politicians in London have launched a consultation asking if fire sprinklers should be fitted in all tower blocks in London. [3] It could make sure London families are safer. But it closes in 10 days time, so we need to act now.
The government and building owners are arguing over who should pay for sprinklers. [4] So you can bet people like landlords and developers will probably be taking part in the consultation, anxious to make sure they don't front the costs. But what's missing are the views of people who live in London – that's you and me! A huge petition, signed by thousands of Londoners, will be hard to ignore.
So, will you add your name to a petition calling for fire sprinklers in all tower blocks? It only takes 30 seconds, and we'll deliver it to the consultation next week:
The tragedy at Grenfell tower left over 70 people dead and hundreds more homeless. We now know that there were serious fire safety issues in the block. This included a lack of fire sprinklers that can help stop fires spreading. [4]
Right now, people living in tower blocks are being let down by politicians who aren't doing enough to protect them in their own homes. [5] This consultation is our opportunity to drown out those who say fire sprinklers are too expensive. If thousands of us sign a petition calling for all tower blocks to include sprinklers, we can make sure lives are put first.
When faced with delays and political squabbles it can feel like it'll be impossible to get something like this fixed. And on our own it might be, but there are hundreds and thousands of us living in London. If we come together now and call for sprinklers to be fitted in all tower blocks in London we'll be hard for politicians to ignore. Together we can save lives.
Notes:
[1] BBC: Grenfell Tower: Safety cash not released, councils say:
https://www.bbc.co.uk/news/uk-41537022
[2] The Guardian: Ministers 'refusing to pay for fire safety measures' after Grenfell:
https://www.theguardian.com/society/2017/oct/06/ministers-refusing-pay-improvements-fire-safety-grenfell
[3] London Assembly: Sprinklers in London buildings – effectiveness & viability:
https://www.london.gov.uk/about-us/london-assembly/london-assemblys-current-investigations/sprinklers-london-buildings
[4] BBC: Reality Check: Why don't all high-rises have sprinklers?:
https://www.bbc.co.uk/news/uk-england-40293035
[5] See note 2.