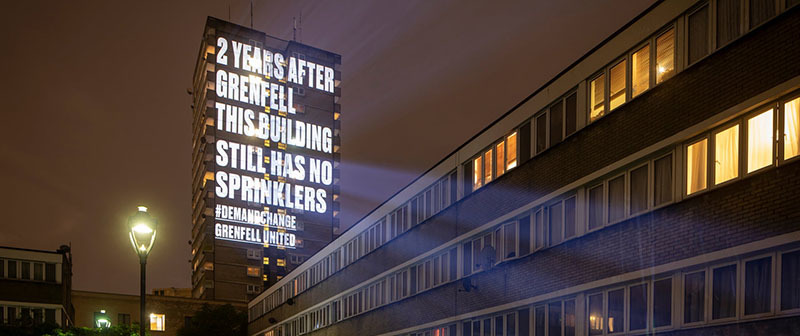 Jun 13th, 2019
Grenfell: two years on
By Megan Bentall
Last night, tower blocks across the country were illuminated with a powerful message: two years after the tragic Grenfell Tower fire, our homes still aren't safe. [1]
On buildings still covered in dangerous cladding, tower blocks without sprinklers or fire doors that aren't fit for purpose, each illuminated tower block shined a spotlight on a national fire safety crisis.
The government simply hasn't done enough to stop another tragedy like Grenfell.
[2]
The day before the second anniversary of the fire, Grenfell United's projections have made a huge splash in the news. With people at risk in their homes we can't allow the government to drag their heels any longer. If we all come together now we could turn up the pressure even more and make sure the government finally acts to make people's homes safe.
Sign the petition here to tell the government to create a new housing regulator that works for tenants, not just for landlords. A regulator who would help make sure a tragedy like Grenfell never happens again.
"There are many other Grenfell Towers out there" …"You have an opportunity to make changes that will echo throughout generations … that people are safe in their homes and are treated with respect and something like this will never happen again." – a message to politicians from Karim Mussilhy, who lost his uncle Hesham Rahman in the Grenfell Tower fire. [3]