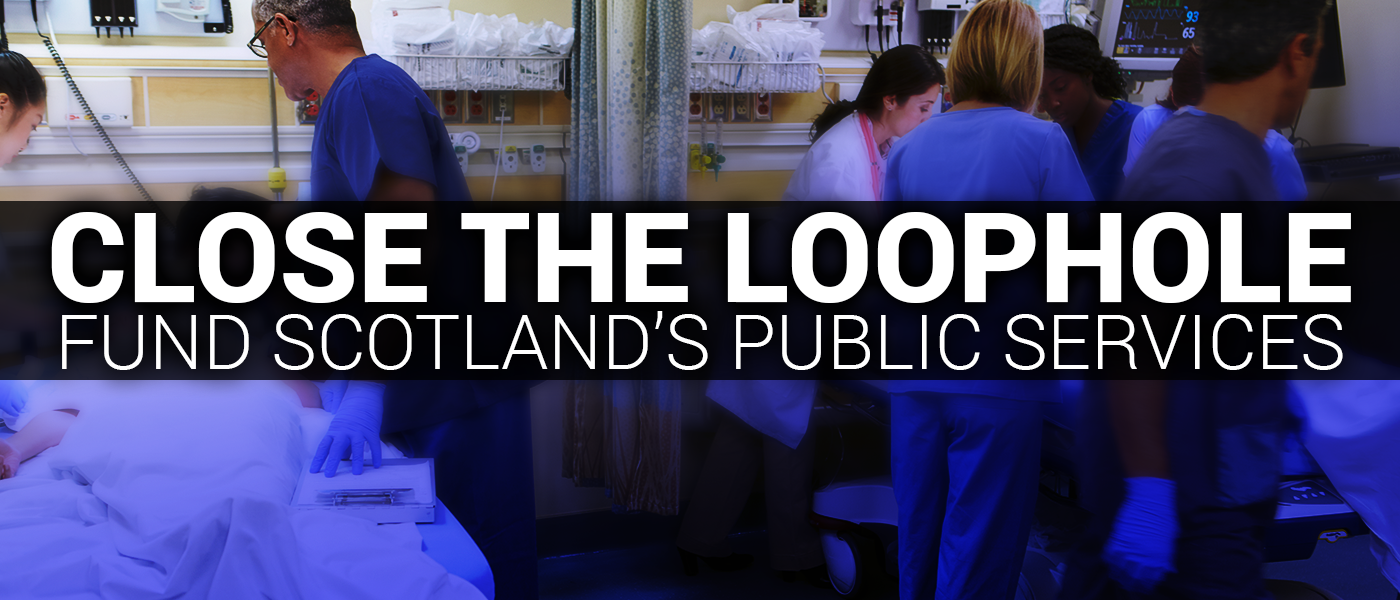 Jan 16th, 2018
Scotland's tax
By Becca McCarthy
A Budget loophole could mean the Scottish government are about to give some of the highest earners in the country a tax cut – by mistake. [1]
Just before Christmas, the Scottish government announced bold changes to income tax – and 38 Degrees members helped make it happen. The new plan means the lowest earners in Scotland would pay less tax, and the richest would pay more. Good news. But a mistake in the plan means some of the highest paid Scots, those earning between £43,000 and £58,000, will end up paying even less tax than they do now. [2]
Fixing this error could raise an extra £90 million for our public services. That would mean more money for our hospitals, our schools, our firefighters and our roads. Now, ministers are coming under pressure to act. [3]
38 Degrees is led by people like you, who read these emails and join together to campaign on the issues we care about. So we need to hear from you. Will you tell us what you think we should do together ahead of this Budget?
38 Degrees members like you have already done so much to try and make this Budget work for all of us. Thousands of us have signed petitions, emailed or tweeted our MSPs to speak out, and funded public polling to show that a majority of Scots want fair taxes, with the highest earners paying more and lowest paying less. [4]
Throughout the campaign, there have been powerful organisations representing big business and the very richest who were arguing against any changes. [5]
But we helped drown them out. Together, we got the government's plan for taxes on the right track. [6] But that progress could now be undermined by a mistake. With money for our public services at risk, what do you think we should do?
Notes:
[1] Finance Secretary Derek Mackay: "I did not set out to have a particular bracket that is affected in that way. It is an unintended consequence of resetting the whole system and proposing to increase the higher-rate threshold."
Scottish Parliament: Official Report Finance and Constitution Committee 10 January 2018:
http://www.parliament.scot/parliamentarybusiness/report.aspx?r=11298&i=102808
[2] "The increase in the higher rate threshold also means that those earning between £43,525 and £58,500 will see a reduction in their income tax in 2018-19."
Scottish Parliament Information Centre: Draft Budget 2018-2019: Taxes:
https://digitalpublications.parliament.scot/ResearchBriefings/Report/2017/12/18/Draft-Budget-2018-19–Taxes
[3] The National: Closing income tax loophole could raise extra £90m:
https://38d.gs/thenational
The Herald: Mackay urged to close income tax loophole for better off:
https://38d.gs/theheraldscotland
[4] 38 Degrees: Breaking News: Scottish Tax:
https://home.38degrees.org.uk/2017/12/19/27631/
[5] BBC: Business leader warns against income tax rises:
http://www.bbc.co.uk/news/uk-scotland-scotland-politics-42271534
BBC: Business leaders urge ministers to 'steady Scotland's economic ship':
http://www.bbc.co.uk/news/uk-scotland-42300462
The Telegraph: Businesses will crumble under strain of minimum wage hikes, warns CBI chief:
http://www.telegraph.co.uk/finance/jobs/11831249/Businesses-will-crumble-under-strain-of-minimum-wage-hikes-warns-CBI-chief.html
[6] The Herald: 'People earning up to £33,000 a year protected from any increase' on income tax, says Derek Mackay:
https://38d.gs/heraldtwo