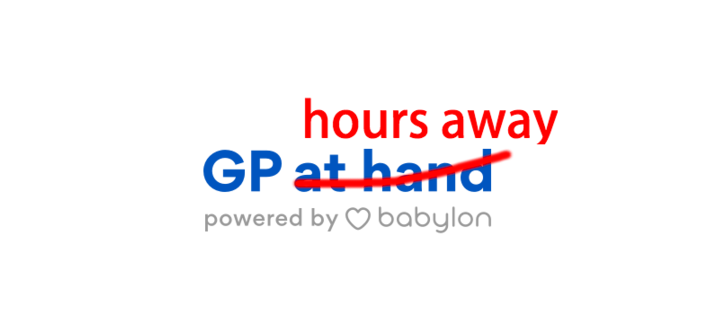 Feb 12th, 2018
GP at hand: What did you say?
By Ruby Earle
Hundreds of campaigns are started on the 38 Degrees website every week, by 38 Degrees-ers from all over the UK. [1] But 38 Degrees belongs to all of us, so last week we asked a random selection of members in London if Nat's petition, about "GP at Hand", is something they wanted to campaign on. [2] Here is what you said:

67% said YES

16% said NO

And 17% said I DON'T KNOW
"GP at Hand" is an online GP service that is being rolled out in London. It promises patients quick appointments on their smartphone, and in person appointments for things like vaccinations or smear tests. [3]

But, as Nat discovered, GP at Hand only has one nurse performing smear tests for cervical cancer, in the whole of London – located hours from where Nat lives. [4] Nat is concerned that the patients are being told GP at Hand is a new, convenient NHS GP service. But in reality GP at Hand is failing to offer proper provision for life-saving health checks.

Nat's petition calls for NHS England to cancel their contract with GP at Hand unless it provides smear tests in more locations around London.
Here are a few reasons the staff team wanted to double-check before offering support to this campaign:
Some think that GP at Hand shouldn't exist in the first place at all. They argue it should be shut down in favour of traditional GP practices. [5]

Nat, the starter of the petition, is a former staff member at 38 Degrees. The staff team don't want to let this cloud the decision, so it's doubly important members get a vote.

You could argue that there are bigger issues facing the NHS at the moment like the funding crisis which 38 Degrees is already working on. [6]
Out of those members who said "NO", here is why this campaign wasn't for them :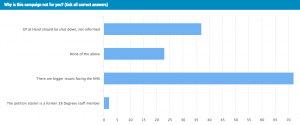 The staff team has decided to tell other London 38 Degrees-ers about this campaign. This was because:
Four times as many 38 Degrees-ers voted to support it as voted not to

The main reason to vote "no" was that there are other, bigger, issues facing the NHS. We can continue to campaign on these other issues as well.
NOTES:
[1] GP at hand:
https://www.gpathand.nhs.uk/                                                                                         [2] 38 Degrees: Stop 'GP at Hand' putting women at risk of cervical cancer:
https://you.38degrees.org.uk/petitions/stop-gp-at-hand-putting-women-at-risk-of-cervical-cancer
[3] GP at Hand:
https://www.gpathand.nhs.uk/
[4] A member of the 38 Degrees staff team rang GP at Hand to verify this claim and was told that there is only one nurse who performs smear tests in London.
[5] 38 Degrees: Campaigns by you:
https://you.38degrees.org.uk/
[6] The Guardian: Seeing a GP on a smartphone sounds wonderful – but it's not:
https://www.theguardian.com/healthcare-network/views-from-the-nhs-frontline/2017/nov/16/seeing-gp-smartphone-sounds-wonderful-its-not