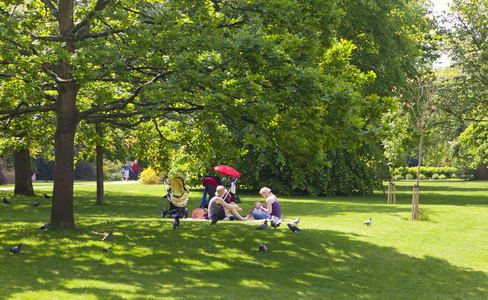 Mar 10th, 2018
Parks
By Becca McCarthy
Our parks and green spaces are where we go to play, relax and escape – but right now they're in crisis. Cash strapped councils have been forced to slash the funding used to keep these public spaces alive. [1] And now, one of the last pots of money our parks could rely on has been axed. [2]
Heritage Lottery Fund's parks programme invested millions of pounds in our parks and green spaces. [3] But they've just scrapped the fund, putting the future of our parks at risk. Now they're asking the public how they should spend their money next year. [4] If thousands of us speak up for our parks now, we could secure the money they desperately need.
The Parks Alliance have started a 38 Degrees campaign to make sure parks get this vital funding back. [5] If hundreds and thousands of us add our names, it'll show the Heritage Lottery Fund how much the public love their parks – and convince them to once again give them the cash they need.
If you want to keep our parks for everyone to enjoy, sign the petition now. It only takes 30 seconds:
From children playing sports with friends to families enjoying a sunday afternoon stroll, parks are for everyone. Unless they get the money they need, we could could see our much loved parks sold off to the highest bidder, or fall into disrepair. [6] It's not about replacing council funding for our parks. But with councils struggling under the weight of huge government cuts, we can't let this vital funding pot disappear.
Time and time again, 38 Degrees members have come together to celebrate and protect our beautiful open spaces. When the government planned to sell off our beloved national forests – we came together in our hundreds of thousands to stop them. [7] And just last year hundreds of us descended on parks up and down the country with our friends and family to celebrate our parks and show politicians that our green spaces are valued by everyone. [8]
NOTES:
[1] The Guardian: The end of parklife as we know it? The battle for Britain's green spaces:
https://38d.gs/theguardianparks
[2] Heritage lottery fund: Changes to our grant making:
https://38d.gs/hlfstrategy
Horticulture week: HLF ending of Parks for People programme "a black day":
https://www.hortweek.com/hlf-ending-parks-people-programme-a-black-day/parks-and-gardens/article/1452469
[3] See note 2
[4] Heritage Lottery Funds: We want to hear from you on HLF's future direction and funding:
https://www.hlf.org.uk/about-us/news-features/we-want-hear-you-hlfs-future-direction-and-funding
[5] 38 Degrees: Protect Heritage Lottery Funding for Parks:
https://you.38degrees.org.uk/petitions/protect-heritage-lottery-funding-for-parks
[6] LocalGov.co.uk: Council agrees to sell off 10% of its parks:
https://www.localgov.co.uk/Council-agrees-to-sell-off-10-of-its-parks-/44308
[7] 38 Degrees: Victory! Government to scrap plans to sell our forests:
https://home.38degrees.org.uk/2011/02/17/victory-government-to-scrap-plans-to-sell-our-forests/
[8] 38 Degrees: Have a Field Day:
https://home.38degrees.org.uk/2017/07/19/have-a-field-day-2/