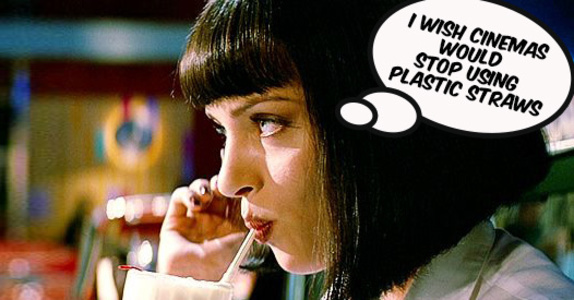 Mar 26th, 2018
Plastic Straws
By Becca McCarthy
Plastic straws are one of the biggest causes of plastic pollution in the UK, clogging up landfill and choking our oceans. [1] And big cinema chains, including Cineworld, Odeon and Vue, are some of the biggest culprits. – they're responsible for tonnes of straws being thrown away.
That's why Julia has set up a petition on the 38 Degrees website calling on the major chains to sell drinks with paper straws, not plastic. [2] Overnight, this simple change would make a huge difference to the amount of plastic waste ending up in our oceans.
Cinema chains don't want to risk looking bad to their customers – and they don't want to look bad compared to their competitors. So if thousands of us sign Julia's petition today we could force the UK's biggest cinemas to do the right thing and switch to paper straws instead of plastic.
Will you sign the petition to get Britain's biggest cinemas to switch to paper straws? It takes less than a minute:
Many pub chains like Wetherspoons and All Bar One have already swapped to paper straws. It's a simple solution, and it's an easy decision for a business to make. It would stop tonnes of plastic reaching landfill every year. [3]
38 Degrees members have beaten big businesses on plastic before. Last year we forced major retailers to ditch plastic cotton buds. [4] And just earlier this month PG Tips said they are removing plastic from their tea bags, after hundreds of thousands of us piled in. [5] Now, if enough of us come together, we can get Cineworld, Odeon and Vue to change too.
NOTES:
[1] Daily Mail: The last straw: Wetherspoon to ban single-use plastic ones from its 900 pubs across Britain and Ireland in war on waste
https://38d.gs/wethe1ec07
[2] 38 Degrees: Make plastic drink straws obsolete
https://you.38degrees.org.uk/petitions/make-plastic-drink-straws-obselete
[3] The Independent: Plastic straws are disappearing from Wetherspoons as environmental campaign gathers pace:
http://www.independent.co.uk/news/business/news/plastic-straws-jd-wetherspoons-environment-campaign-recycling-refuse-the-straw-all-bar-one-a7969791.html
Morning Advertiser: All Bar One to phase out plastic straws:
https://www.morningadvertiser.co.uk/Article/2017/06/16/All-Bar-One-to-phase-out-plastic-straws
Eat Out: Carluccio's promises to remove plastic straws by the end of the month:
http://eatoutmagazine.co.uk/carluccio%E2%80%99s-promises-remove-plastic-straws-end-month
[4] 38 Degrees: Cotton bud success!
https://38d.gs/cotto62883
[5] 38 Degrees: PG Tips – we won!:
https://38d.gs/pgtipac040