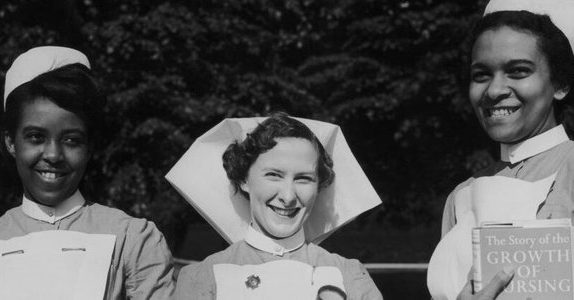 Apr 17th, 2018
Windrush Generation
By Becca McCarthy
Imagine living in the UK your whole life, building a home, community and career, only to be told you are not really British and you have to leave? Maybe you don't need to imagine it. Thousands of people up and down the country are facing exactly this. Their parents were asked to come to the UK from Commonwealth countries, in the 1950s and 60s, to help build and run our public services. Now the Home Office is threatening them with deportation. [1]
Most of these people, sometimes called the "Windrush Generation," were promised British citizenship by the government when they arrived. [2] The only things standing in their way is red tape and Home Office bureaucracy. Now families are being ripped apart, just because the government has started treating people's lives like numbers on a spreadsheet.
When Christine heard about this in the news she started a 38 Degrees petition, calling on the Home Office to back down and let the Windrush Generation stay. [3] Over the weekend, it gathered over 80,000 signatures. [4] Dozens of MPs have started to speak up. [5] And Theresa May has now agreed to meet Commonwealth leaders tomorrow to address the problem. [6] Key decisions are being made right now.
Will you sign Christine's petition and call on the Home Office to keep their promise and save the Windrush Generation? We will deliver it ahead of Theresa May's meeting tomorrow. It takes less than a minute to add your name:
In recent months story after story has been hitting the headlines. An NHS worker lost her job and faces deportation, despite living in the UK for more than 50 years. [7] In November, 63 year-old Albert Thompson, who has lived and worked in London for 44 years, was denied NHS treatment for cancer. He is now being told he must pay £54,000 before he is treated. [8]
As 38 Degrees members we come together to fight for justice, and we don't shy away when the Home Office gets it wrong. Just last year we helped stop the shameful deportation of a local London shop worker. [9] We intervened and helped protect a whistleblower in Scotland from deportation. [10] And this year we are campaigning hard to protect Stephen, a trafficked teen who is being threatened with deportation. [11]
There are encouraging signs today that the tide is turning. So let's seize this opportunity and do all we can to make sure the Windrush Generation are treated fairly.
NOTES:
[1] Channel 4 News – "The Windrush Generation: Fighting to be British":
https://www.channel4.com/news/the-windrush-generation-fighting-to-be-british
[2] The BBC: Windrush cases have seen terrible mistakes, says minister:
http://www.bbc.co.uk/news/uk-politics-43780621
The BBC: Anger as 'Windrush generation' face deportation threat:
http://www.bbc.co.uk/news/uk-politics-43726976
[3] 38 Degrees: Save the Windrush Generation – allow them to stay:
https://you.38degrees.org.uk/petitions/allow-commonwealth-citizens-who-arrived-here-as-children-automatic-right-to-remain-in-the-uk
[4] When we sent you this email, the petition had reached 86,000 signatures.
[5] Guardian: MPs urge May to resolve immigration status of Windrush children:
https://www.theguardian.com/uk-news/2018/apr/16/mps-urge-may-to-resolve-immigration-status-of-windrush-children?CMP=twt_gu
[6] BBC: Amber Rudd: Windrush generation treatment 'appalling':
http://www.bbc.co.uk/news/uk-politics-43780621
[7] ITV News: Windrush generation NHS worker lost job and faces deportation despite living in the UK for more than 50 years:
http://www.itv.com/news/2018-04-11/windrush-generation-nhs-worker-lost-job-and-faces-deportation-despite-living-in-the-uk-for-more-than-50-years/
[8] The Guardian: Londoner denied NHS cancer care: 'It's like I'm being left to die':
https://www.theguardian.com/uk-news/2018/mar/10/denied-free-nhs-cancer-care-left-die-home-office-commonwealth
[9] 38 Degrees: stop the shameful deportation of Kentish Town's Stoly Jankovic:
https://you.38degrees.org.uk/petitions/stop-the-shameful-deportation-of-kentish-town-s-stoly-jankovic
[10] 38 Degrees: Stop the deportation of whistleblower Kweku Adoboli:
https://you.38degrees.org.uk/petitions/stop-the-deportation-of-whistleblower-kweku-adoboli
[11] 38 Degrees: Allow trafficked teen 'Stephen' to stay in UK:
https://home.38degrees.org.uk/2018/01/25/allow-trafficked-teen-stephen-stay-uk/