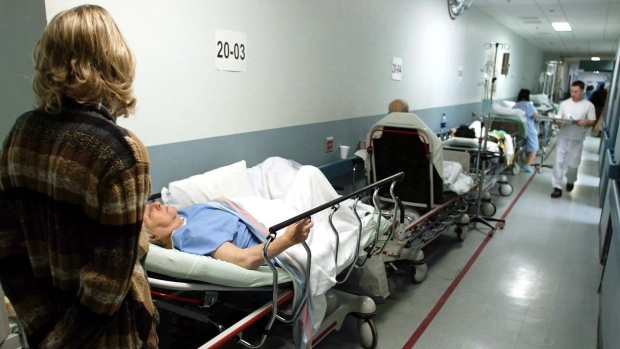 May 15th, 2018
The results are in: which tax policies should fund our NHS?
By 38 Degrees team
Right now Theresa May is weighing up how to fund our NHS for the long-term. She could come up with a solution that gives our NHS the money it desperately needs, or she could listen to the voices telling her not to spend more money.
81% of us said we support a tax rise to pay for our NHS. But there are lots of different ways this could work. So we've come up with four simple policies that thousands of us voted on to decide our preferred tax options.
Together, more than 80,000 of us have had our say on which tax policies we prefer. Here are the results:
Option 1: Add a penny to income tax

Increasing income tax by 1% on basic, higher and additional rates of tax (e.g adding 1p to every £1 of income tax), would take more from those on higher incomes than those on lower incomes. However, it could make the UK a less attractive place to work if individuals are taxed more than other countries.
90.5%

(64,541)

of us said they'd support an increase in income tax. 

9.5%

(6,746) of us said they'd oppose this.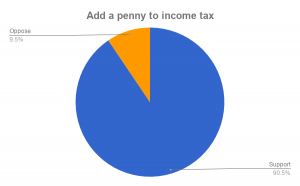 Option 2: Increase national insurance for high earners and ring fence the money for the NHS

This could be a more transparent way of funding the NHS so we know where the money is coming from and where it's being spent. However, if unemployment were to rise and fewer people paid National Insurance, NHS funding could fall as a consequence.
89%

(56,314) of us said they'd support increasing national insurance for high income earners, and ring-fencing this money for the NHS.



11%

(6,932)

of us said they'd oppose this.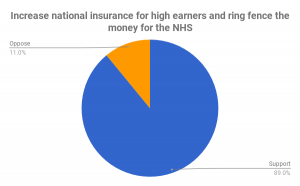 Option 3: Increase corporation tax rates
This would increase the tax paid by companies on their profits, which could free up money for public spending without impacting people individually. However, some say increasing corporation taxes could mean that businesses are less likely to invest in the UK, harming our economy.
83.3%

(48,283) of us said they'd be in favour of increasing corporation tax to raise money for the NHS



16.7% (9,648) of us said they'd oppose this.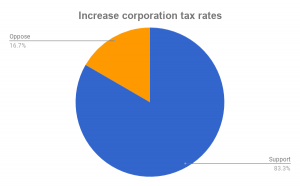 Option 4: Make employers pay national insurance for their contributions to employees' pensions

Right now companies pay national insurance on employees' salaries, but they don't pay national insurance on the money they pay into employees' pensions. If they did, companies would have to pay more through national insurance. It would raise money, but wouldn't directly affect employees' wages. However some say if companies had to pay more national insurance, they could decide to contribute less to people's pensions in the first place or cut costs elsewhere.
49.6%

(21,601)

of us said they'd support a policy that made employers pay national insurance on their contributions to employee pensions

50.4%

(21,957) of us said they'd oppose this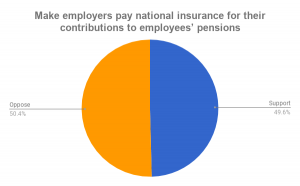 As 38 Degrees-ers, we know we're stronger when we make decisions together. We're a movement of millions of people, so it's natural that we don't always agree on everything.  But together we've decided which tax options are our favourites – and by coming together we're stronger.
The next step is hiring expert economists to find out the impact these funding solutions will have – they'll see how fair and affordable they are! We'll also sharing the results with MPs – so politicians know that the public back a tax rise.