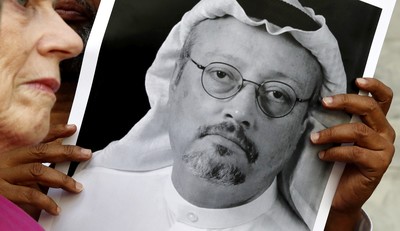 Oct 24th, 2018
Halt arms sales with Saudi Arabia
By Becca McCarthy
Killed in cold-blood. The assassination of journalist Jamal Khashoggi is barbaric and gruesome. He criticised those in power in Saudi Arabia and it has been reported that he was murdered on their orders. The Saudi state keeps changing its story, and is now claiming he died "in a fight". [1]
Yesterday, Foreign secretary Jeremy Hunt condemned the killing, saying the Saudi response was "not credible". Yet our government continues to sell them weapons. [2]
Saudi Arabia's rulers rely on British made weapons. [3] If we stop selling them arms, it will show them that their actions have consequences. And that Britain won't stand by while they brutally silence their critics.
This story is splashed across the news, but the government haven't yet heard from us, the British public. [4] If thousands of us sign an open letter to Jeremy Hunt today, asking him to halt arms sales with Saudi Arabia, he'll know we expect him to act.
Every year Britain invests hundreds of millions in Saudi Arabia and sells weapons to them. Other countries across the world, like Germany, have taken action this week and stopped selling arms to Saudi Arabia until there is justice. [5] If other countries can do this, we can too.
As 38 Degrees-ers we stand up for the values of democracy and holding the powerful to account. Killing a journalist because you don't like them criticising you is barbaric.
NOTES:
[1] BBC News: Jamal Khashoggi: All you need to know about Saudi journalist's death:
https://www.bbc.co.uk/news/world-europe-45812399
The Telegraph (paywall): Jamal Khashoggi's 'ferocious' murder was planned by Saudi officials days before his death, says Erdogan:
https://www.telegraph.co.uk/news/2018/10/23/turkey-promises-reveal-naked-truth-khashoggi-murder-saudi-arabia1/
The Independent: 'Khashoggi's death was the final straw': Saudi's crown prince faces mounting backlash over Istanbul consulate killing:
https://www.independent.co.uk/news/world/middle-east/jamal-khashoggi-saudi-arabia-mbs-turkey-consulate-istanbul-death-murder-latest-edited-a8597171.html
[2]  I news: UK keeping ties to Saudi despite journalist Khashoggi's assassination and opposition pressure:
https://inews.co.uk/news/uk/uk-keeping-ties-to-saudi-despite-journalist-khashoggis-assassination-and-opposition-pressure/
Evening Standard: Jeremy Hunt warns of consequences if dissident journalist Jamal Khashoggi was murdered:
https://www.standard.co.uk/news/world/jeremy-hunt-warns-of-consequences-if-dissident-journalist-jamal-khashoggi-was-murdered-a3966071.html
Politico: Jeremy Hunt: Saudi explanation of Khashoggi death not 'credible':
https://www.politico.eu/article/jeremy-hunt-saudi-explanation-of-jamal-khashoggi-death-not-credible/
[3] I news: This is how much money powerful governments spend on arms with Saudi Arabia:
https://inews.co.uk/news/world/saudi-arabia-arms-sales-global/
The Sun: Britain's £1.5billion annual arms sales to Saudi Arabia are under review after the murder of journalist Jamal Khashoggi:
https://www.thesun.co.uk/news/7558642/britain-arms-deal-saudi-arabia-jamal-khashoggi/
The Guardian: Saudi Arabia pays UK firms millions to boost image:
https://www.theguardian.com/world/2018/oct/19/saudi-arabia-pays-uk-firms-millions-to-boost-image
[4] Washington Post (paywall): This should be a column by Jamal Khashoggi:
https://www.washingtonpost.com/graphics/2018/opinions/global-opinions/jamal-khashoggi-where-is-he/?utm_term=.3fb23e114010
Business Insider: In final Washington Post column, Jamal Khashoggi contemplated a 'freedom he apparently gave his life for':
http://uk.businessinsider.com/jamal-khashoggi-final-washington-post-op-ed-before-disappearing-published-2018-10?r=US&IR=T
[5] The Independent: Germany halts approval of future arms deals to Saudi Arabia as pressure builds over Jamal Khashoggi killing:
https://www.independent.co.uk/news/world/europe/germany-saudi-arabia-arms-deals-jamal-khashoggi-dead-murder-merkel-trump-a8595876.html
The Times (paywall): Angela Merkel to halt Saudi arms sales after Jamal Khashoggi's death:
https://www.thetimes.co.uk/article/angela-merkel-to-halt-saudi-arms-sales-after-jamal-khashoggis-death-wwvf5whdn
Economic Times (India): US revokes Saudi visas over Khashoggi's death:
https://economictimes.indiatimes.com/news/international/world-news/us-revokes-saudi-visas-over-khashoggis-death/videoshow/66340230.cms
Sunday Express: Google pulls out of Saudi business conference in wake of Khashoggi disappearance:
https://www.express.co.uk/news/world/1031993/Google-Jamal-Khashoggi-disappearance-Saudi-Arabia-business-conference-Uber-Riyadh