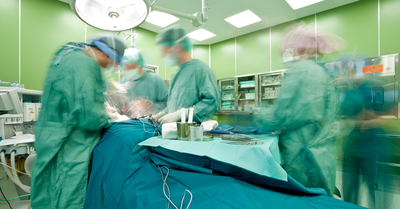 Feb 19th, 2019
Take our NHS off the negotiating table
By 38 Degrees team
Powerful American lobbyists want to get their hands on our NHS through a US-UK trade deal. [1] If they get their way, it could change our NHS for good. It could mean all of us paying more for vital medicines, or American healthcare companies running NHS hospitals. [2]
On Thursday, our MPs will debate the future of trade after Brexit. [3] So far, the government haven't said how they'll protect our NHS in trade deals. [4] But if MP after MP stands up on Thursday and asks the government to take our NHS off the negotiating table, the pressure could force them to listen.
MPs will only speak up if they know their constituents – that's us! – want them to. The debate is in 48 hours time. Will you email your MP to ask them to go and stop trade deals from threatening our NHS?
When done well, trade deals can be good for the UK. They help create jobs and build opportunities for all of us. But without a commitment from the government to protect our NHS from future deals, they could put our health service at risk. 
It's really easy to email your MP. And when hundreds of us take a minute to send a message to our MPs, together we can make a big difference. [5] Just click the button and you'll be taken to a page with a draft email. You can customise it, then hit send when you're ready. It's that simple.
There's only 48 hours until the debate. If we want our MPs to speak up about protecting our NHS from trade deals, they need to hear from us now. So will you email your MP?
NOTES:
[1] The Huffington Post: Here's What US Lobbyists Want Donald Trump To Get From A Post-Brexit Trade Deal:
https://www.huffingtonpost.co.uk/entry/us-lobbyists-brexit_uk_5c5b26c6e4b00187b5579f64
(Paywall) The Telegraph: Trump threatens to use US trade talks to pay more for drugs:
https://www.telegraph.co.uk/news/2018/05/15/trump-threatens-use-us-trade-talks-force-nhs-pay-drugs/
(Paywall) The Times: Let American firms run hospitals, urges free trade group:
https://www.thetimes.co.uk/article/f66b7626-bb92-11e8-8fbe-1261885931e2
The Guardian: Rightwing thinktanks unveil radical plan for US-UK Brexit trade deal:
https://www.theguardian.com/politics/2018/sep/18/rightwing-thinktanks-unveil-radical-plan-for-us-uk-brexit-trade-deal-nhs
[2] Here are some examples of how the American healthcare system is run and what American lobbyists might bargain to change in a US-UK trade deal:
The Atlantic: Even the insured often can't afford their medical bills:
https://www.theatlantic.com/business/archive/2017/06/medical-bills/530679/
Huffington Post: The high cost of prescription drugs in the United States:
https://www.huffingtonpost.com/entry/the-high-cost-of-prescription-drugs-in-the-united-states_us_59a606aae4b0d81379a81c1f
(Paywall) The Washington Post: Ambulance trips can leave you with surprising – and very expensive – bills:
https://www.washingtonpost.com/national/health-science/ambulance-trips-can-leave-you-with-surprising–and-very-expensive–bills/2017/11/17/6be9280e-c313-11e7-84bc-5e285c7f4512_story.html?utm_term=.ae2495296093
(Paywall) The Telegraph: Trump threatens to use US trade talks to pay more for drugs:
https://www.telegraph.co.uk/news/2018/05/15/trump-threatens-use-us-trade-talks-force-nhs-pay-drugs/
[3] Parliament.uk: What's on in Parliament: Thursday 21 February 2019:
https://calendar.parliament.uk/calendar/Commons/All/2019/2/21/Daily
[4] The Independent: Theresa May stokes fears NHS 'for sale' in post-Brexit US trade deal after refusing to rule it out of Trump talks:
https://www.independent.co.uk/news/uk/politics/theresa-may-nhs-us-trade-deal-talks-privatisation-healthcare-trump-a8198871.html
[5] When the government wanted to give themselves the power to change laws to complete trade deals in secret, 500,000 38 Degrees-ers jumped into action – signing petitions, donating for ad vans and emailing our MPs. Because of our pressure, we won!
38 Degrees: Trade victory:
https://home.38degrees.org.uk/2018/07/18/trade-victory/