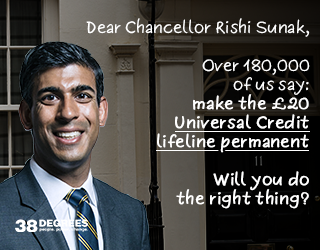 Feb 12th, 2021
38 Degrees members are putting pressure on Rishi Sunak not to scrap the £20 Universal Credit uplift
By 38 Degrees team
Rishi Sunak is making important decisions about our future right now – as he decides what support will be given in his budget next month.  This budget could put people, and a fair coronavirus recovery, at its heart. But right now he's still considering cutting the vital £20 Universal Credit uplift that so many rely on.
That's why over 180,000 of us have signed the petition and written to our MPs, calling for the £20 uplift to be made permanent.
But we didn't stop there. 38 Degrees members from all over the UK came together to publicly share their experiences of Universal Credit – and how they'd be affected if the £20 lifeline is removed – in this powerful video for Rishi Sunak:
The campaign, and our members video, was even reported on by The Mirror.
And it's working! We know there's a big argument happening in government right now about what to do, with MPs and some ministers pushing back against the Chancellor's planned cuts.
That's why we came up with a plan to put even more pressure on Rishi Sunak. Thanks to donations from 38 Degrees members, we were able to run a massive advertising campaign in The Telegraph, with the ads going live on the Chancellor's one year anniversary in his role.
Here's what the ads look like:


The ads were seen 1,092,059 different times – and were an important step in making sure that both Rishi Sunak and the public knew about our campaign.
Before coronavirus, 38 Degrees would pull out all the stops when a big campaign was coming to a decision point like this one. Audacious stunts, ad vans driving around Parliament and people in costumes and placards – we've done it all! But during lockdown those kinds of tactics are impossible.
Individually it'd be impossible to pull off big advertising campaigns like this, but that's the beauty of 38 Degrees, when thousands of us come together we can achieve huge things.