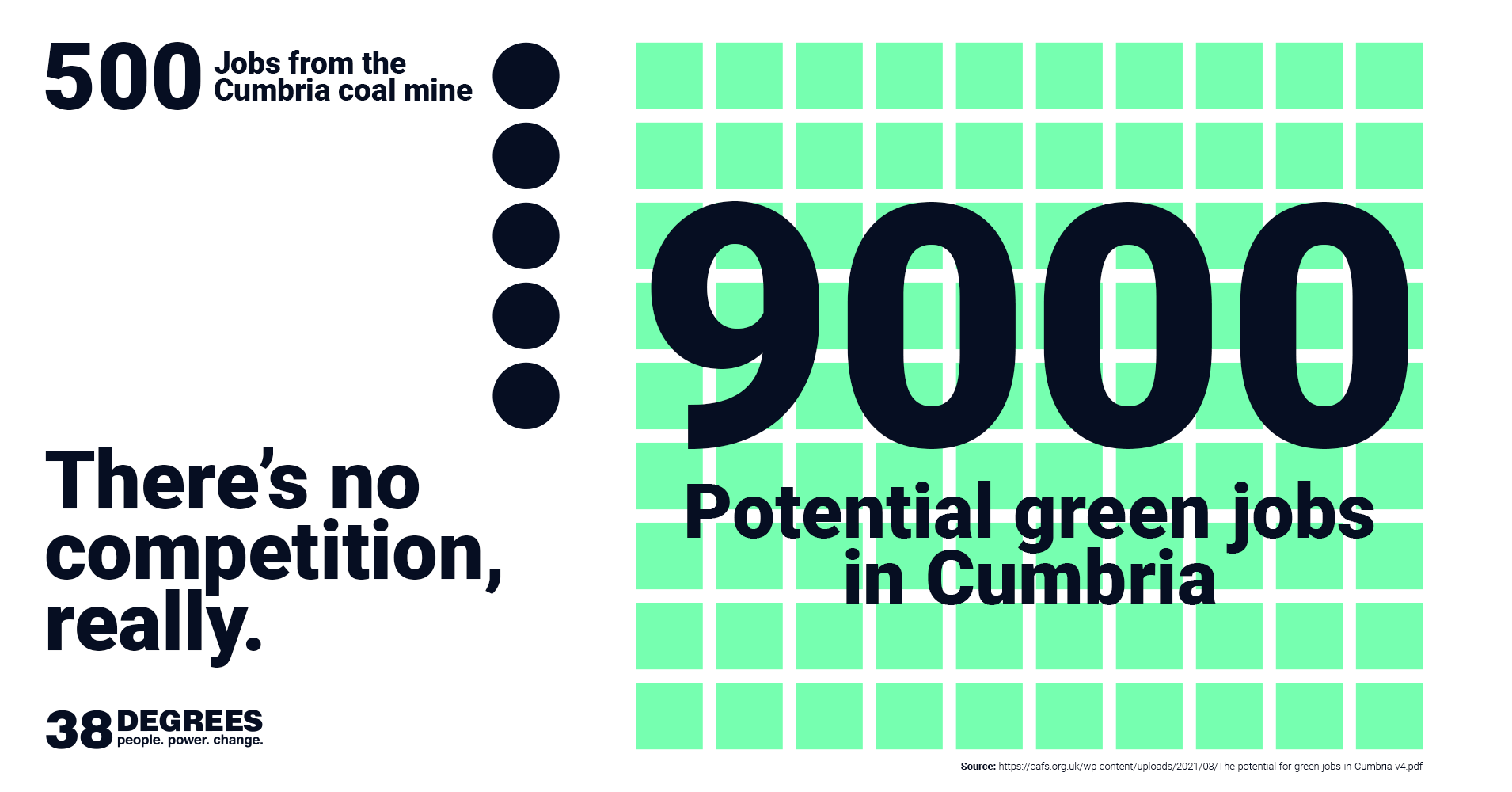 Oct 26th, 2021
Green jobs in Cumbria
By Matt
Did you know that Cumbria could create a massive 9,000 new green jobs?
A green job is any job in a 'green' industry like wind or solar power – and they really are the future. With the government trying to reduce the amount of pollution that the UK produces, the opportunity for cleaner, greener jobs is only going to grow.
In Cumbria, this could mean as many as 9,000 new jobs in these green industries over the next 15 years!
But in contrast, areas of the country that don't embrace a green future could get left behind. And with the government currently deciding whether to let the coal mine go ahead in Whitehaven, that's exactly what could happen to Cumbria.
In fact, if the proposed Whitehaven coal mine does go ahead, it will create just 500 new jobs. That's eighteen times fewer than those 9,000 green jobs! There's no competition, really.
But for the government to commit to investing in green jobs in Cumbria, instead of projects like the coal mine, it'll need people from Cumbria to speak out against the mine – and push for more investment in green industries.
There are loads of different types of green jobs! From engineering apprenticeships to running the social media accounts of green energy companies, there really is something for everyone. For example, even just making Cumbria's homes and buildings more energy efficient could create over 1,350 new jobs. Not bad at all!
This means that even if you've got no previous experience in a green industry, there's lots of potential to use your other experiences and strengths.
For example, Chelsea, People and Culture Manager at indoor farming technology provider LettUsGrow, previously worked in the hospitality sector. That experience really helped her get her customer-focused role in the company.
"Have a list of your favourite companies, and every few months reach out to show interest," she says.
Alternatively, there are lots of jobs that provide on the job training. Jake, an Apprentice Wind Turbine Technician at energy company Ørsted, suggests that, if you find a company you're interested in, "keep an eye on the company's social media channel as they often post when the process opens."
There are tons of other examples of different green jobs – you can read more here.
So, when it comes to the choice between a greener, cleaner, future for Cumbria or a future that includes an outdated and polluting coal mine – and the negative environmental consequences that come with that – there's no competition, really.
The green job figures in this blog post are taken from Cumbria Action for Sustainability's recent report "The potential for green jobs in Cumbria". You can read more here.